Acer campestre 'Pulverulentum'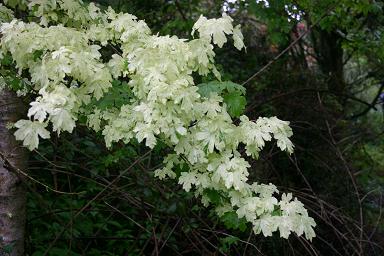 16th May 2006

A wonderful tree with white leaves speckled with green. I bought it 30 years ago from Hilliers, and it has got better and better every year. Unfortunately, about 10 years ago I neglected to remove a green reverted branch from it, which is now slowly taking over. Time for some serious pruning - I have been putting it off when I should have been cutting it off!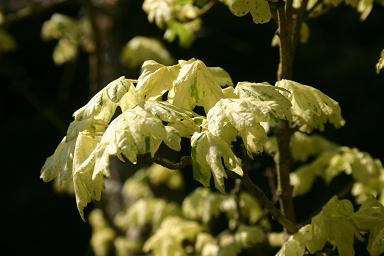 19th April 2007

The unfolding foliage has a wonderful quality.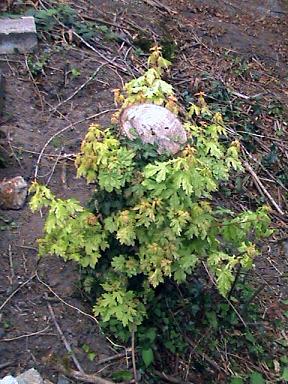 12th September 2007

In the end, it was in the way of the new Hedychium House, and I had to cut it down to a stump. The stump is fine where it is, but the tree had developed a distinct lean, now corrected by radical surgery. I have also managed to remove the top 20 feet of green growth. Fortunately it has recovered as vigorously as expected, and a little gentle pruning should see it develop into an attractive tree again in time.
It grows at the top of a steep slope running down to the Hedychium house. I have grandiose plans to turn the slope into a moss garden, and eventually we will see if the plans actually come to anything!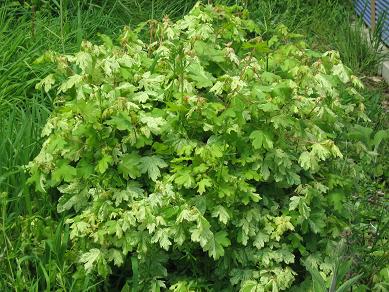 18th May 2008

This year the stump has started its slow recovery. Some of this growth will need to be thinned out if it is to mature into a decent tree.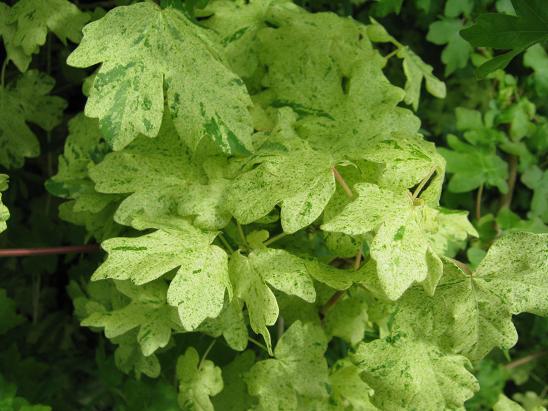 7th May 2011

Plenty of variegated shoots among the regrowth, but also plenty of green ones that are growing about twice as fast as the mottled ones. I should remove them - I should have done it months ago but hopefully I will get there before the leaves drop.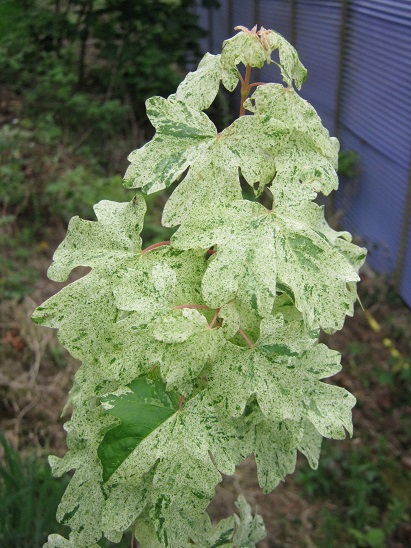 4th June 2012