Camellia 'Fairy Blush'
Archive entry 07.02.16
Archive entry 20.01.19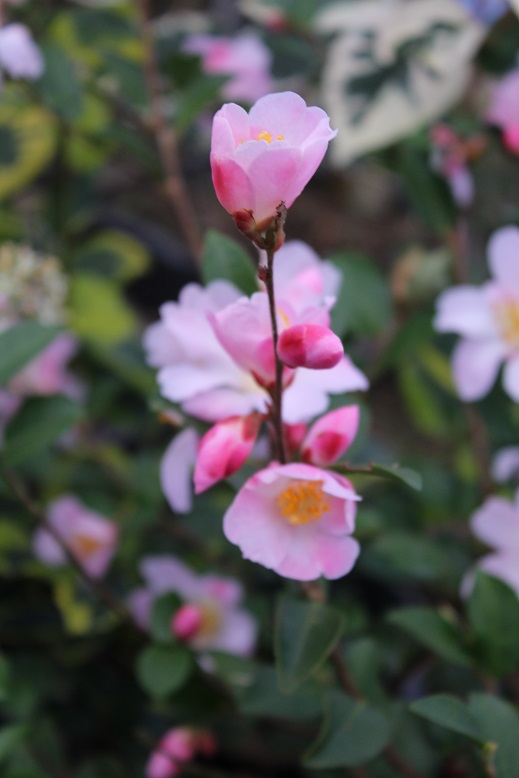 25th March 2015

A pretty hybrid from Mark Jury in New Zealand first flowering in 1988, raised from open pollinated seed of C. lutchuensis. Small, pale pink flowers borne with great freedom. The spent flowers are shed very efficiently, so the plant looks good throughout a long flowering period.

The Jury's note in their garden blog for 13th July 2012:

"Camellia 'Fairy Blush' is looking particularly pretty in our little hedge. This was the first camellia Mark ever named - a scented, lutchuensis hybrid. Mark is not given to exaggeration or overstating matters so he was always rather deprecating about Fairy Blush. "It's just a little single," he would say, "but it does flower well and has reasonable scent.
Yes, it is a little single that flowers for several months on end and is as fragrant as any camellia, on a compact plant which clips very well. These days we regard it as the one that got away from us."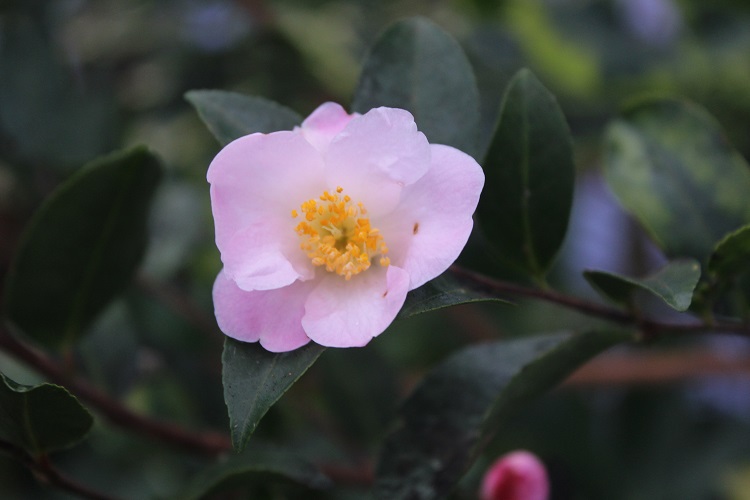 12th February 2020

In an article in the RHS Rhododendron, Camellia and Magnolia group yearbook for 2014 the Jury's add:

"The plant world is as driven by fashion as any other sector. By the time Mark started breeding camellias, he was reading the signs that the market wanted an abundance of small flowers on smaller growing plants. The love affair with the japonica was waning and New Zealand gardeners were working out that many of miniature flowered varieties then available grew into huge plants. The first project Mark undertook was saturation coverage of an established C. pitardii in a nearby garden but he was also after scent. He was reasonably dismissive of his first selection - Camellia 'Fairy Blush'. While he rated it as a pretty little flower with good scent, it was open pollinated, not a controlled cross. The seed came from C. lutchuensis and appears to be a cross with C. pitardii.
Even today, twenty years after we released it, we still regard 'Fairy Blush' as the one that got away from us. If we knew then what we know now, we would have applied for plant breeder's rights. It is particularly galling when Australian nurserymen tell us how well they do out if it. The realisation that it shows no ill effects from petal blight is an added virtue. Being small leafed with red new growth, satisfyingly fragrant, and with an extraordinarily long flowering season of several months, 'Fairy Blush' has many positive attributes. We find it makes a particularly good hedge, clipped to about 120cm."




References:

International Camellia Society online Camellia register, https://internationalcamellia.org
Tikorangi, The Jury Garden, https://jury.co.nz