Crocosmia 'Emily Mackenzie'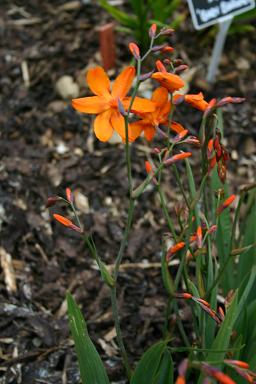 A fantastic large flowered cultivar raised in 1951, and awarded an RHS Award of Merit in 1954. Too rapidly , in my opinion, to make a fair assessment, but it was followed in 1958 by a First Class Certificate.

Beautiful large flowers with ayellow eye surrounded by a deep maroon ink stain. It gets hit really badly by cold weather. In this garden, it is no hardier than C.aurea, and barely holds on by its fingernails.