Drosera planchonii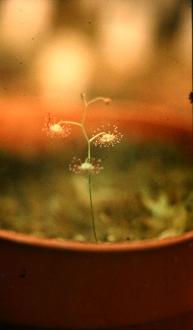 In 1980 I was sent seed from the Carnivorous Plant Newsletter Seedbank. It germinated into distinctive seedlings, with rounded leaves that face downwards.

The seedlings were unco-ordinated in their behaviour. Some became dormant just as others were starting into growth, so they were all kept slightly moist, however they seemed to survive, growing slightly larger every year.

Far more successful than my general attempts with seed of tuberous species.