Drosera x obovata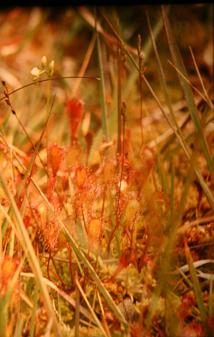 A native hybrid between Drosera anglica and Drosera rotundifolia, occurs occasionally where the two species grow together. The easiest way to distinguish the hybrid is by looking at the flower stems.

Drosera anglica has flower stems about twice as tall as the leaf rosettes.
Drosera rotundifolia has very tall flower scapes, up to 12 inches . The hybrid has intermediate height flower scapes, but clearly taller than Drosera anglica, yet having the same long oar shaped leaves.