Epimedium platypetalum
Archive entry 06.04.08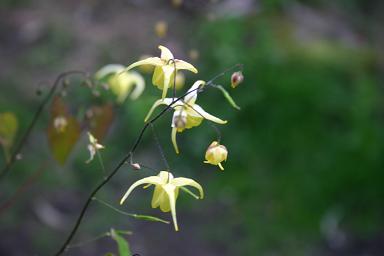 28th April 2006
Epimedium platypetalum is a campanulate species without spurs on the petals. In appearance it is somewhere between E.campanulatum and E.ecalcaratum with small white sepals. It was only known from the 1914 type collection from western Sichuan, until collected again by Mikinori Ogisu under his number OG 93885.
This does not seem to be E.platypetalum, but looks more like an E.davidii relative.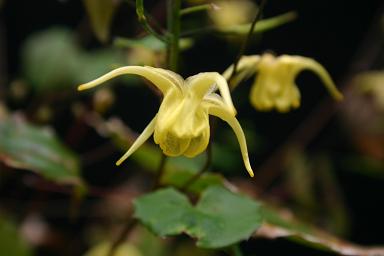 22nd April 2007
I have two wrongly named plants that were sent to me as E.platypetalum.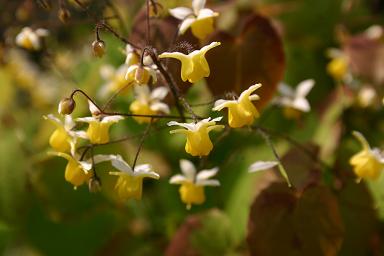 28th April 2007
I took this photograph at Wisley, labelled E.platypetalum OG 93885, because I could see that it was nothing like my plants, and I was certain that mine were wrong. When I got home and started to think about it, this one seems wrong as well. It has long yellow spurs on the petals, and should be spur-less. There are times when I am peering up into the gorgeous flowers of some confusing Epimedium or other, and instead of enjoying their beauty I am really thinking "please, somebody, get a poker and beat me to death before this little shit drives me mad". Every now and then some poisonous little git will visit the garden and say something like "you must be so patient to ..." and I wonder what the boundaries are on justifiable homicide?
All of which is a long way of saying that I don't think I actually grow Epimedium platypetalum.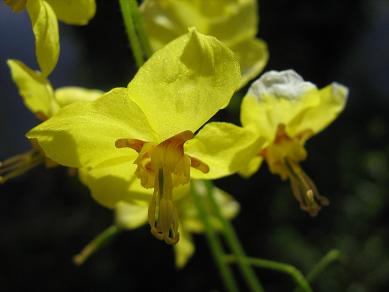 6th April 2008
This is my second wrongly named E.platypetalum, looks like a form of E.x perralchicum.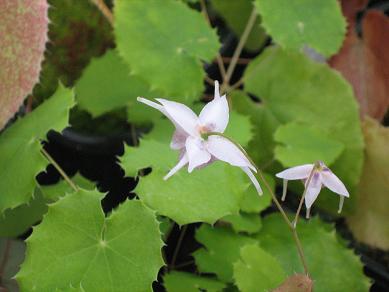 19th June 2008
As the Epimedium season was coming to a close, this plant of E.platypetalum from China flowered, showing the typical flaring yellow spurless petals and white sepals of the species. I'm not quite sure what a pig in a poke looks like, but I do know what to plant around it!
Naturally, this is not the real thing.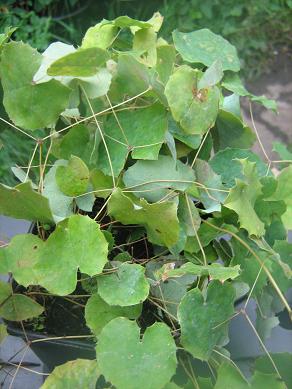 19th October 2008
I have bought another plant, from an entirely new source, and at this stage all I can say is that it has the rounded, orbicular leaflets that were described when it was named in 1922.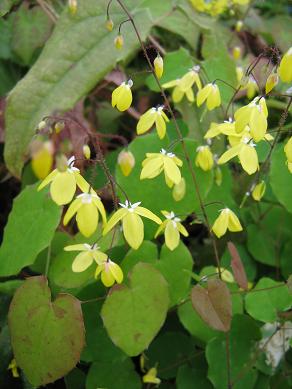 12th April 2009
At long last, this is the real thing, from Wildside Nursery, and after a lot of fruitless thrashing around among the wrong plants, I also have the real thing from Cotswold Garden Flowers.


References:
Barker, David G. - Epimedium and other herbaceous Berberidaceae, Hardy Plant Society, 1997
Stearn, William T. - Epimedium, 2002.