Lonicera nitida 'Lime Twist'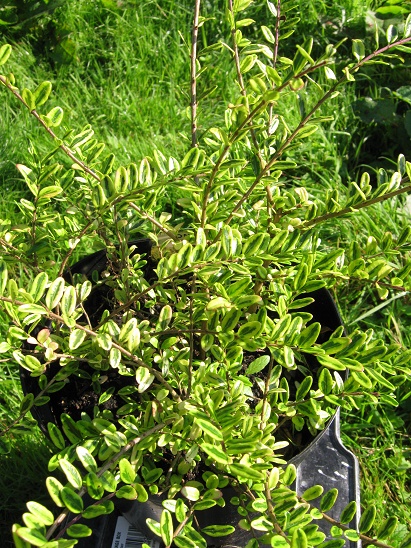 2nd October 2011

Don't waste your time asking, I have no idea.
Lonicera nitida is a little twiggy evergreen thing that always seems to have more twig than leaf. It isn't a very satisfactory shrub, it makes an ugly erratic shape and is a rather boring colour.
It is sometimes grown for clipping into stupid little topiary ( it is never elegant) and dwarf hedges but I can't think why. I saw this new variegated form in a nursery and I picked it up, an act that I am still at a loss to explain.
At present it is planted in the herbaceous border to make an evergreen blob, which it will do admirably. Once again, I am at a loss to explain why I felt I needed an evergreen blob.
At present it is young and fresh but that will pass, and it may well go shortly after. It is listed as L.nitida but it looks more like L.pileata to me, another pointless but ugly little shrub.