Macodes petola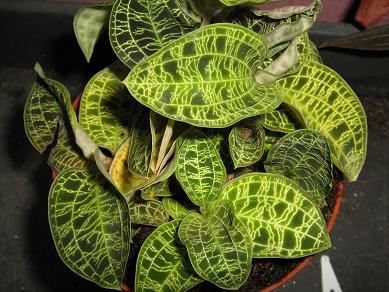 14th October 2008

One of the Jewel Orchids from Sumatra and the Philippines, where it grows in deep shade under other plants.
It has just started to appear in the trade because it has been mass produced in tissue culture. I bought mine last year, and have almost killed it by not understanding its needs. At the time, there was no information available and I was keeping it warm and moist and it was shrinking. In summer I gave up, took it out of the propagator and left it on the side to die discreetly, at which point it politely refused!
Prospers in warmth but tolerates almost dry conditions, the succulent leaves and stems will rot if they are too moist, much like those of its relative, Ludisia.