JEARRARD'S HERBAL
Thats enough introduction - on with the plants!
To navigate this site, use the links above, or the detailed links at the bottom of this page.
... out in the garden.
The Alpine Garden Society's Summer Show South, Wimborne.
3rd June 2006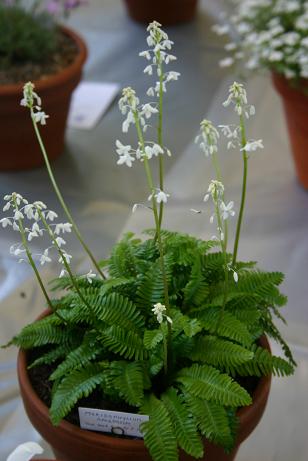 Pteridophyllum racemosum .
A very beautiful plant for moist shade. I have just bought a small one, so it was timely to see it growing so well at the show.




3rd June 2006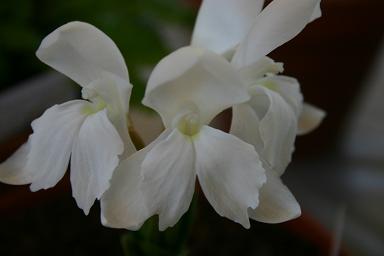 Roscoea humeana 'Alba' .
This is the first time I have seen this fabled plant in the flesh. A wonderful pure white flowered form. I grow a seedling from Long Acre Nursery from their plant 'Snowy Owl', but it is pale lilac, so I am in the happy position of having something wonderful to lust after!




3rd June 2006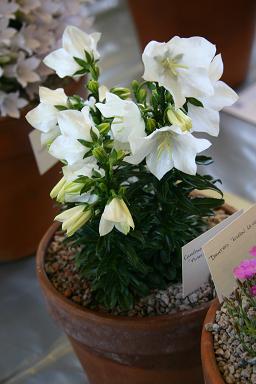 Campanula persicifolia planiflora 'Alba' .
I am not generally a lover of Campanula, though I am starting to ammend that view. In general the big ones are too weedy and the small ones are just slug bait, but every now and then I see something truly wonderful. I saw this one at the show last year, and have looked for a source (but not found one). This year, the same plant at the same show is twice as impressive.




3rd June 2006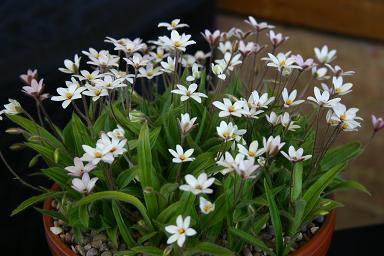 x Rhodoxis 'Nippon' .
I grow a few Rhodohypoxis in a very gentle and not at all obsessive way, but they have been so fantastic this year that I have started to look at them a bit more closely. A display at the show have me a timely opportunity to look at a wide range (and I came away with a couple of new ones). This hybrid x Rhodoxis is also pretty impressive.





To find particular groups of plants I grow, click on the genus name in the table above. Click on the "Index" box at the top of the page for the full list.
I have a lot of good intentions when it comes to updating this site, and I try to keep a note about what is going on, if you are interested.
If you want to contact me, the address is infoMONKEYjohnjearrard.co.uk
When typing the address in, please replace MONKEY with the more traditional @ symbol! I apologise for the tiresome performance involved, but I am getting too much spam from automated systems as a result of having an address on the front page.