JEARRARD'S HERBAL
Thats enough introduction - on with the plants!
To navigate this site, use the links above, or the detailed links at the bottom of this page.
... out in the garden.
7th September 2006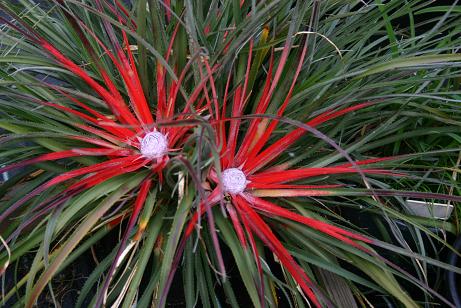 Fascicularia bicolor canaliculata .
A ridiculous hardy bromeliad with shocking red leaves surrounding the flower heads. It likes full sun and decent drainage but not too fussy otherwise. Provides a ludicrous prickly punctuation in the soft mellow whisper of autumn.




7th September 2006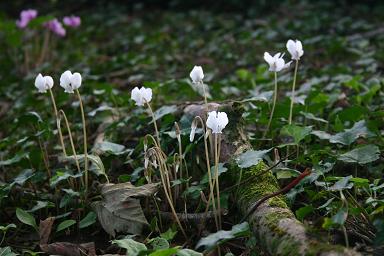 Cyclamen hederifolium album .
The first of the Cyclamen for the season. I have a small colony under the trees at the top of the garden, and they slowly spread by seed. Most of them are pink, because I always select the deepest colours when I add new plants, but I have a couple of white plants which are very elegant among the silvery brown fallen timber, but this is only september and the deep pink forms are funnier, like an Essex girl leaning against a multi-storey car park.




7th September 2006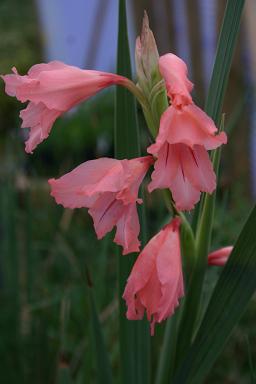 Gladiolus oppositiflorus salmoneus .
I have been watching the growths emerge from the pot all summer, and I didn't think there were any that were sturdy enough to flower, so I was delighted to find a single flower spike. Seems to be fairly hardy here in a cold greenhouse.




7th September 2006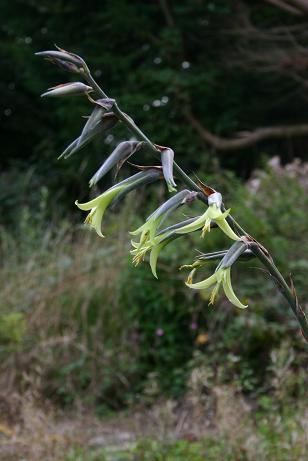 Puya laxa x mirabilis .
Also coming into the category of odd bromeliads, this one spends the winter in a cold greenhouse and the summer outside. I can't see the influence of P.laxa in the flowers, but the leaves spike my fingers more viciously than P.mirabilis (not a particularly reliable taxonomic character, but very practical and immediate).





To find particular groups of plants I grow, click on the genus name in the table above. Click on the "Index" box at the top of the page for the full list.
I have a lot of good intentions when it comes to updating this site, and I try to keep a note about what is going on, if you are interested.
If you want to contact me, the address is infoMONKEYjohnjearrard.co.uk
When typing the address in, please replace MONKEY with the more traditional @ symbol! I apologise for the tiresome performance involved, but I am getting too much spam from automated systems as a result of having an address on the front page.