JEARRARD'S HERBAL
Thats enough introduction - on with the plants!
To navigate this site, use the links above, or the detailed links at the bottom of this page.
... out in the garden.
4th February 2007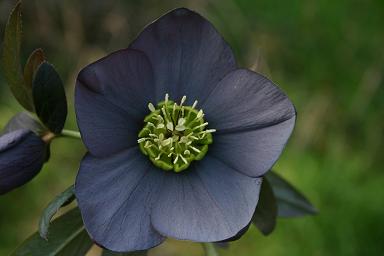 Helleborus x hybridus Blue 06.07 .
I never cease to be amazed at the wonder of modern Hellebores. I grew up with the indeterminate colours of the 70's and live in wonder at the colour and purity of modern seedlings. I have been looking for a good slate blue for the last few years, and finally bought this one from Ashwood Nursery (and a couple of its sisters). I'm not sure that this is beautiful, but it is a fascinating colour, and hopefully it will produce some similar seedlings.




4th February 2007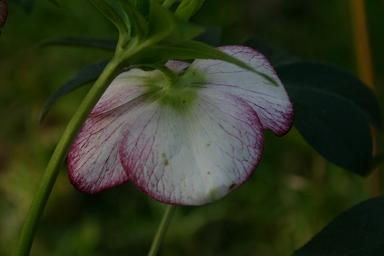 Helleborus x hybridus 'Credale Picotee' .
Picotees are moving forward in great leaps and bounds. The white is getting brighter, and the marron margins are getting darker and crisper. I bought this seedling earlier this year hoping to hybridise it with my other picotee and get lots of lovely babies, but I don't think their flowering is going to overlap. Meantime, this is a great joy.




4th February 2007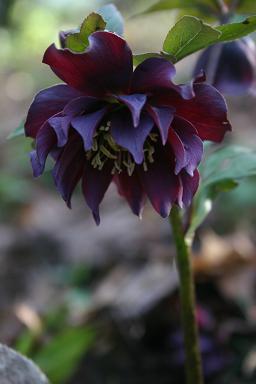 Helleborus x hybridus Double Purple .
Double Hellebores are getting better with every generation. I have a number of this sort of purple. They were all planted out in the woodland last year, and they have prospered. Unfortunately the dark colours hardly show in the woods, and they will be replaced with paler shades eventually.




4th February 2007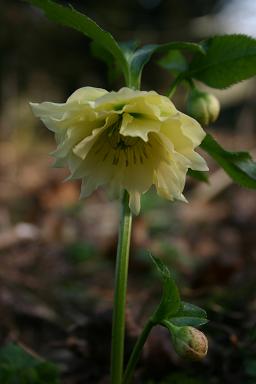 Helleborus x hybridus Double Yellow .
This is one of the parents of my double yellow seedlings. I am hoiping that there will be some darker yellows among the seedlings. The colour of this one has improved since it was planted in the woods. In a pot it was paler.




4th February 2007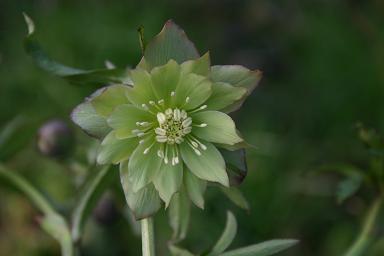 Helleborus torquatus Montenegran Double .
This is a seed straion derived from Elizabeth Strangman's double forms of H.torquatus. I have one I bought four or five years ago and I haven't been able to find a suitable partner for it. It grows rather weakly. This year I found a second, so now I am hoping for seedlings! It is a very subtle colour , it hardly shows in the garden and is in constant danger of being overgrown, but it is one of the first things I look for when the Hellebores start to emerge.
The inner tepals are vibrant lime green, the reverse of the flower is a dull bronze, so there is a good reason to turn up the flowers and look into them.





To find particular groups of plants I grow, click on the genus name in the table above. Click on the "Index" box at the top of the page for the full list.
I have a lot of good intentions when it comes to updating this site, and I try to keep a note about what is going on, if you are interested.
If you want to contact me, the address is infoMONKEYjohnjearrard.co.uk
When typing the address in, please replace MONKEY with the more traditional @ symbol! I apologise for the tiresome performance involved, but I am getting too much spam from automated systems as a result of having an address on the front page.