JEARRARD'S HERBAL
Thats enough introduction - on with the plants!
To navigate this site, use the links above, or the detailed links at the bottom of this page.
... out in the garden.
8th April 2007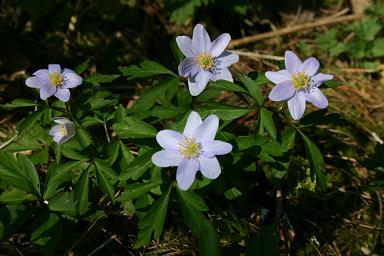 Anemone nemorosa 'Robinsoniana' .
I usually expect the last week of April to be Anemone week, but it seems to be early this year. All sorts of clever stuff to show , but this is Anemone nemorosa 'Robinsoniana', probably the best of a good group. Named after William Robinson, it is strange that this subtle gentle flower should be named after such a notoriously irascible Irishman! Slightly scented and really splendid now in the wood as well as making a bold show in a pot. I expect there will be a few more on show as the season progresses!




8th April 2007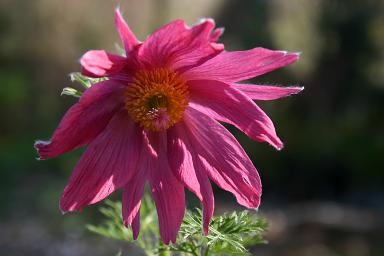 Pulsatilla vulgaris 'Papageno' .
This fabled strain of Pulsatilla wasn't easily available when I last grew Pulsatilla in the 1980's, so it was a delight to find these in a local garden centre really cheap! (I have three). More or less double ragged flowers in a range of colours. This red was just wonderful in the spring sunshine (and surpassed a picture of a great yellow Pleione Shantung to appear here). Eventually they will be found a little home in the front of the new border. Did I mention Eomecon? There are some superb Asarum, new ferns - oh, and the Clivia are flowering. The greenhouse is erupting in succulent deliciousness like a crock of stew in a hot oven!




8th April 2007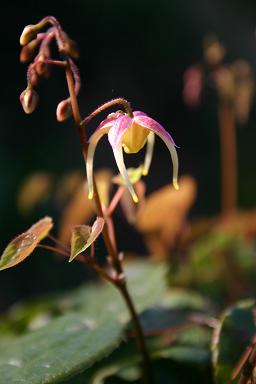 Epimedium 'Firedragon' .
A new introduction this year, raised by Blackthorn Nursery, and available from a couple of retailers. This is the first time I have seen the flower so I am rushing it onto the site. No doubt there will be a flood of Epimedium hybrids and no harm in that. It is going to be an exciting time! Many will come, some will last , all will be welcome.




8th April 2007
Petasites versipilis .
I bought this from China in the spring knowing what thugs Petasites can be, but I have a sneaking admiration for them. They have secret attributes! Our own Petasites fragrans is an awful ineradicable weed that smothers everything with its peeling shaggy leaves but it looks fantastic in the process and has the most delightful scented flowers in the darkest moments when Jack Frost wants his wicked way with you and even the stoutest trousers are not going to stop him!
I had no idea what to expect from this but it certainly wasn't this astonishing hairy purple explosion of horticultural fluff. It will however remain confined to a pot (better safe than sorry).





To find particular groups of plants I grow, click on the genus name in the table above. Click on the "Index" box at the top of the page for the full list.
I have a lot of good intentions when it comes to updating this site, and I try to keep a note about what is going on, if you are interested.
If you want to contact me, the address is infoMONKEYjohnjearrard.co.uk
When typing the address in, please replace MONKEY with the more traditional @ symbol! I apologise for the tiresome performance involved, but I am getting too much spam from automated systems as a result of having an address on the front page.