JEARRARD'S HERBAL
Thats enough introduction - on with the plants!
To navigate this site, use the links above, or the detailed links at the bottom of this page.
... out in the garden.
A spectacular week, full of wild floral excess and wild faunal excess, some of which I have been responsible for and about which I will say no more! Seems like a good week to show off some bright and shiny things. The sun has shone, plants dry out in moments, and if the rain promised for tonight doesn't materialise, tomorrow will be difficult.
Spent an hour photographing things this afternoon in the sun. Got very light headed, stupidly forgot my hat. On with the bright shiny things!
10th June 2007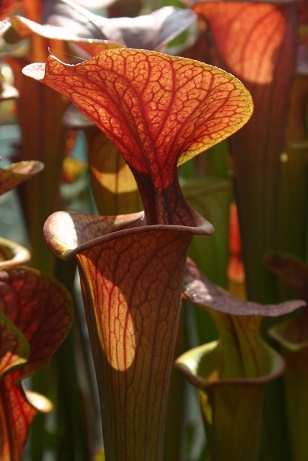 Sarracenia flava var atropurpurea .
On saturday I went up to Mike King's open day in the midlands, and came back with a mass of photos that will take me all week to sort out, but in the meantime this is a magnificent plant! If you are interested, it is from Blackwater, Florida, where some of ther very berst forms originate. (F-27C if you want the clone number!)




10th June 2007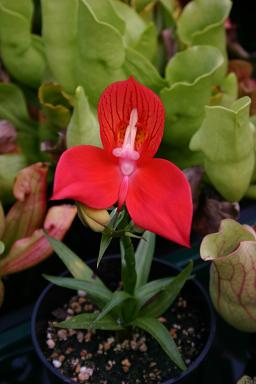 Disa uniflora Red Form .
Can't tell you how delighted I was to flower this. Enormous bright red flowers, a water loving terrestrial orchid from South Africa. It opened at the start of the week and leaves me breathless every time I go past it.




10th June 2007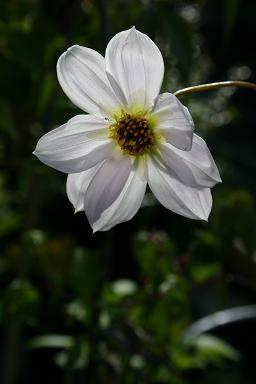 Dahlia merckii .
Quite a surprise to find this in flower. Last year I grew a lot of young plants from seed of this one, and they are all now planted out in the herbaceous border (so that's pale lilac as well!) Slugs and snails and rabbits and pigeons from all of Cornwall are now heading in my general direction.




10th June 2007
Lilium 'Grand Cru' .
I don't grow many lilies, I find the daylilies enough of a distraction, but I do love Lilium regale, and this spring I sort of bought some extra ones at the same time - I forget what the discount was, but buy one, get seventeen free or something like it. Anyway. all rather irrelevant, this is one of a range of newish cultivars with startling intense colours. Easily grown.




10th June 2007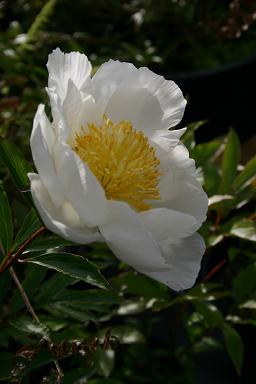 Paeonia 'Moon of Nippon' .
I bought this last year as a dry root, because the picture on the label looked good, even though my wet shady borders are hardly paeony territory. I planted it in a pot to get it established and now it has flowered. With luck, by next year the border will be a little more under control , and I can plant it out.





To find particular groups of plants I grow, click on the genus name in the table above. Click on the "Index" box at the top of the page for the full list.
I have a lot of good intentions when it comes to updating this site, and I try to keep a note about what is going on, if you are interested.
If you want to contact me, the address is infoMONKEYjohnjearrard.co.uk
When typing the address in, please replace MONKEY with the more traditional @ symbol! I apologise for the tiresome performance involved, but I am getting too much spam from automated systems as a result of having an address on the front page.