JEARRARD'S HERBAL
Thats enough introduction - on with the plants!
To navigate this site, use the links above, or the detailed links at the bottom of this page.
... out in the garden.
The week has distinctly turned to high summer. The sun has come out, and scorched. Fortunately plants are still wet from the previous rain, but they are drying out at an astonishing speed. All of a sudden the Hedychium are bursting into flower - the greenhouse for them is still just a foundation, but that is a foundation more than I had last week.
I can't resist the Zingiberaceae this week, and I would like to wallow in Ginger Lilies, but a little diversity is probably a good thing. Last weeks Crocosmia seedling burst into flower - I would show a picture, because it is quite pretty, but it doesn't have a future, so least said, soonest composted!
10th August 2007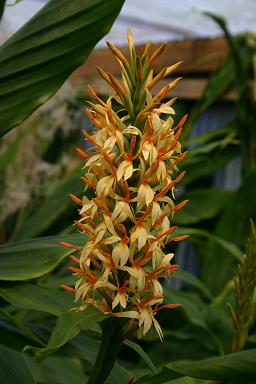 Hedychium densiflorum 'Stephen' .
I have quite a lot of different forms of Hedychium densiflorum, but 'Stephen' is certainly one of the best. The large flowers are formed into dense spikes growing from the top of sturdy canes. All in all a bonzer plant (Internal laugh at the first use of that adjective).




10th August 2007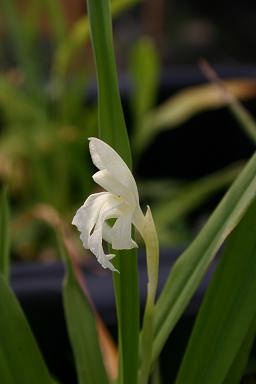 Roscoea (tibetica x cautleyoides) .
2005 was a Roscoea year. I set out to raise seedlings of all the species and forms that I grow, to bulk up numbers and so on, and once that was done, I was left with a lot of plants still unused, so I did a range of hybrids to see what was possible. This is one of the outcomes. Looks just like R.cautleyoides, except there are a few tiny purple spots on the dorsal petal and labellum. Flowers very late for a R.cautleyoides, but I did use 'Last Emperor', so that isn't entirely unexpected. I would have assumed that this was just self pollinated R.cautleyoides, except the seed was produced by R.tibetica! Now I am waiting to see if it produces any seed itself - a second generation might be more interesting!




12th August 2007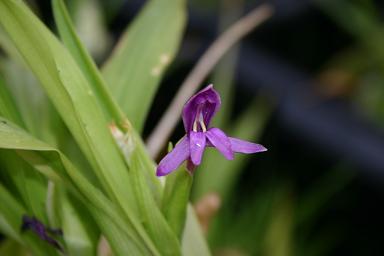 Roscoea (tibetica x purpurea) .
The second of the odd hybrids to flower this week. It opened this morning, so I haven't had a close look at it yet, but from a preliminary glance this is just self pollinated R.tibetica. Like most hybridists, I get regular reminders of my own ineptness. I used a form of R.purpurea called 'Brown Peacock', which could have produced distinctive brown stems and leaves, but didn't. Still hoping that some of the seedlings in the tray will be hybrids. They say that when Pandora meddled, the last thing left in the seed tray was hope (I have paraphrased it slightly).




10th August 2007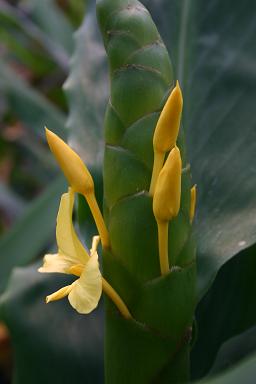 Hedychium wardii .
One of the most unexpected of hardy flowers. The flowering cones will carry on producing large yellow flowers for weeks on end. Eventually the swelling seed pods will burst open the tidy scales like some bloated vegetable fish. Fabulous foliage from great fat canes. A fairly recent introduction from China, and it is so relaible that it is bound to become more popular. I have tried to produce hybrids with a number of other species but to date it has guarded its virtue without so much as a momentary passionate slip, but every year I set out with a paintbrush to tickle its fancy, and eventually I will succeed, or it will succumb to lust.





To find particular groups of plants I grow, click on the genus name in the table above. Click on the "Index" box at the top of the page for the full list.
I have a lot of good intentions when it comes to updating this site, and I try to keep a note about what is going on, if you are interested.
If you want to contact me, the address is infoMONKEYjohnjearrard.co.uk
When typing the address in, please replace MONKEY with the more traditional @ symbol! I apologise for the tiresome performance involved, but I am getting too much spam from automated systems as a result of having an address on the front page.