JEARRARD'S HERBAL
Thats enough introduction - on with the plants!
To navigate this site, use the links above, or the detailed links at the bottom of this page.
... out in the garden.
|For the first time we have had a week in August that feels like a week in August. The sun has shone, the clouds have been fluffy and light and the silly hats have come out. In the garden the new Hedychium House has started to raise itself from its foundations . It is a bit frightening to see (not least because shortly I will have to perch on top of it to fix the glazing).
On the plus side it is now clear that it will be tall enough to house them without all the bent stems and trapped flowerheads I currently get. Surprises continue in the garden. I still haven't shown much in the way of Crocosmia here and already the Eucomis are in full flower - and they haven't made it this time either.
There's always next week!
26th August 2007
Lysionotus pauciflorus .
Both this and Lysionotus sangziensis arrived here a couple of years ago from a nursery in China. They are both in flower at the moment and as far as I can see there is little difference. This one has slightly thinner leaves and longer tubular flowers but the difference is slight. This is the first time this one has flowered but both plants have built up some strength and progressed from the straggling stems that arrived. Nexst year I imagine it will require a larger pot. Currently growing in a moist shady greenhouse under the fronds of a tree fern.




26th August 2007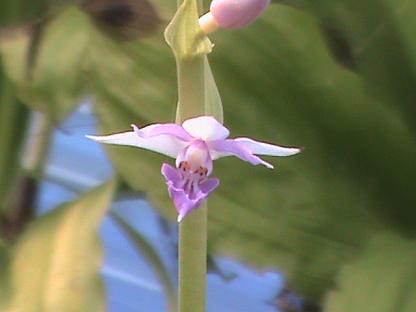 Calanthe reflexa .
Orchids always seem to grab the limelight. So far this year the various Calanthe have grown fatter, but hardly flowered, so I was pleased to see two flower spikes on this one. The first flower is barely open - at lunchtime today it was still a fat bud, so the flower is a bit pale and squashed, but such a pretty thing that it is worth showing anyway.




26th August 2007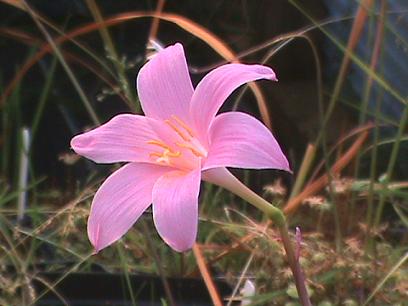 Zephyranthes fosteri .
Seed from the Apline Garden Society, they just appear out of the bare pots during late summer. One day there is just some tatty grassy stuff in the pot , the next day, big pink flowers! It is quite possible that this is wrongly maned, Zephyranthes are notorious sluts when it comes to pollination.




26th August 2007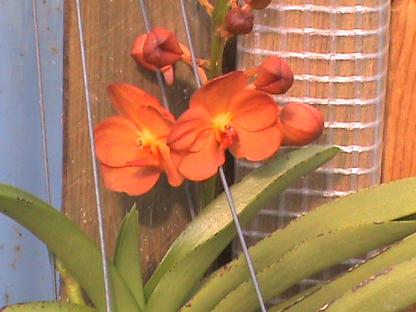 Vanda 'Tamar View' .
I am generally happy to accept that Vanda are a little out of my reach. For the most part they need hot, moist conditions, and I don't have a tropical house! This unknown hybrid came from Tamar View Nurseries (2.99 on the 'Reduced' shelf) and was too good to missw. It hung in its pot all winter in the windowsill , and in March I stood it out in the poly-tunnel. I was astonished that we have had enough warmth this summer to enable flowering (even with the doors closed). I am going to stick with Vanda for the moment, though it is probably a hybrid x Ascocenda. Maybe someone learned in the ways of Vandaceous orchids will enlighten me!





To find particular groups of plants I grow, click on the genus name in the table above. Click on the "Index" box at the top of the page for the full list.
I have a lot of good intentions when it comes to updating this site, and I try to keep a note about what is going on, if you are interested.
If you want to contact me, the address is infoMONKEYjohnjearrard.co.uk
When typing the address in, please replace MONKEY with the more traditional @ symbol! I apologise for the tiresome performance involved, but I am getting too much spam from automated systems as a result of having an address on the front page.