JEARRARD'S HERBAL
Thats enough introduction - on with the plants!
To navigate this site, use the links above, or the detailed links at the bottom of this page.
... out in the garden.
7th October 2007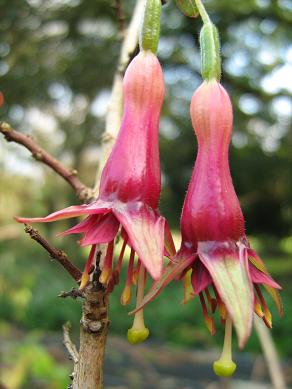 Fuchsia (colensoi x splendens) .
A few years ago I did some hybrids between the New Zealand native F.colensoi and the South American F.splendens.One berry formed, six seeds germinated , and I have killed five of them through the last couple of winters, but this one has prospered and formed a sturdy little bush without any of the straggling of F.colensoi and with better branching than F.splendens, which is lovely, but rather like me, can be a little thin on top!
Suffice to say that I am delighted with this ones first flowers, and perfectly happy to say that I think I am the cleverest person on the planet!
(Things will probably seem less rosy in the morning)(and I've said that before!)




7th October 2007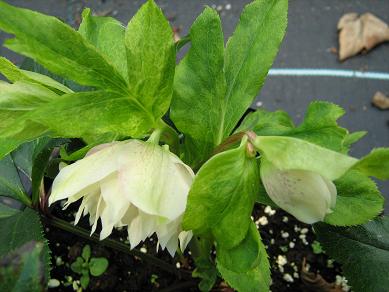 Helleborus x hybridus Double Queen Variegated .
I picked a variegated plant out of a batch of single seedlings that were all rather dull, and was feeling very smug about it, because I thought that the variegation might be one of those rare ones that propagate by seed. I could feel my fortune being made, and then suddenly came across this American strain, that is not only variegated, but double.
Bugger!
In fact, double Bugger!
Once I stopped being miffed about it and stomping around the garden kicking at roots and stones, I settled back to enjoy a taste of spring in autumn. (I accept that 'taste' is a moveable feast, and may not stretch to double variegated Hellebores). With luck this autumn flowering will not prevent it performing in spring, and the same luck may encourage it's little sister to flower at the same time and give me some lovely little seeds!




7th October 2007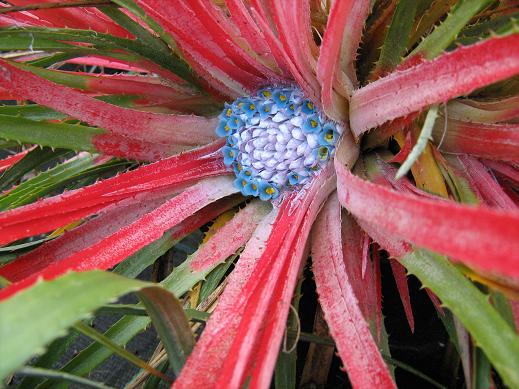 Fascicularia bicolor canaliculata .
Fascicularia taxonomy has made life a lot simpler lately - all the old species have been lumped into F.bicolor, so no more arguments about little details. Those with U shaped leaves in cross section are F.bicolor canaliculata and those with flay leaves are F.bicolor bicolor.
This is probably the best form for gardens. Hardy and free flowering, it likes a dry location and plenty of sun where it can be fantastic through the autumn. The little blue flowers are rather fleeting but the bright red leaves persist for weeks.




7th October 2007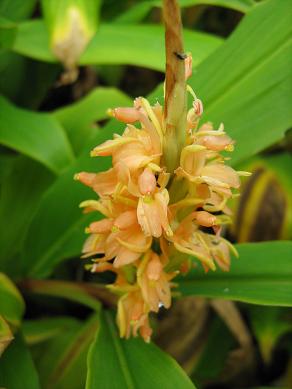 Hedychium (densiflorum x spicatum) .
While we're on the subject of my own hybrids, this one is still open to question. This is the end of the third season for these Hedychium seedlings. I was investigating the relationship of H.'Stephen, H.'Sorung', H.densiflorum and H.spicatum , so I did a range of hybrids between them all. This one was H.densiflorum 'Assam Orange' x H.spicatum to see if 'Sorung' and 'Stephen' could have arisen as natural hybrids. I see very little reason to suppose that this one is a hybrid, looks more like H.densiflorum has self-pollinated (it can happen) . My only question relates to the colour, which is very pale for selfed 'Assam Orange'. Perhaps things will become clearer when more of the batch flower - anything that doesn't produce flowers by next year will be headed for the bonfire!





To find particular groups of plants I grow, click on the genus name in the table above. Click on the "Index" box at the top of the page for the full list.
I have a lot of good intentions when it comes to updating this site, and I try to keep a note about what is going on, if you are interested.
If you want to contact me, the address is infoMONKEYjohnjearrard.co.uk
When typing the address in, please replace MONKEY with the more traditional @ symbol! I apologise for the tiresome performance involved, but I am getting too much spam from automated systems as a result of having an address on the front page.