JEARRARD'S HERBAL
Thats enough introduction - on with the plants!
To navigate this site, use the links above, or the detailed links at the bottom of this page.
... out in the garden.
25th November 2007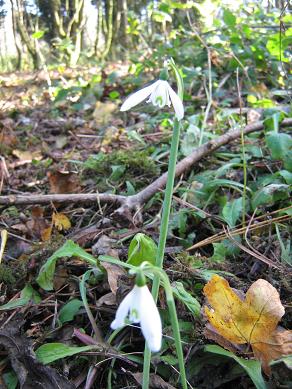 Galanthus reginae-olgae .
In flower now in the woodland, where it is a bit wild and uncontrolled at times. After many years languishing in a pot, it was planted out a few years ago and this is the first time it has flowered properly. I am hoping that in the next couple of years it will clump up a bit more - there are plenty of little bulbs down there, they just aren't large enough to flower yet! When I got it, it was still called G.corcyrensis because the leaves are starting to emerge when the flowers open, but it is now included with G.reginae-olgae (which is usually leafless at this time).




25th November 2007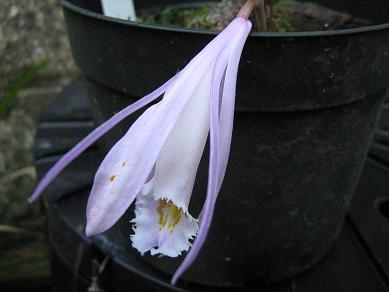 Pleione praecox .
I grow a few Pleione, they are excellent early spring flowering orchids that cause no trouble at all. So this one flowers in autumn and is a little less obliging. This is the second year in a row that is has flowered, so I am pleased enough with that, even though it hasn't managed to increase at all in that time. On the plus side, I think I know what I am doing wrong. It needs to be fed more while it is growing in the summer, and then allowed to dry off more thoroughly through the winter. I grew it once before in 1981, when I bought a single bulb from Thomas Butcher (the bulb merchants), and killed it within the first season!




25th November 2007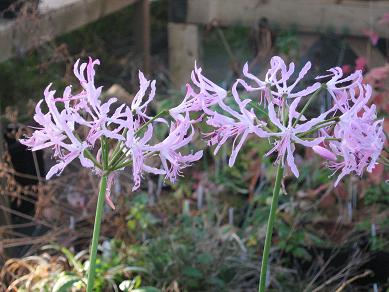 Nerine undulata .
Usually I keep records or everything (it makes me extremely dull company). I have no record of when or where I acquired this, but as long as I have had it it has been my favourite (my first file entry is from 1987). Wonderful pale pink flowers in dense umbels. My plant has been in the same pot for 20 years (I have never repotted it) and it has been left around in all sorts of unsuitable places, including withstanding -8deg C in the winter, yet it flowers without drama year after year. It is just a jolly good plant!
(It has been an excellent year for Nerine, they just haven't figured here very much - too much else happening, and I keep getting autofocus problems on the camera).




25th November 2007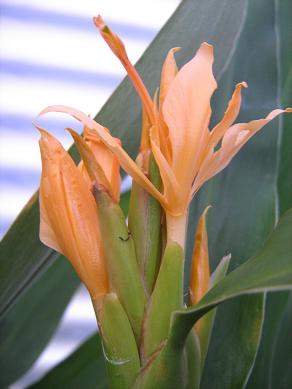 Hedychium Pink Flame .
It wouldn't be autumn without a Hedychiumin flower. Two nights ago Jack Frost came a-calling, and the temperature dropped a couple of degrees below zero. The Dahlias all got frosted, but the Hedychiums have carried on flowering (at least in the greenhouse). This is the first time I have flowered 'Pink Flame' (though the plant is the size of a pink inferno). It is rather congested in the spike, and I am a bit giddy with its novelty, but have to admit it isn't in the first rank of hybrids. It can't really hold a candle to 'Sherry Baby', flowering with it. Not pink of course. 'Elizabeth' is about the only one I have that comes close to pink, but that's another story. (She has buds now, but will need a mild winter to open them).





To find particular groups of plants I grow, click on the genus name in the table above. Click on the "Index" box at the top of the page for the full list.
I have a lot of good intentions when it comes to updating this site, and I try to keep a note about what is going on, if you are interested.
If you want to contact me, the address is infoMONKEYjohnjearrard.co.uk
When typing the address in, please replace MONKEY with the more traditional @ symbol! I apologise for the tiresome performance involved, but I am getting too much spam from automated systems as a result of having an address on the front page.