JEARRARD'S HERBAL
Thats enough introduction - on with the plants!
To navigate this site, use the links above, or the detailed links at the bottom of this page.
... out in the garden.
21st September 2008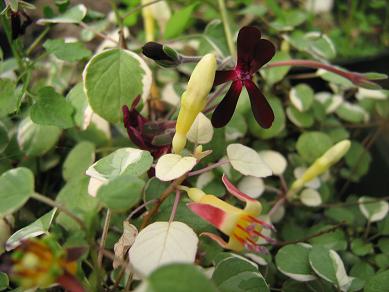 Pelargonium sidoides No.2 and Fuchsia procumbens 'Wirral'.
A puff of extra air in the Atlantic this week has resulted in high pressure which left the garden warm and sunny for the first time in weeks. For a month now it has looked as though summer was over. I know I am not the only one who has taken all the shading down from the greenhouse, but I think it is late enough in the season now, even if the the sun stays for the rest of the month! This was an accident of flowering that I enjoyed this afternoon when I saw it. Pelargonium sidoides No.2 is new to me this season. I nearly got one a few years ago, but it was expensive - it has become cheaper! Fascinating dark flowers, it is supposed to be hardy if it is dry so this winter will be the real test. The variegated form of Fuchsia procumbens is an old favourite, and seems to flower right through the spring and summer. Yelow flowers on a Fuchsia are still a way off for hybridists - this may be a bit of a chimaeral cheat, but they are pretty!




21st September 2008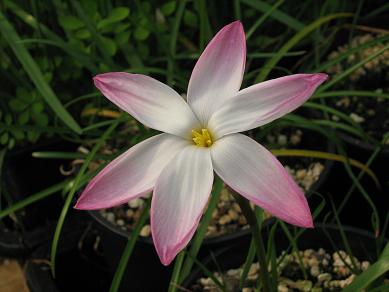 Zephryanthes 'Confection' .
Last week I had a picture of 'Itsy Bitsy' here, and I thought that it was the only one of the new cultivars that was going to flower this year. Without any sort of forewarning, 'Confection' has sprung out of the ground, and it is spectacular enough to keep me going for a week or two!
If any more of them flower this year, you can be sure they will appear here.




21st September 2008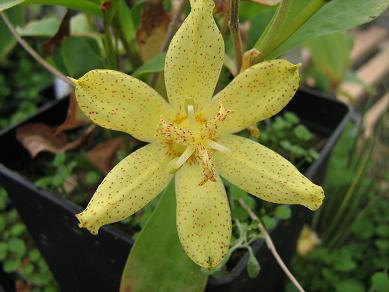 Tricyrtis 'Lemon Twist' .
The Tricyrtis season is well underway, and you can have every imaginaeable variation on white flowers with purple spots, so breeders have turned their attention to breeding the yellow species. It has produced some superb little plants, though they are no longer really Toad Lilies!
This was introduced by Darrell Probst in the USA, and is a hybrid between T.flava and T.ohsumiensis. It seems to have larger flowers than 'Moonlight Treasure', which is otherwise very similar.




21st September 2008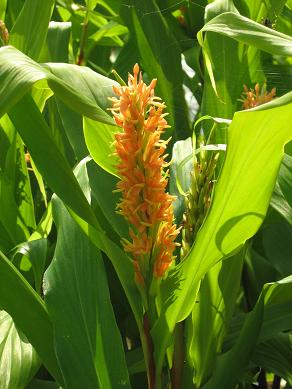 Hedychium densiflorum .
The wet summer has suited the Hedychium seedlings. This is a flower on a batch of H.(densiflorum x spicatum) seedlings. I may be wrong ( the next generation will confirm) but it looks to me like the densiflorum has self pollinated! I have only myself to blame , I should have takem more time emasculating the flowers (which reminds me - I have to go down to the greenhouse and do the dirty on H.wardii). It seemed like a good hybrid to create, I must remember to try again.





To find particular groups of plants I grow, click on the genus name in the table above. Click on the "Index" box at the top of the page for the full list.
I have a lot of good intentions when it comes to updating this site, and I try to keep a note about what is going on, if you are interested.
If you want to contact me, the address is infoMONKEYjohnjearrard.co.uk
When typing the address in, please replace MONKEY with the more traditional @ symbol! I apologise for the tiresome performance involved, but I am getting too much spam from automated systems as a result of having an address on the front page.