JEARRARD'S HERBAL
Thats enough introduction - on with the plants!
To navigate this site, use the links above, or the detailed links at the bottom of this page.
... out in the garden.
8th April 2012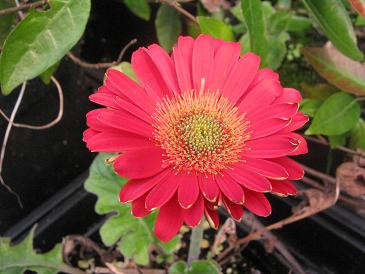 Gerbera hybrid
The promise of Easter weekend has been enough to gather the storm clouds this week. The press had a field day with the promise of fuel shortages and then followed it up with the gloomiest weather predictions they could manage. 'Blizzard Conditions' was my favourite phrase of the week. In the event, it has been a bit chillier than of late and we had a short shower of hailstones. It looks like tomorrow migtht fill up the rain butts and with a large chunk of the country dealing with hosepipe bans that doesn't seem like a front page catastrophe. I did my best to get into a panic buying frame of mind, and bought a bag of logs in case I felt like lighting the fire one evening.
The greenhouse is still laughing at the vagaries of the season, in the shape of this Gerbera flower. In the last couple of years we have been offered a magnificent new strain of Gerbera that are hardy. At least that is the promise at the point of sale. If you rummage around in the breeders soft internet underbelly you will find a statement to the effect that they are not reliably hardy under all circumstances without protection. I had two last year, and one of them has survived and flowered in a cold greenhouse so it endured a couple of nights of frost this year, and perhaps that is hardy enough.
I am treating it as a Gerbera hybrid because that is what the breeders suggest they did to introduce the hardiness factor, but I can't see any difference between this and a compact strain of G.jamesonii, a well known South African that is not reliably hardy under all circumstances without protection.



8th April 2012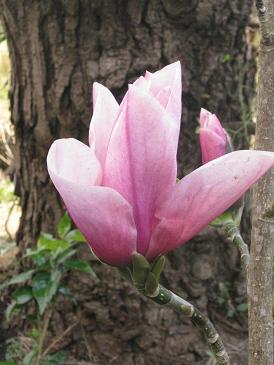 Magnolia 'Star Wars'
A warm early season has meant that the Magnolia have rushed into flower. I have a couple of large trees that went in when I moved here, but about ten years ago I started to plant a second wave of Magnolia that will add bulk to the woodland plantings as I remove the older windbreak trees. I would like to claim that I selected the cultivars I wanted and matched them to the location. I'm sure there are gardeners out there who manage to do that. I have always been afflicted with a random horticultural twitch. I buy things when they seem to be cheap and plant them where there seems to be space. It doesn't always work out, but it's easy enough to dig out the mistakes.
When I bought 'Star Wars' I was a bit worried that I would walk past it humming the theme tune or fighting off imaginary assailants with an imaginary light sabre but it hasn't happened. I have resisted the urge to make the link. Something about the muted colour and polite shape speak of costume drama or perhaps Royal It's-a-Knockout rather than science fiction. Raised by Oswald Blumhardt in New Zealand in the 1970's we're talking original films not post-success prequels. The colour is inherited from M.liliflora and the size and shape from M.campbellii. It has been in place since 2009 and it is delivering on a reputation for flowering as a young plant. When I put it in I was considering having a grove of them but perhaps one is enough.



8th April 2012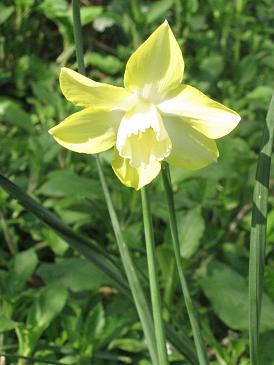 Narcissus 'Pipit'
Yellow daffodils are a delight and one of the great pleasures of early spring is driving along the lanes and coming across fields of golden blooms. Unfortunately the golden spectacle speaks of the difficulty of the industry. As a cut flower crop they are often not worth the cost of picking them and the rippling fields of flowers are probably not so cheering if you are struggling to make a living. This year a lot of fields have gone unpicked because the flowers opened before the pickers were available. A slight build up of fungal disease and Narcissus fly in West Cornwall means that bulbs are being grown further afield at the moment and you can run across them almost anywhere locally. Even fields that were too ragged to fatten a bullock on have been pressed into service so I assume the market for bulbs remains strong even when the flowers aren't worth cutting. The fields are grown under contract for three or four years and the the grower moves on to a new site. However thoroughly they lift the bulbs, there are usually plenty left behind. I know plenty of ragged fields that house a thin bullock and a lot of daffodils.
'Pipit' has been a favourite for a long time. I think I would like to have a big bed of it but I am taking it slowly. Sometimes plants that are beautiful as single flowers are less impressive en masse. It would be a pity to lose the beauty of the flower in a second rate blob. I think the paler centre of the flower would keep a mass interesting but I am prepared to spend a few more years thinking about it before I plant any more. It is a late blooming cultivar, and I have just planted five bulbs in the meadow to see if they work. In theory the other daffs have finished before 'Pipit' puts on a show, so it will extend the season, but sometimes I can be too clever and the end result just looks ragged with little patches of new flowers coming up through the yellowing leaves of the earlier plants. I have become patient enough to plant a few and see if I ike it. Twenty years ago I would have planted a thousand, hated it and spend the next year digging them up again. There is a price to pay for random gardening.



8th April 2012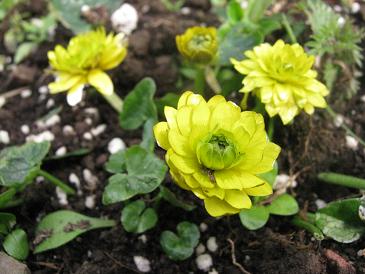 Ranunculus ficaria Green Eyed Flore Plena
Fortunately the Celandine's are easier to manage. They are going to do whatever they are going to do and you just have to live with it. Once they are in there is no realistic prospect of removing them. I have a little mound of soil at the back of the house that bursts with snowdrops, where little woodland creatures play. I don't remember planting Celandines on it, but it is now jewelled with orange and yellow and white whenever the sunlight catches it. It is a great pleasure, and I would have to live with it even if it wasn't. I would have no chance of digging them out.
There are a number Celandines with double yellow flowers. Every year I seem to stumble across a new name, and from time to time it has been applied to a new plant. I call this 'Green Eyed Flore Plena' because there is also a 'Flore Plena' with the same shape but much more golden in the centre of the flower. They seem to be different but it is difficult to know for sure. From time to time I scatter bulbils from the double Celandines in the woodland. There are planty of wild ones up there, but it is nice when an occasional double flower shows up. They grow much better than they do in pots and they seem to spread with enthusiasm.
From time to time I get carried away with some great plan or other, and try to tell the garden what I want it to do. It's no bad thing that there is a carpet of perfect little flowers that are taking no notice of me.




To find particular groups of plants I grow, click on the genus name in the table above. Click on the "Index" box at the top of the page for the full list.
I have a lot of good intentions when it comes to updating this site, and I try to keep a note about what is going on, if you are interested.
If you want to contact me, the address is infoMONKEYjohnjearrard.co.uk
When typing the address in, please replace MONKEY with the more traditional @ symbol! I apologise for the tiresome performance involved, but I am getting too much spam from automated systems as a result of having an address on the front page.