JEARRARD'S HERBAL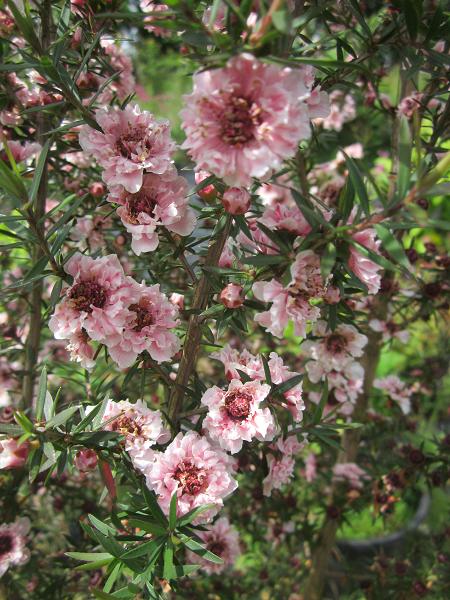 13th July 2014
Leptospermum 'Apple Blossom'
Summer marches onwards in the garden. Occasional mists have kept the garden moist without adding a great deal of rainfall. If I dig around it is still dry an inch or two below the surface. However, the top inch has been moistened and cooled and although I haven't seen them yet, the Cyclamen tubers will have heard the distant calls of autumn and started to respond. No flowers today but I had to go and check before I said that. The ground under the Sycamore is still a bit dry but one good thunderstorm would do the job, and relieve the stifling humidity.
A week of visits to nursery sales has left me with a jumble of pots by the back door, waiting for homes to be found. Leptospermum rupestre is one of the newcomers, said to be the hardiest of the genus. I grew a lot a couple of decades ago but the string of bad winters before the last string of bad winters destroyed most of them and the remainder were so badly mangled they were grubbed out. In 2012 I dipped a toe back into the waters with 'Apple Blossom' and although I have approached it with wry scepticism at the top of the garden, it has been wonderful and smiled back at me like a four year old child tickling a sarcastic grandfather.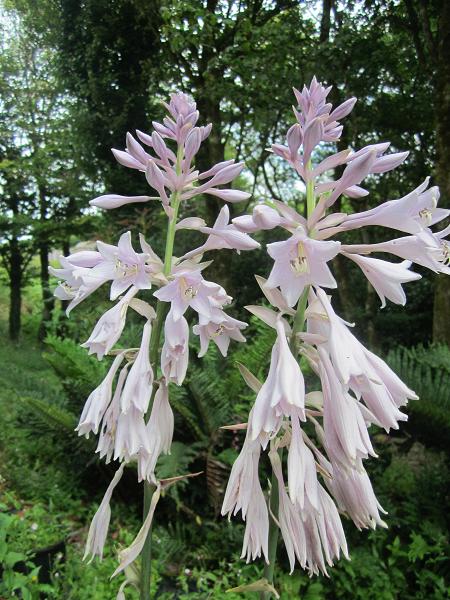 13th July 2014
Hosta 'Empress Wu'
Leptospermum are one of those garden ideas that have always been slightly marginal. They don't like hard winters and they don't like wet weather. Hosta on the other hand have always been centre stage in gardens. Unfortunately in this garden at least, they are equally marginal. They survive the cold and prosper in the wet but slugs remain an impossible problem. For many years breeders have concentrated on colour, leaf size and texture without any regard for the plants survival in the garden. As a consequence I have a pot containing H. 'Fire Island' that has never been more than a small collection of white rimmed golden stumps. I could use slug bait, but it would take a skip load and leave me with a thick mulch of slime and death (which is a more adventurous theme for a border than I can stomach).
H. 'Empress Wu' arrived in a puff of excitement a couple of years ago. Large growing and blue (ish) it has been micropropagated by the million, so before long we will be looking for genetically enhanced Japanese slugs, just to control them. The native sorts have made a mess of the leaves, which would otherwise be an adequate substitute for H. sieboldiana. 'Empress Wu' gains some extra value by having worthwhile flowers compared with the lilac troll on a stick that is H. sieboldiana.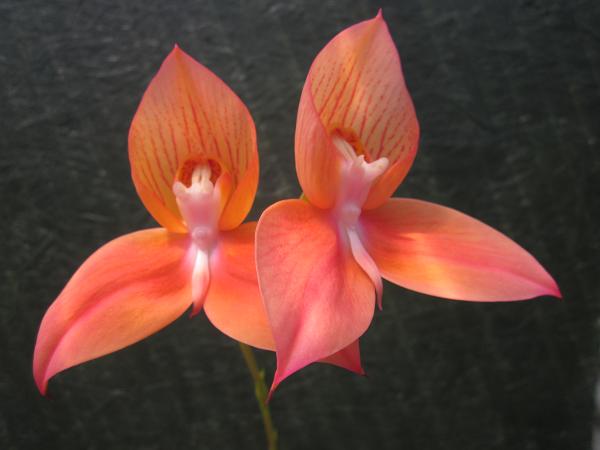 13th July 2014
Disa Marguerite Kottler
The Disa season continues to glow brightly from the end of the greenhouse. A number of new things are flowering this year for the first time and among them Margeurite Kottler stood out by being orange. Seeing a number of new grexes flowering emphasised the similarity of new hybrids. They are pretty much all scarlet red, 30-45cm tall with between two and four flowers on the stem. There is some hope that new work being done will introduce characteristics from other species into the mix but I have made a firm promise to myself not to try to breed any more red ones.
Marguerite Kottler was raised by S. & M. Cywes in South Africa and registered in 1993 (Hanna Meyer x Betty's Bay). It is a very complicated multi-generational hybrid, but it only includes D.uniflora and D.racemosa in the mix. By my calculation it is 75% D. uniflora and 25% D. racemosa which is the same proportion as D. Diores but arrived at in a much more complicated way.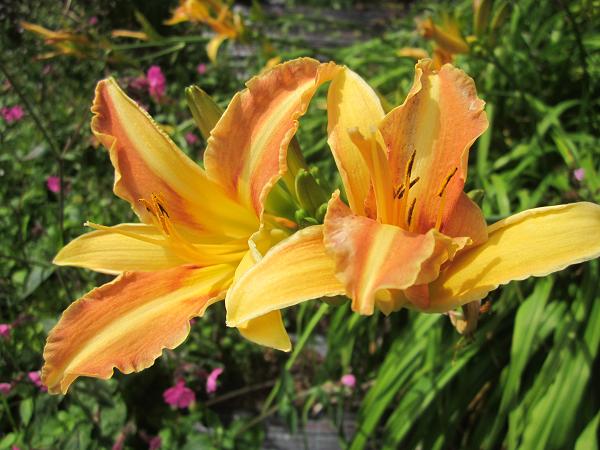 13th July 2014
Hemerocallis 'Summer Interlude'
The second plant sale of the week was the start of the closing down sale of Constantine Garden Nursery, which will be gone in three weeks time and missed. In the meantime there are still some lovely things available. I was looking greedily at the Hemerocallis, and I think I will be paying a return visit shortly. I have plenty but they are reliable performers in the garden, unlike the Hosta, and always welcome.
The big problem with Hemerocallis here is keeping the names straight. This has a label on it saying 'Summer Interlude', but it is no such thing This is more like 'Linda' without the red marking, or a very faded 'Frans Hals'. It is neither of those things. It is something else.
Perhaps the time has come to ditch all of the cultivars that are clearly wrongly named, stop lingering in the 1950's and move to something a bit more modern. Whatever this is, it isn't good enough to waste a lot of time on.