JEARRARD'S HERBAL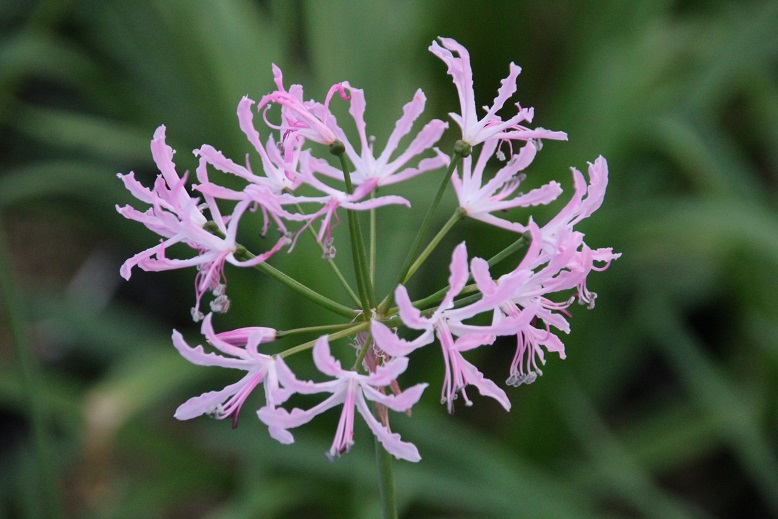 5th November 2017
Nerine undulata .
I am waiting for the first crisp cold morning to arrive, the first touch of winter. Temperatures are falling but the atmosphere remains clammy, the wet grass is full of earthworms doing whatever earthworms do in wet grass. They seem to be content. One day the morning will be clear and the Robin will look surprisingly fat. That will be the arrival of winter. Naturally the evenings have darkened, the fire has been lit and I have closed the bathroom window. The last thing I want is a cold blast as I get out of the bath. None of those whisper winter's arrival because I don't choose to let them.
Down in the greenhouse the Nerine season has taken a step forward. The last of the N. sarniensis forms have started to look like the last of the N. sarniensis forms. They have lost their brio. The scarlet tepals are hanging limply from the heads. In their place N. undulata has appeared with its offspring. It is an almost evergreen species growing naturally in moist soils in the Eastern Cape Province. It doesn't have a dormant period but through the winter it looks like it can't be arsed.
The offspring with N. sarniensis were originally described as N. x versicolor and in the last year or two the name has become fashionable again. They mostly come in pink shades but there are a couple with salmon colours. Not wild caught salmon of course, this is farmed salmon, from fish that can't be arsed.
There is an unexpected raucous joy about them, like watching a fishwife punch a seagull on the harbourside.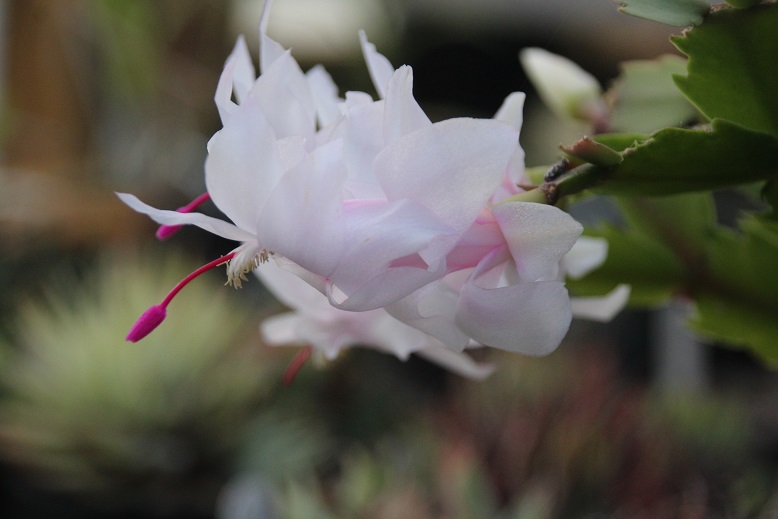 5th November 2017
Schlumbergera 'White Christmas' .
I have a little bench for cactus and succulents perched above my propagating bench. Both of those spaces sound quite grand when expressed in words, but they aren't. During the week I crept in to see them. I had had enough of the cold wet windy garden and that little corner of greenhouse is sealed tight against the outside world. If the sun shines it warms up and it makes a delightful small refuge. I can pretend to be doing something in there when the wind is whistling.
The low sun was beaming through the side wall and illuminating Schlumbergera 'White Christmas'. I hadn't even noticed it had buds forming. I'm not sure how it will cope with winter out there, I have a feeling it gets quite cold after the sun goes down. I could leave a thermometer out there and find out, but I don't really care. I can't do anything to change it so it doesn't matter. Schlumbergera fall apart if they get too cold, slowly shedding stem sections until the ground looks like an impossible jigsaw.
As with the yellow flowered selections, 'White Christmas' produces the clearest coloured flowers at high temperatures. As it gets colder the flowers become pinker. On that basis, this one seems quite happy at present and at least it gets watered here. I have another in the Agave house growing under a shelf where it is warmer but never gets watered. It isn't in flower.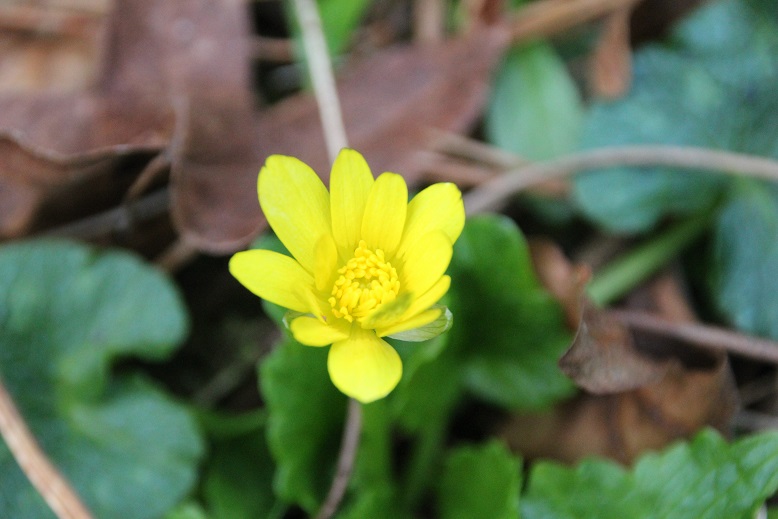 5th November 2017
Ficaria verna ssp. ficariiformis .
I have been enjoying the Lesser Celandine leaves all week. The first leaf always seems to stick up out of the soil quite randomly. Perhaps it is the fallen autumn leaves and weedy undergrowth but they haven't made neat rosettes yet, just single leaves sticking up. I have had dark ones and green ones, every imaginable variation on silver speckled and I have been looking at the named varieties with polite incredulity. I have been wearing that expression too much this week, always careful to stop short of exasperated impatience. Why did people name them all? I suppose it is like children, you have to call them something.
Last year I went through the Ficaria verna collection and placed them in order of importance, from those that were sterile, then distinct then significant in some way, down to those that were indistinguishable, uninteresting and irrelevant at the end. I'm preparing to throw them away onto the compost heap of the Borg where their distinctiveness will be assimilated back into the collective. The Borg have a surprise coming, I don't think there is anything distinctive there. They are about to assimilate a culture made entirely of no-win-no-fee lawyers and health and safety inspectors. The relentless indistinguishable beaurocracy will bring them to their knees.
Guess which film franchise I've just bought the box set of on DVD!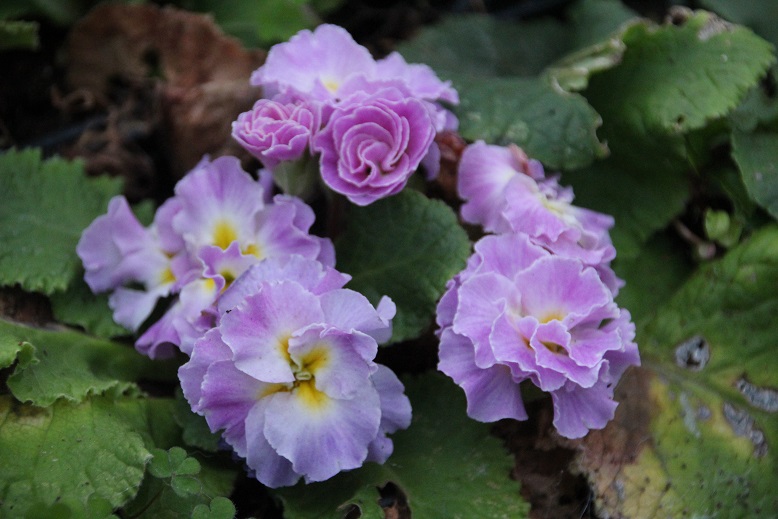 5th November 2017
Primula vulgaris double .
Every time I think of winter I go hunting for signs of spring. They aren't hard to find. Next weekend I will wander around looking for all the things that have to be brought under cover. The garden has started to look calmer, leaves have fallen (or been ripped) from many of the trees, there is more light getting in and there are some distant perspectives. Through the summer things get a bit hemmed in and everything seems very self-involved. I must remember to cut some more views out into the surrounding countryside and let the sanity in from time to time.
I have a long relationship with double primroses but it is the Lesser Celandine story all over again. You can grow them from seed, why do they all need names?
That is not to say I don't collect the names as the best of their type (and sometimes they are). I like to grow the seed as well, and as long as I remember to pollinate them in the spring, there always seem to be more coming along even in the years when the vine weevil go on the rampage. Last spring I remembered to pollinate them but forgot to collect the seed so my relationship with double primroses may be long but it is also haphazard.
Last years seedlings have started to flower in their enthusiasm to rush into spring. Nothing among them to set hearts fluttering but that is what I like. They have a relaxed and perfectly ordinary way of being remarkable. Spring before winter. They will flower now until next year so in this little patch at least I can have spring instead of winter.
I only need a small refuge.