JEARRARD'S HERBAL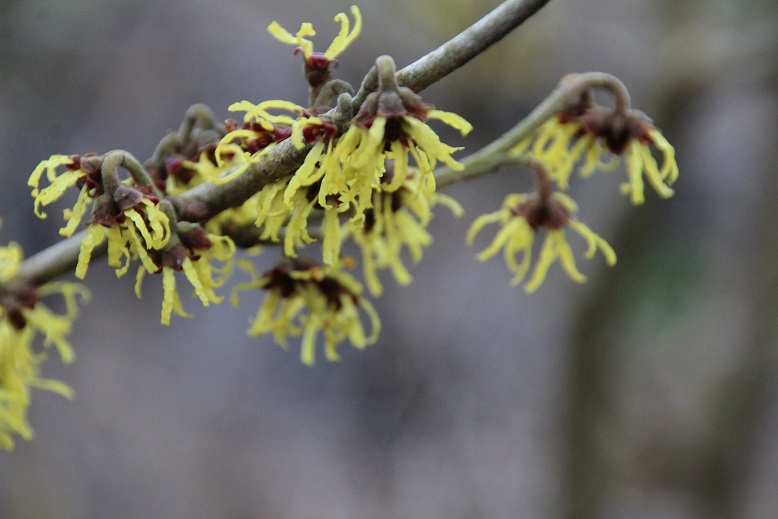 4th February 2018
Hamamelis x intermedia 'Westerstede' .
A puff of cold air has blown in to remind me that there is still a wintery ghost lurking in the shadows, but it has blown in over the north Atlantic. I have an eye open for a high pressure system forming over the continent which might be more serious. A dry, freezing blast of air laying waste to everything in its path. This is just a nip in the air by comparison. It isn't welcome, but I'm not losing sleep over it.
Winter is clearly leaving the garden, there are shoots springing up all over. Thalictrum are at the spaghetti stage, thin and fragile poking straight up out of the ground. Peonies have shoots as scarlet as their flowers. I might be wrong, I am always fast to wish away the last of winter, but it seemed to me that the garden moved forward this week with determination. It certainly didn't slip back.
The Hamamelis have noticed the change. Last week I had a bold display from them all, this week it is only the late forms that still look good. 'Westerstede' and 'Arnold Promise' are still bright and so far there is little to choose between them. They both have mid-yellow flowers that seem to hang down slightly from the branches. I am expecting 'Arnold Promise' to become the larger in time, but for now they look much the same.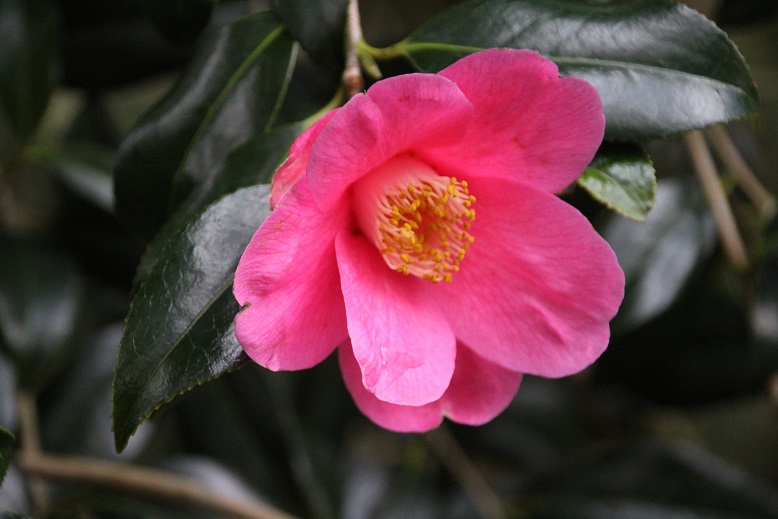 4th February 2018
Camellia 'Mary Christian' .
Camellia have been sputtering through the garden, a flower here or there but no great display. They are starting to develop some serious pink intent but for now it is only 'Show Girl' (hanging on) and 'Mary Christian' (this week) that are doing for pink what Arnold Schwarzenegger did for "sword and sorcery" epics. Adding some serious muscle.
This is 'Mary Christian', or perhaps it isn't. I lost the name shortly after I planted it. I say lost, there is a label that will still be legible buried under the root ball. I know exactly where it is. It might be more accurate to say that I have lost access to the name. The plant makes a strong statement in the garden and I wanted to know what it was, so I asked a local nursery specialising in such things and they suggested 'Rosemary Williams'. I have been prepared to accept the identification - I know nothing - despite the unfortunate fact that I have never planted 'Rosemary Williams' in the garden. I assumed that I had obtained it under the wrong name.
Fluttering around like a fat, earthbound butterfly at Camellia shows convinced me that it was in fact 'Mary Christian', one of the original C. x williamsii seedlings raised at Caerhays Castle. I am happier with the identification, I did at least plant 'Mary Christian' - I have the notes to prove it. Unfortunately I don't have notes that tell me where I planted it unless you accept the moronic "... in the garden" as an adequate descriptor.
I suppose it must be 'Mary Christian' then, because that is certainly where I found it.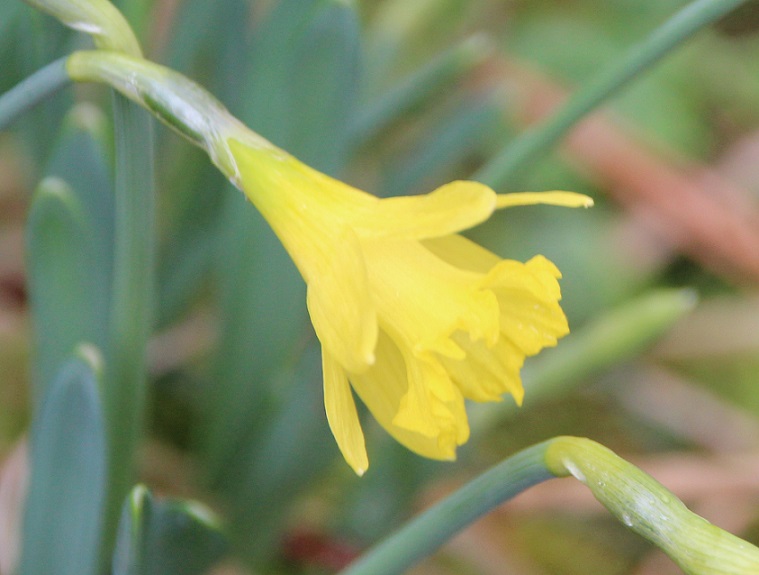 4th February 2018
Narcissus asturiensis 'Van Tubergen Clone' .
Things are what they are, what they mean is entirely a personal decision. Take daffodils, harbingers of spring if you will, and I will. 'Rijnveld's Early Sensation' may have been in flower since November. 'Cedric Morris' may have started in October but still, it is spring. I have the daffodils to prove it. The 'Van Tubergen Clone' invokes a nursery famous for its spring bulbs. This is no nonchalent narcissus popping into bloom on a whim, this is a solid gold trumpet to the arrival of spring. With a total height of 7cm it is blowing a quiet fanfare, but I'll take it.
The species comes from the mountains of northern Potugal and Spain. Every year I search through the catalogues for variations on the theme, but there are very few. I would buy a dozen more if I could get them, it has the sort of charisma that could bring the most heartless decking-developer to their knees. This clone has an advantage over others, it does at least clump up. In habitat they are said to occur singly. Unfortunately it has never set seed with me. Perhaps it needs a special friend. Perhaps it is just odd or modest. Less prepared to believe the trumpets of spring than I am.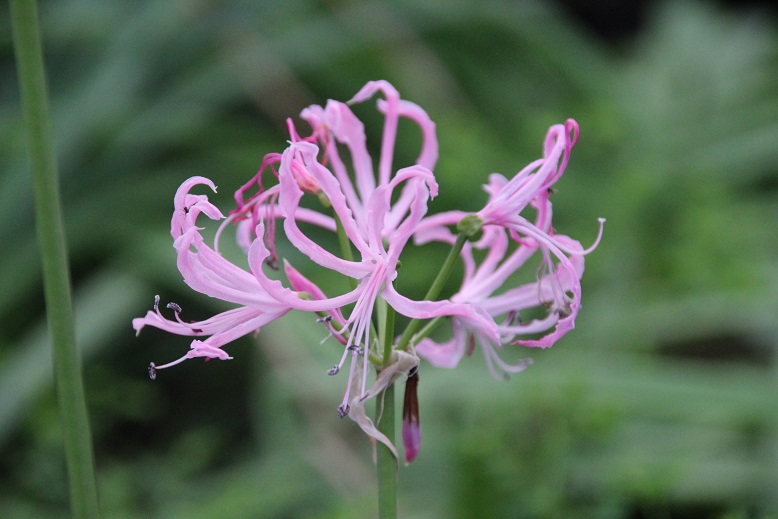 4th February 2018
Nerine undulata 'Winter Sun' .
I can understand that the season is not yet convincing. In the greenhouse the last Nerine has started to fade. 'Winter Sun' is a delightful thing, producing spikes as the last flowers fade on the rest of the collection. It appeared suddenly on the commercial scene a few years ago and disappeared just as fast. It is a pity, because it is a remarkable thing. I bought one bulb when it was available, thinking it was just another fancy name to add to the hollow chorus of nomenclatural verbiage attached to Nerine undulata and I was wrong. It extends the season right through the grim months. N. angustifolia will flower in July so I only have to endure four sere months in the desert of the Amaryllidaceae with nothing but Galanthus, Narcissus and Clivia to sustain me.
It is another plant that I would buy a dozen of if I got the chance, and another that has refused to produce seed despite my best efforts. Its fading marks the setting of the winter sun. Evenings are getting lighter, mornings are getting lighter and the occasional burst of sunshine is getting warmer. If I could persuade the Hippeastrum to prosper I could even have scarlet Amaryllids to keep me going until July. They need more heat and I need more places to hide from the rain, so there is a solution in there somewhere stuggling to get out. Perhaps it is a job for the long summer evenings to come.