JEARRARD'S HERBAL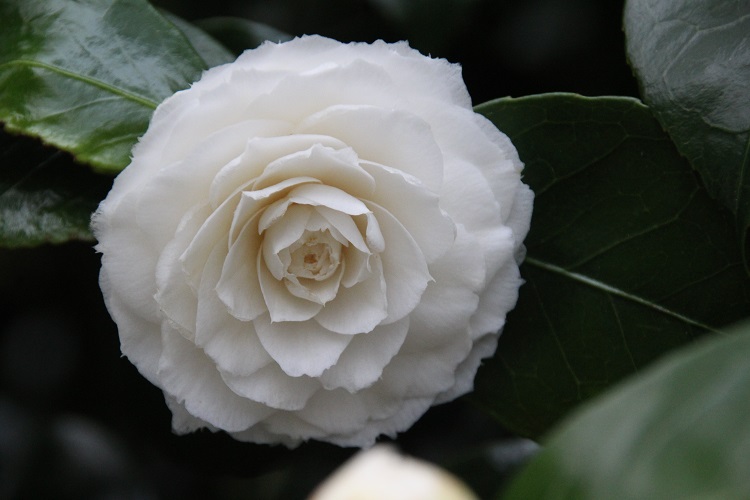 15th April 2018
Camellia 'Alba Plena' .
I ran away yesterday. The slightest suggestion of a sunny day by lunchtime and I decided to go and enjoy it somewhere else. We have had a tolerably dry week and I had spent the morning on the greenhouse roof removing the fallen leaves of autumn. I'm happy for them to stay up there through the winter, they offer some protection from radiation frost, but the first dry day of spring and they have to come off.
After a couple of hours sweating in the sun I decided it was time to run away. I went and sat in the sun in someone else's garden which was delightful. Everywhere I looked there were things to do that I didn't need to worry about.
At home the Camellia are at their peak. They might have managed it a month ago but we all know about the cold spell, it doesn't need dwelling on. I have a couple of double white Camellia that have been with me since the year dot. The names were lost somewhere along the way and although 'Nobilissima' was easy to identify, this one kept was never quite in condition when I was ready to wrestle with it. During the week I had a perfectly formed typical flower and sorting out a name was easy. I have a shortlist of about thirty cultivars which went into the garden decades ago, there wasn't much scope for confusion, but somehow I had managed it.
Scraping the greenhouse roof and identifying a Camellia might not seem like much to achieve over a weekend but I am pleased.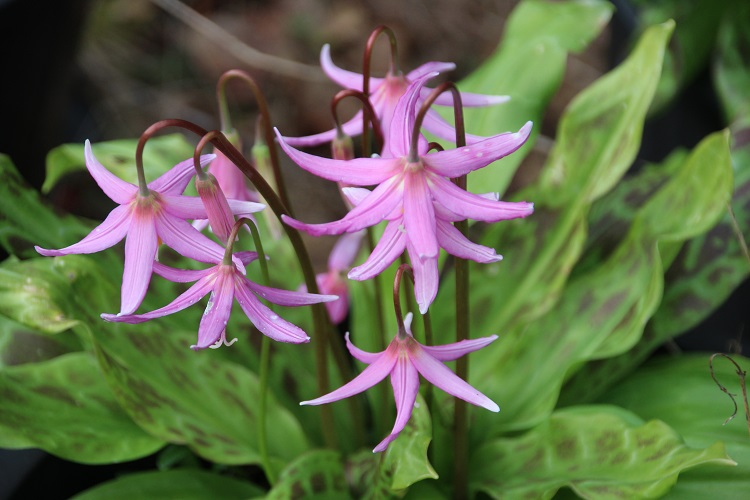 15th April 2018
Erythronium revolutum 'Knightshayes Pink' .
With the snowdrops out of the way it is time for the Erythronium to take over. I had a single snowdrop remaining in the week, so I picked it. A rare manifestation of tidiness in a disorganised world. While sitting in a garden yesterday I was talking to the owner about spring. I say talking, we were basically just complaining about all the things nobody but a gardener would care about. It boiled down to the worry that if the sun came out for a few days, spring would be over before it had really got hold. His Erythronium were looking lovely, I decided that I had come on the right day and if it all fell to pieces the following week it wouldn't be my problem. Garden visiting can be heartless.
My own Erythronium are another matter but I live further south and west, where it is milder and wetter. Showery spells today are evidence that we aren't going to have a heatwave here just yet.
There are a number of pink Erythronium names but I am not sure there are as many pink Erythronium. In the final analysis I think we might have E. revolutum and some seedlings from it that differ as little as peas in a pod. Perhaps I am being pessimistic, but is 'Knightshayes Pink' distinctive? I don't think mine is but the name relates to a group of seedlings rather than a clone. Ideally they have leaves more heavily marked with brown than typical but I'm not convinced. The last naturalised group of the species I saw was very diverse. I must go and look again.
It may not be distinct but it is lovely, fecund and increasing.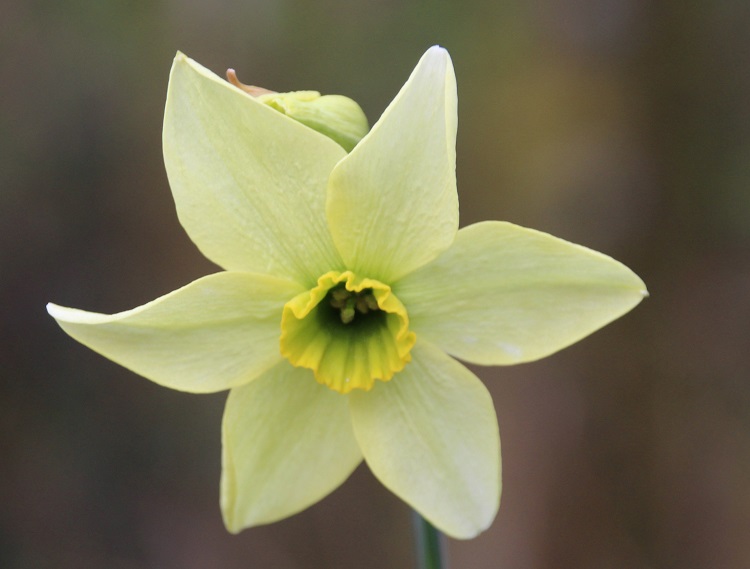 15th April 2018
Narcissus 'Mesa Verde' .
I have never grown Narcissus viridiflorus which puts me in the creditable position of never having killed it either. Inevitably an attempt at the former would have resulted in the latter. A large part of me would like to try, and a little voice inside me says "perhaps in the Nerine house" but I have resisted (to date). I have been helped by the unavailability of bulbs and my impatience when faced with (almost equally unavailabe) seed. Notwithstanding, there is an allure to green flowers and N. viridiflorus remains an intangible dream.
Fortunately for me, there are others made of sterner stuff. In particular there are others made of sterner stuff who live in southern California where the climate suits the species better than dank Cornwall ever could. During the 1960's Manuel Lima started hybridising N. viridiflorus and produced some good green offspring. 'Verdant Sparks' is the best I have seen, a small, green tazetta hybrid. I don't grow it but I am looking!
Bob Spotts in California used pollen from Lima's green hybrids to produce 'Mesa Verde', first flowering in 1990. It is reluctantly green rather than grasping the colour with enthusiasm, but I can forgive it. More importantly, it seems to be growable. Last year I had one spike of flowers, this year I have two. Unfortunately in the race to produce it commercially the stock seems to have become infected with a virus - the foliage is streaked and mottled with yellow - but that is the way of things these days. It provides a speck of oddness among the late daffodils and I have had six weeks of pleasure from watching the flower scapes emerge.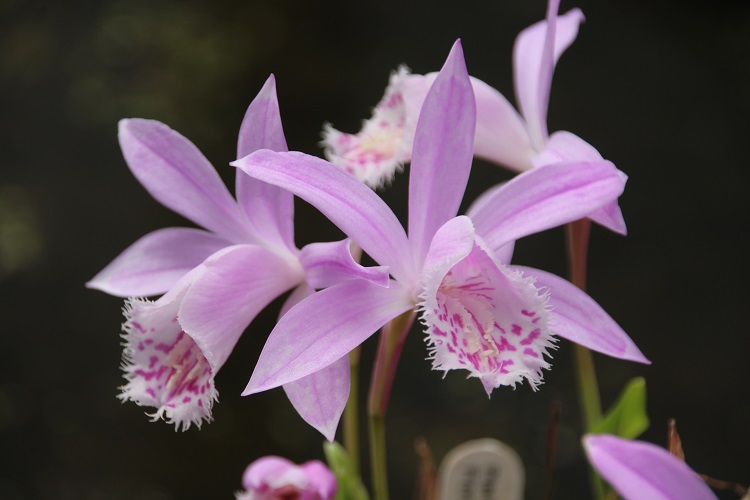 15th April 2018
Pleione Fiona Hall .
The cold weather (that I am not going to dwell on) hit just as the Pleione buds were starting to emerge. I had watered the pots in the week before, and they froze solid to the bench. Things didn't look good. I worried that I would lose all the flowers but I could live with that. I was more worried that it would kill all of the new growths and I would get no new bulbs forming this year. In the event I was worrying too much. The plants thawed and carried on developing as normal. They are a couple of weeks behind this year but it isn't going to be a catastrophe. A few days of warm dry weather and they are developing fast. I have been experimenting with winter conditions for a year or two, one copy of the collection are kept dry through the winter, a duplicate is kept moist. It isn't a very reliable test because the two sets are kept in different greenhouses. The dry group are also cooler.
The wet group are further advanced. Possibly it is just the slight extra warmth but I think they also started into growth earlier in the year. They are currently in full flower while the dry group are still a fortnight away. It's all very subjective but it is clear that they haven't minded being moist through the winter and I am going to reconsider my watering pattern.
Fiona Hall has a tall, upright scape that displays the flower well, a characteristic inherited from a P. yunnanensis grandparent. It is an undervalued attribute in modern Pleione breeding. However wonderful the flowers they have to be displayed well to have impact. I look forward to the day when the large orange and scarlet flowers of recent hybrids are held aloft on sturdy stems. It won't stop me growing the droopy weaklings but I know they can do better.
It may be true that all of them are going to flower together in a coordinated spectacle of magnificence, they may all go over in a few days if the sun comes out. On the other hand I may get to enjoy them for another month. It has started to drizzle again.