JEARRARD'S HERBAL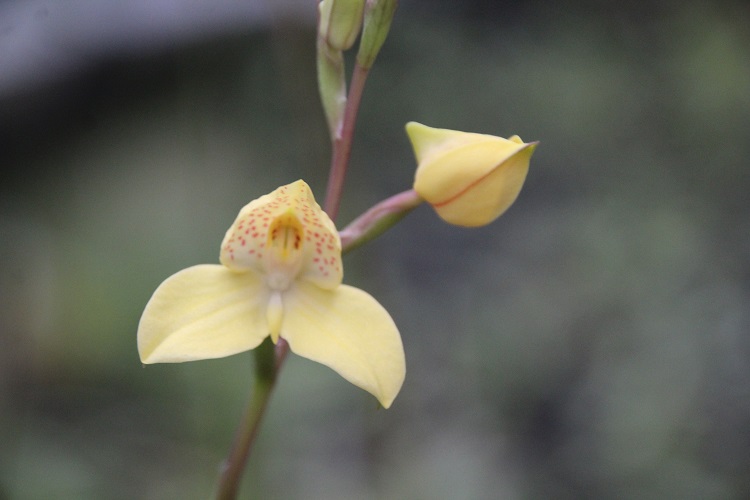 10th June 2018
Disa (aurata x Colette Cywes 'Peach Blush') .
A long, dry week and the garden feels fatigued. Rain has been playing with us like a cat with a weary mouse. The sky darkens, the air becomes still and heavy, nothing happens. The mist rolls in from the south, plants reaching into it for the promise of water. In the morning it's back to square one. I wake up and listen for the sound of car tyres on the road, the slick squish-squish that says rain has fallen and the road is wet. Instead I hear the hot rumbling of rubber.
It is bound to break. The forecast keeps promising much of the same, but I don't think they can spot the moment of change any more than I can. One day, on the flip of a coin, the dark sky will burst like thin trousers on a fat man who has bent over.
The Disa have started to flower, and it is good to have a mania to replace the snowdrops. For several years I have been making hybrids without any particular intent. Crossing this with that and seeing what happens. Last year I was forced to put on my horticultural hat and look at what was missing in the genus. Small flowered pot plants with compact, upright spikes and yellow flowers were my conclusions. I started making crosses with that intention. This year one of the randon hybrids has beaten me to it. This seedling with small yellow flowers could be more compact but it is well on the way. I doubt anyone else will like it, the modern taste for Disa is still in the raspberry pavlova stage but I am happy (and slightly embarrassed that it was so easy).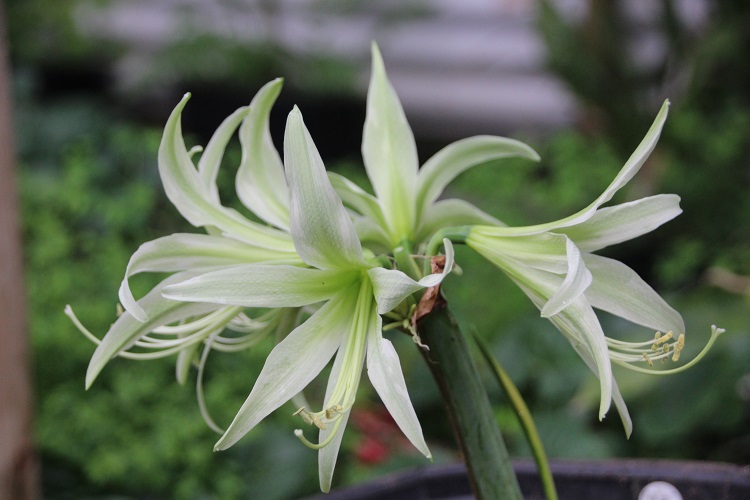 10th June 2018
Hippeastrumn 'Evergreen' .
A friend pointed out to me recently that all my obsessions had big pink flowers. It isn't true and I felt vindicated when I drew attention to the snowdrops, but it is true-ish. If there was a big pink snowdrop I would want it. I didn't buy a little, pinkish snowdrop last year and I am still kicking myself. I am quite pleased not to have a peony to show this week. Like a non-smoker who only has an occasional one after a meal, I am not a peony grower and I have started adding extra meals to the day to be certain of staying within that definition.
It is pleasing to be able to move on to Hippeastrum. I am not a Hippeastrum grower, though in this case it means I am not a very good Hippeastrum grower. They survive, they aren't happy. They need somewhere warmer in summer to complete their growth and although they have been moved around the greenhouse several times, nothing has suited them. I know what they need but I haven't got around to building it yet.
I have dozens of pots of green leaves, struggling to make the most of the hot spell. In a greenhouse that was less well ventilated they would have started into growth a couple of months ago and made fat bulbs by the end of autumn. I would have a riot of pink and scarlet and it would be much harder to defend the statement that I am not a Hippeastrum grower. Instead I have green, and flowers on 'Evergreen' emphasise the fact. They are very welcome on a group of plants that I have been putting aside for too long.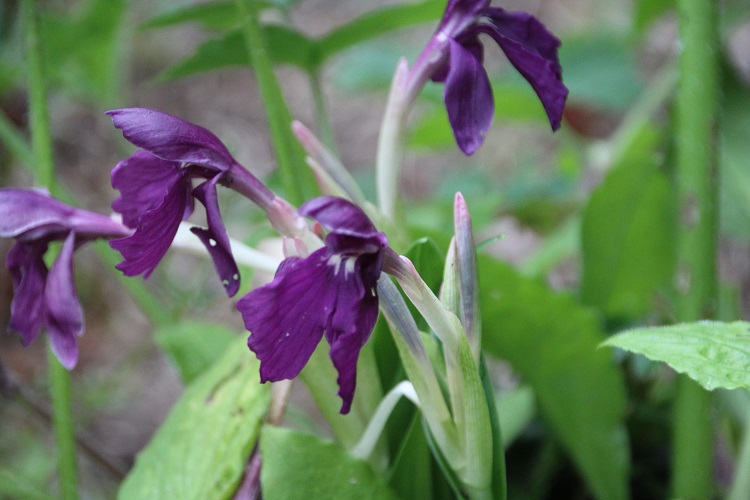 10th June 2018
Roscoea humeana 'Inkling' .
The Roscoea had also been put to one side as part of the great Nerine takeover. I sorted out a greenhouse for the tender bulbs. They had been scattered about the place in an irregular manner and it made watering a nightmare. Better to have them all in one place. I deluded myself with the laughable idea that it would somehow become 'rational'. As a consequence the Roscoea and Epimedium had to go somewhere else. They went outside. The Epimedium have sulked, the Roscoea have burgeoned.
Once there was some space, the Nerine took over. Several genera have been evicted, it has become a Nerine house and the start of the season cannot be far away. Slowly the Roscoea are returning to the greenhouse. They have grown, the clumps have increased and they need to be split. They grow among the Snowdrops and the whole area needs to be sorted out (which is code for "I need more space"). As they are split they drift back inside.
R. humeana 'Inkling' has done well in the last few years. When I planted it out it had been struggling in a pot for too long. I was worried that it would be too weak to survive but it has bulked up well. I get moments when I question its identity because the depth of colour seems to vary from year to year, but this deep purple is about right. An imposter might produce an occasional stem of aberrant flowers but not an entire clump. It just varies from year to year.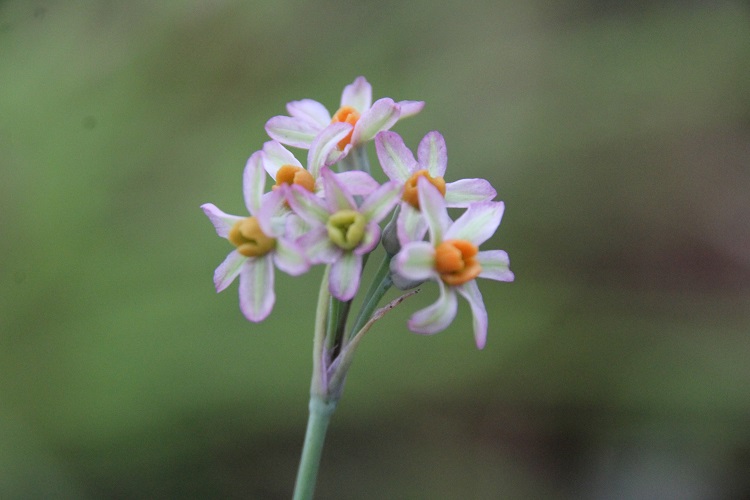 10th June 2018
Tulbaghia 'Naughty Seedling' .
I'm a vegetarian, and it causes problems. We don't quite fit in. Fortunately (for once in my life) I'm not obsessed about it. I'm drinking an instant cappuccino and I haven't bothered to check the contents. I don't trust the manufacturers not to slip in some slaughterhouse waste product but I don't care enough to find out about it. The Tulbaghia are like that at the moment, they don't quite fit in but it is causing trouble. They are all growing in the Nerine house and the Nerine are constantly hungry for space. I have tried to restrict them but it is beyond me. I had tried a couple of Tulbaghia outside in the hope that the old Roscoea/Epimdium trick might solve the problem but the cold spell in March has killed them (I think) so they will stay inside.
Or will they? Do I still care enough or is it time to simplify things, let the conquering Nerine storm triumphantly onward and accept the eviction and masacre. Which of the Tulbaghia do I really like and which are just making up the numbers? I had decided that I liked the little ones best, the greenish ones, those with a ginger corona. As for those with large white flowers - well, it isn't a rare event is it, and I do have some big white Nerine after all.
I had almost convinced myself that I had done with Tulbaghia. They could go and I would remember them fondly but without yearning, like the pet rabbit I had as a child. Gone and not replaced. That was when I saw this seedling growing in a pot of T. cominsii. Small thread like leaves, tiny growing, greeny white flowers and a ginger corona. It's a little sweetie. I really do want the Tulbaghia whatever I may think. We must work together, mount a resistance to the invasion of the Nerine. We will fight them on the benches...
Or I will build a little greenhouse just for them where they can "not quite" fit in a bit more snugly.
Naughty seedling.