JEARRARD'S HERBAL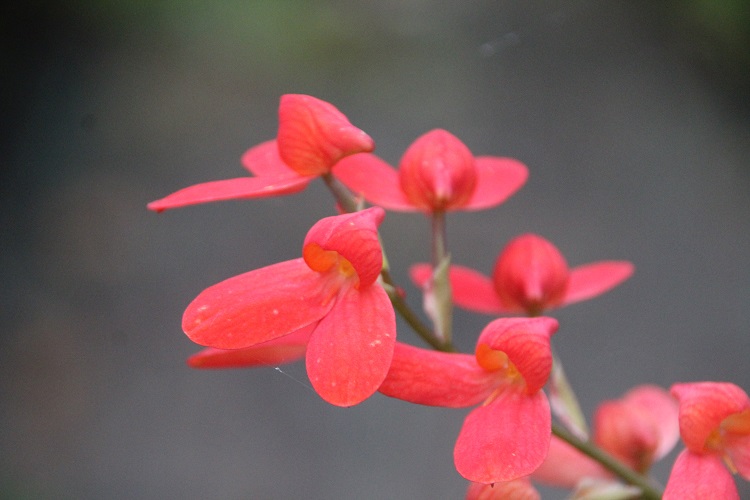 23rd September 2018
Disa cardinalis .
The first autumn storm of the year threatened to rattle through the garden during the week. I generally park my car under a tree but on Thursday evening I took the precaution of leaving it out in the open. If there were going to be branches rattling from the trees I would rather it wasn't underneath them. In the event I didn't hear any wind overnight and there weren't any branches on the ground so I think the storm probably passed us by. The first storm of autumn is often a weak affair, powered by forecaster fear as much a meterological malice.
The second storm of the year arrived on Saturday. We were threatened with the possibility of ten hours of heavy rain through the day. We got most of it. I kept looking out of the window to see if there were useful things I could be doing but there weren't. It has marked a change. Before the rain there was still a slight possibility of a return to summery weather. After the rain only a madman would think of it. We may still get some autumn sunshine but it won't be summery.
Which makes me feel slightly awkward about Disa cardinalis, which is still looking good in the greenhouse. It isn't perfect any more, the older flowers on the spike have died, but the upper flowers are still radiant. It is one of the last of the summer lingerers but curiously the rainfall will have refreshed it and it might go on for a few more weeks. On the other hand I haven't seen a swallow for a fortnight now and I think they have all gone. If not the rain will drive them away.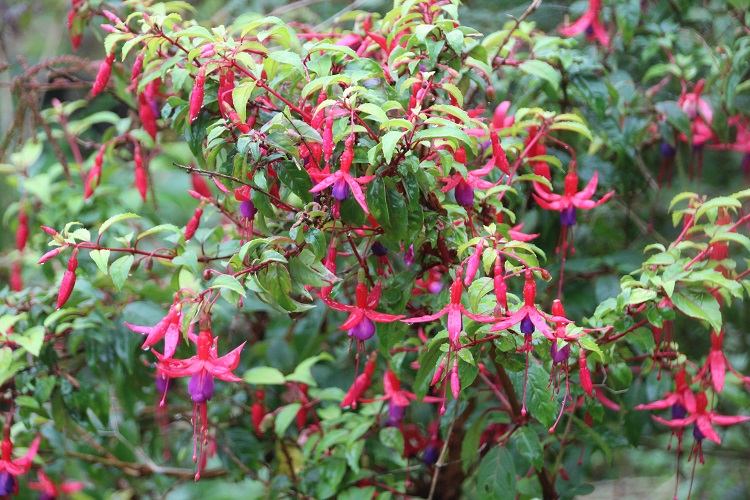 23rd September 2018
Fuchsia 'Genii' .
Summer bedding is looking tired. I have a small tub of Petunia by the front door and they have been unexpectedly feeble. It is one of the new pink Surfinia clones which are usually reliable but these ones never really got going. I can't say they had a disppointing summer, they couldn't have asked for more heat, but they have hardly flowered. I won't bother with them again.
On the other hand Fuchsia have been superb. I don't really know why people hate them but if you want to see someone scowl with feigned gratitude, give them a Fuchsia in May!
I can understand that peoples knees tremble with terror at the thought of 'Genii'. It does have yellow leaves and if you grow yellow leaved plants in the garden everyone will see that you have no taste at all. So poor old 'Genii' is widely despised which is a pity. It prefers to be grown in light shade and then it isn't particularly yellow. It has a good habit and flowers freely through the worst of autumn. Completely hardy, it doesn't have any bad points except for the yellow leaves and the Fuchsia thing.
I like it. I may be alone in that.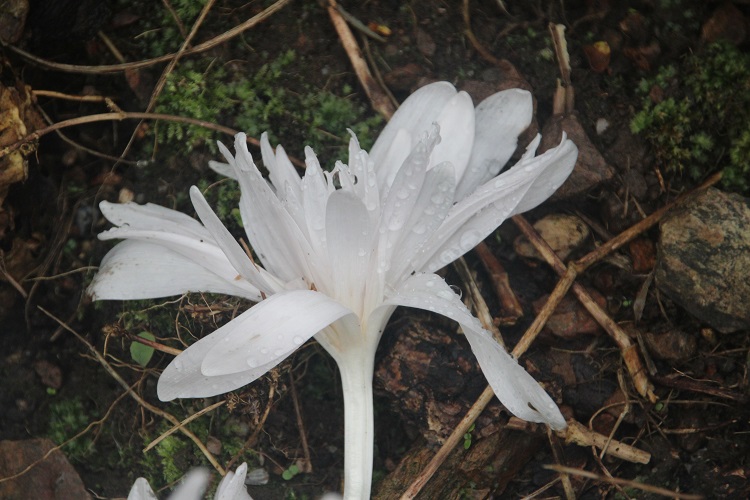 23rd September 2018
Colchicum autumnale 'Alboplenum' .
The ugly Colchicum finally came good as well. It had produced a congested clump of ragged flowers and there wasn't much good that could be said of it except that it was a Colchicum and that bulbs that will flower reliably in autumn are always precious. Finally it had a moment of effete elegance. A flower on the margin swooned and tumbled. It lay on the ground, solitary and perfect just as I arrived with a camera. Rain and slugs will have done for it by now but I am happy to have seen an elegant moment.
Double Colchicum are bound to collapse. They have large flowers supported on a thin floral tube. A heavy breathing rabbit would be enough to knock them over so they have to be seen in the same way as lotus flowers. Something that struggles to free itself from the mud, something that provides a transient moment rather than weeks of fulfilment.
So Colchicum autumnale 'Alboplenum' has done as much as I could hope for this year. There will be a couple of weeks of tangled ugliness and then I might get another as the season ends, a last solitary flower falling to earth. Or I might not. Either way, it has repaid me for the limited space it occupies.
Before the rain, C. 'Lilac Wonder' had a couple of fragile buds on the point of opening. I hope they had the sense to wait for the rain to pass or they will have been mangled.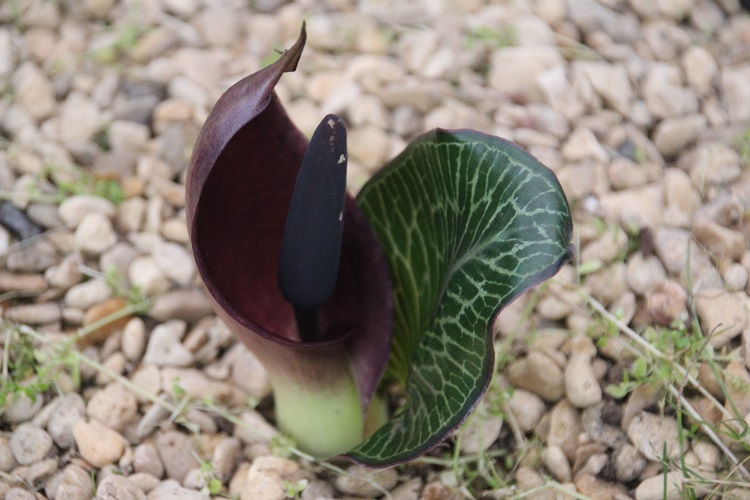 23rd September 2018
Arum pictum 'Primrose Warburg' .
I have heard rumours of autumn snowdrops appearing. I have no sign yet but these are wisperings from the distant north where autumn comes early. I want to poke around in the soil for the fat green noses but I will curb my curiosity. They will appear when the time is right.
I have also held back on Arum pictum. My big clump of the green leaved form is currently just a large bare space. I am worried but digging around won't do any good now. I will leave them until the spring and if I still have no sign I will dig them up and hope there are still tubers that can be saved. Perhaps it is just being late.
'Primrose Warburg' came up in a rush. Last weekend there was no sign, but a few days later the fat bud was bursting. I took this picture on Thursday and the flower was being particularly smelly. I don't usually notice it but this one had fragranced the garden all around. It may be just the perfect time and place, or the clone may be super-stinky, I will have to grow it for a few more years to be certain.
So, autumn's here. I want to light the fire but I won't yet. It feels too soon. I have a chill between my shoulder blades that says it isn't. I have closed all of the windows but I'm not sure if I have kept the damp out or trapped it inside. Somebody showed me a branch of Hamamelis in full flower, wispering of winter.
None of mine are flowering, I went and checked, but it was a warning. The orchids have to come in again. I don't know where they are going to go but I can't put it off for much longer.
(p.s. the first snowdrop nose appeared this afternoon, the green Arum pictum is up, and I did light the fire.)