JEARRARD'S HERBAL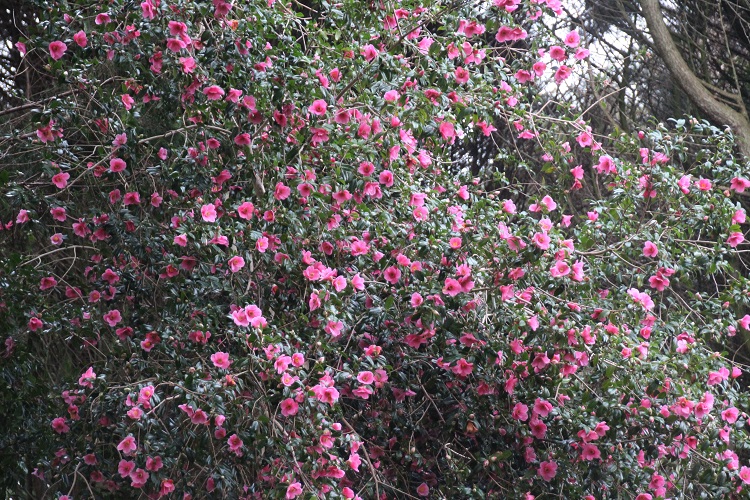 17th February 2019
Camellia 'Rosemary Williams' .
It has been a warm, sunny week. Weather forecasters have been sounding slightly hysterical as they warn that winter isn't over, it's still only the middle of February. I think they secretly enjoy it when their direst predictions come true. One good freeze and perhaps we will pay heed to their guesses for another year.
The garden has already put dormancy aside, buds are bursting, shoots are growing and the undergrowth is alive with birdsong. It is still the birdsong of beginners, voices are being tested, tunes half remembered. I was planting some hellebores on Thursday and my local robin kept stopping short. "I know this, I really do. I just can't quite call it to mind". Give him a week or so and he will be on form.
A wave of Camellia flowers has broken over the garden, the bushes are in full flower on the south side but the buds are lurking obstinately in the dark shade of the north. 'Rosemary Williams' was perfectly poised for a warm week. The buds were just on the point of opening when it arrived and they seemed to burst simultaneously. This certainly seems like the best display I have seen but I keep the robin in mind. Memory is not always reliable.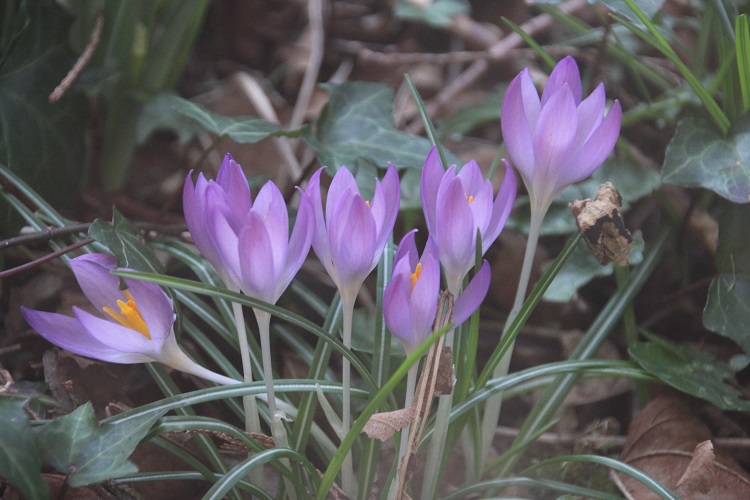 17th February 2019
Crocus tommasinianus .
Forgetfulness has its advantages. Gardens have complicated waves in their development. They reflect with ruthless honesty the whimsical nature of creation. Take Crocus tommasinianus, one of the easaiest sorts, seeding and increasing freely wherever it is suited. I planted a trial patch decades ago when I had visions of a carpet of blooms swirling between the trees in February lile a lilac anti-shadow in the bright spring sunshine. It didn't work, they didn't survive to the second year. Something killed them or ate them, perhaps they drowned in the wet grass. Never say die, I replanted with the same result, and then again. Eventually I accepted that it wasn't going to happen. Every now and then a long forgotten corm throws up a flower and if it happens to meet an occasional sunbeam, I delight in the wonder of it all. It is like meeting a forgotten school friend in a supermarket in a strange town. Surprising, redolent of old memories, transient.
I can't explain this appearance of Crocus tommasinianus under the sycamore. I know I planted them, though I only remember it as an intention fulfilled, I have no recollection of the process, no memory of spade or soil to unearth. This year I have two little clumps, perhaps a dozen flowers in all. They look like the surviving offspring or two corms. I rejoice, delight in them. I marvel at their appearance but I don't believe anything has changed. Like the old school friend, the moment will pass and events will slip back to their place in memory.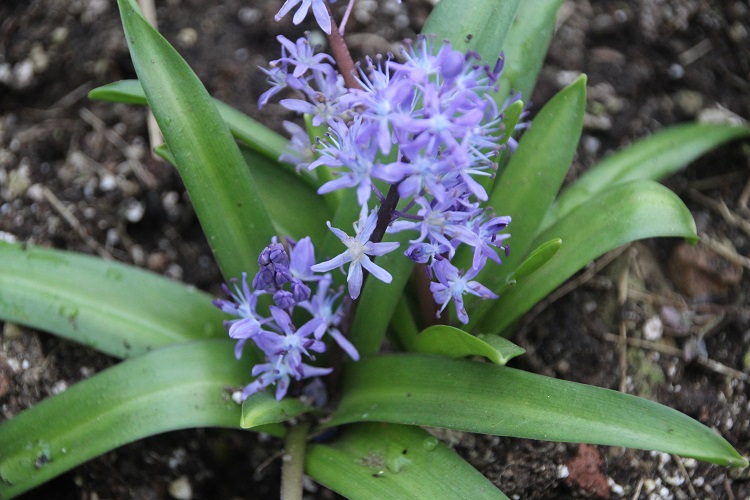 17th February 2019
Scilla messeniaca .
The arrival of Scilla messeniaca gave me the kick I needed to put aside the temptations of the past and get on with watering the greenhouse. It needed it. I had taken a break in January, safe in the knowledge that everything was dormant except the Nerine, and they quite like dry conditions don't they! (Well, no, not really).
The mist was blowing in as I watered. I stand there, hose in hand, counting out seconds like a horticultiural metronome. There is something very appealing about simple repetition, something dependable. I spent a couple of hours counting to ten and then moving on. It helps to make sure I put enough water into each pot and that I don't start to skip pots as I get bored. Plenty of time to watch the sky turn grey and see the distant trees merge with the skyline as the mist descends. It didn't rain, but it did get cold. Perhaps the forecasters are right, it's too early to celebrate the end of winter. On the other hand I'm standing in the greenhouse with a hose, watering plants that have dried out. Perfect time to celebrate the start of spring, and to wish I had brought a thicker jumper with me.
Scilla messeniaca comes from Greece and is said to be vigorous in the open garden. I still have it in a pot under cover hoping that it will bulk up with a minimum of assistance from me. It also has the reputation of prospering in conditions that are moist when it is dormant and that is why it attraced my attention. If is increases in the greenhouse then I will try it in the garden.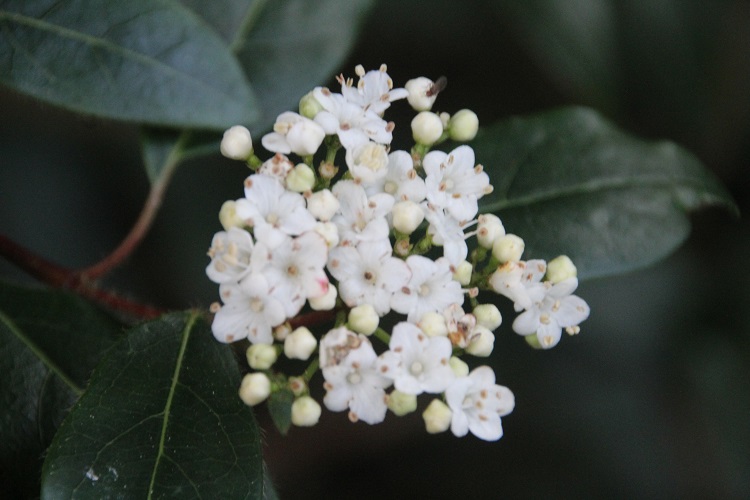 17th February 2019
Viburnum tinus 'Eve Price' .
It has been a week of strange echoes from the past. I have been removing a large hawthorn. It was a low, trimmed shrub just behind the house when I moved in. It had grown. I am trying to clear the vegetation from the west side of the house. It would be nice to see something of the evening sunshine. I can remember the days when I would sit in the sun by the back door with a cup of coffee and not even know that the world was passing by - I couldn't see anything from there except the sun. Recently it has become a dark, shaded space. Probably the abode of vampires, certainly of slugs. I have been cutting things down, letting the sunshine back in. Behind the hawthorn I found Viburnum tinus 'Eve Price'. I had forgotten it was there it has been so long since I saw it. It is a dwarf form of the species, at least in the sense that the typical form becomes unruly in a decade while 'Eve Price' takes two. It will appreciate the extra light, it will flower more freely, that might be a good thing.
At the top of a bob-sleigh run there is a moment of descent that owes more to pushing than anything else. Too late to go backwards but gravity hasn't yet taken over. I have never travelled in a bob-sleigh, I have no idea what terrors the moment holds before inevitability takes a grip. Spring is right there, pushing forward. We may still run smack into a wall of ice but there's no going back, shortly the gravitational pull of summer will take control.
Keep your head down, scream if you have to, enjoy what you can.