JEARRARD'S HERBAL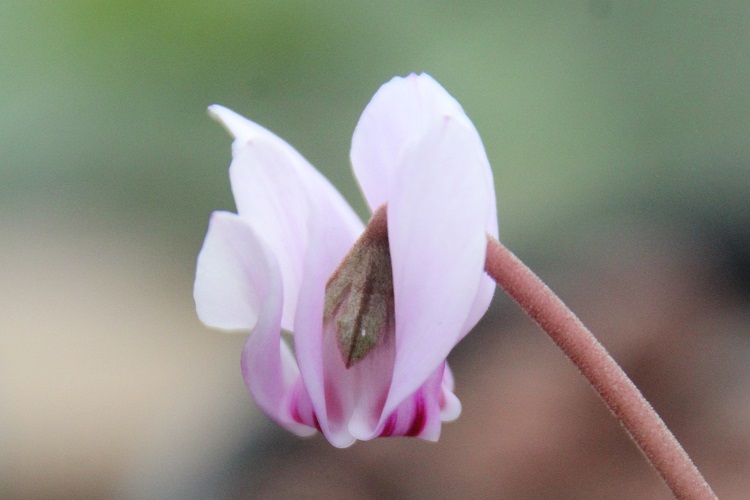 4th August 2019
Cyclamen africanum .
The Cornish summer weather seems to have settled on the garden. The greenhouse still needs watering frequently, but the frantic pace of last month has diminished. Overcast skies and showers have held temperatures down. Gusty winds have torn down a strip of fleece that I was using as shading over a bench but I don't think it matters, I think the scorching sunny period has passed.
Over the last days thunder and strong winds threatened the garden. I watched the wind shaking the treetops and shredding the bananas with the calm equanimity of a man who went to Dorset for the weekend. Someone else's trees, someone else's bananas. I have just returned and a brief inspection of the garden shown no signs of damage while I was away. The Leyland Cypress that had half fallen down is still half fallen down and the weather is calm.
Weeds are engulfing the alpine house. For a couple of months there has been no time for anything except watering but perhaps now I can make some progress. It would be nice to have the alpine house tidy before the autumn season starts. Cyclamen africanum is an early reminder that there is unfortunately no time to dither this week.
Or at least it may be Cyclamen africanum, I got it from a specialist so I have trusted the name without really looking into it.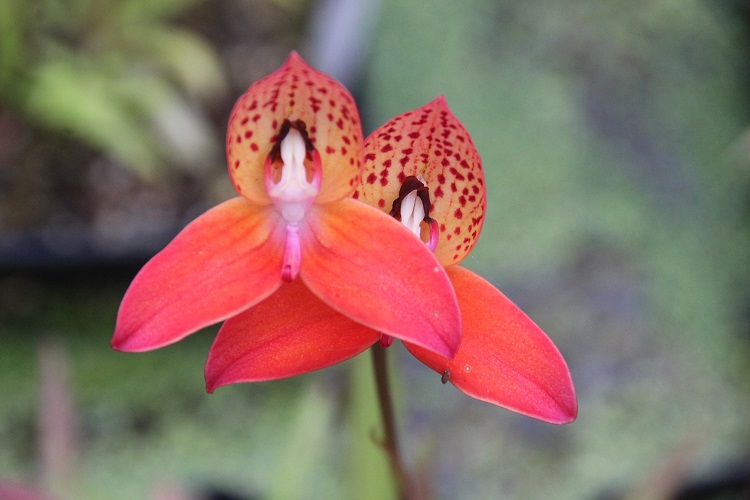 4th August 2019
Disa Watsonii
I haven't really spent much time among the Disa this year. Winter seemed to come and go in a flash. I spent a couple of hours in May potting up new seedlings but there are pots and pots still to go. The whole collection needs repotting so I'm hoping for time in September. Whenever I go into the greenhouse I worry about water levels and an invasion of brambles, which seem to have discovered how to grow shoots straight through the greenhouse wall, exploiting any little chink in the structure. As a result the season was almost over before I noticed how good some of the seedlings of Watsonii were.
They started to flower last year and I was a little disappointed by the bright orange flowers. I had hoped that I might get one or two that were yellow, or yellowish. Not to be, they are all in the red-orange part of the spectrum. I would cross it to D. aurata but I think I have left it too late. If there is any pollen left it will be furry with fungus like a fortnight old sausage roll.
This year I am more cheerful about them, they aren't yellow but they are bright. Some of them are very bright indeed. The colour stands out on the benches. I have half a dozen of them and a handful of seedlings yet to flower. They aren't yellow but they are a step along the road in that direction.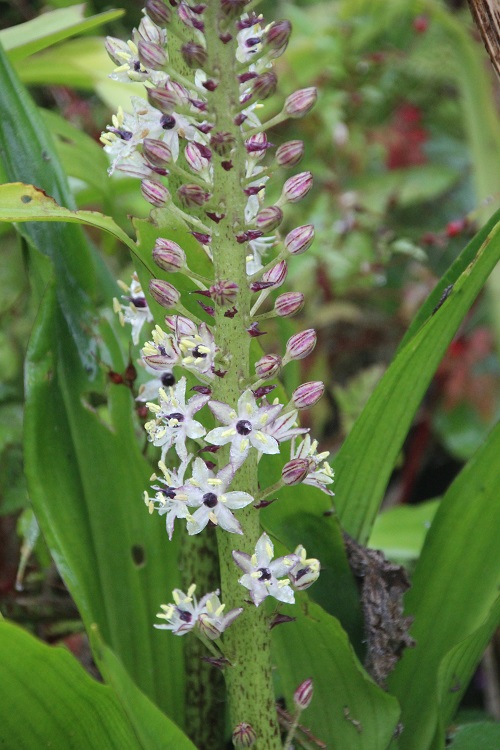 4th August 2019
Eucomis 'Lotte'.
A hot spring and early summer upset the Eucomis. They were late to appear and then the emerging leaves were thin and scorched. I wasn't unduly worried, it's a South African bulb, it can stand a bit of stress. By the start of July I had accepted that they were unlikely to flower but then the rains came, the leaves hydrated and suddenly it looks like a perfectly normal year.
While I was in Dorset I saw Mike Cliffords collection of Eucomis flowering freely and looking superb but the mystery was easily solved. He waters them! I have struggled to keep up with the demands of the greenhouse, plants outside just have to take their chances.
Eucomis hybridising is proceeding rapidly in many parts of the world but I am still waiting to see a major breakthrough. At present new hybrids have new names but little else to distinguisdh them from the established range of variation. There is still scope for giant hybrids in the style of E. pole-evansii with reliable strong stems. There isn't a clean white yet, or a decent pink and the potential remains for a hybrid with rich green flowers. I'm sure there is also room for small hybrids that would make a good show in a pot.
While those characteristics are being developed, the flood of new cultivar names continues. 'Lotte' is a jolly good plant with a longer flower spike than E. comosa, in case you were wondering what made it special. I haven't had it for long, but my general impression is that it is less likely to fall over as the flower spike matures.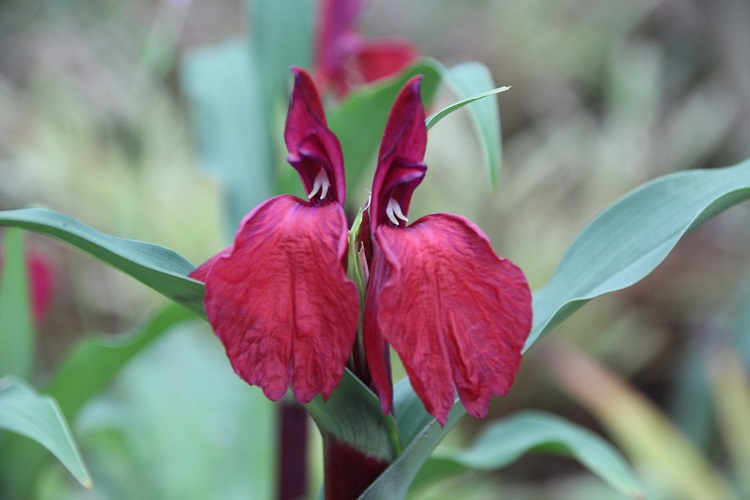 4th August 2019
Roscoea purpurea 'Purple Sultan'.
It may be that red flowered Roscoea fall into the sasme category. Things that are waiting for another great leap forward in the way that 'Sunrise' moved on the breeding of Hesperantha coccinea. Perhaps it is just that Roscoea 'Red Gurkha' was itself the great leap forward from the sombre purples of R. purpurea. There are several breeders searching for the next big thing in Roscoea. The scarlet ones are all sensational but they are not adding much to the effect of 'Red Gurkha'. Keith Wiley has introduced a range of shades of colour, both in flower and foliage, that are probably the best that has been achieved so far. He was also selecting for plants with a broader labellum so they have improved flower shape and size.
'Purple Sultan' is one of his recent seedlings. The red flower is shot through with purple shades giving a plum or mahogany effect, fading a bit as the flower ages. The pseudostem is dark brownish red and there is a slight glaucous sheen on the leaves. It is a very elegant plant, and like Japanese "art-horticulture" it deserves to be grown on its own in a specially selected pot where the beauty can be isolated from the hugger-mugger of a herbaceous border.
I think that I might spend the afternoon looking for a suitable pot and admiring the early colour on the Acer.
Or I might start on the weeding. One or the other.