JEARRARD'S HERBAL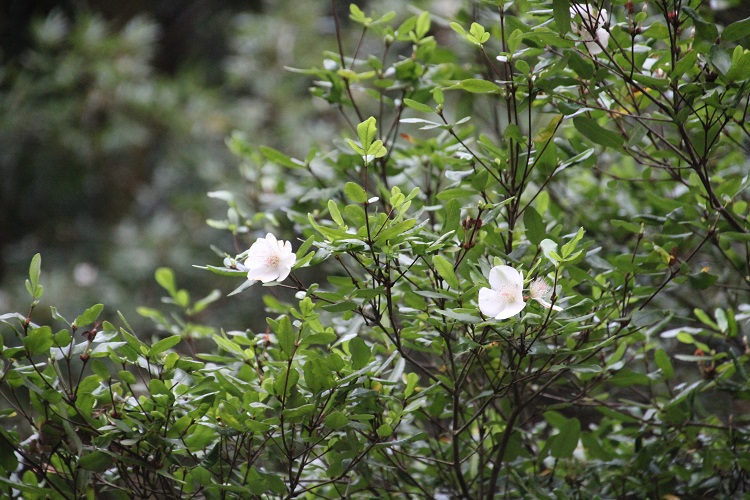 8th November 2020
Eucryphia x intermedia .
It has felt like a wet week. It hasn't been a wet week, occasional showers have had little impact, but it has felt like a wet week. The garden was soaked and it has remained soaked, there has been so sunshine and no drying weather. The stiff breeze was full of humidity, flowing through the trees leaving a fine film of stale water. The garden has sagged like a lumpy old mattress.
The last of the Magnolia leaves fell from the trees around the house. They yellow on the branches but they don't dry out. Suddenly they let go of the stems and drop straight to the ground in a leathery carpet taking the naked trees by surprise. The shaded green tent of summer had given way to the grey architecture of winter. Eventually low light will illuminate the space to spectacular effect but for now it is just wet, stale and slippery.
When I first walked around the garden seemed empty but there are occasionl glints. Eucrypia x intermedia caught me by surprise. I have a few dubiously identified Eucryphia in the garden put in for practical reasons. This was one of the earliest to be planted, left over fromn a group I propagated in the 1980's, planted in the first available space when I got fed up with watering it. I expect I buried the label beside it but I haver never managed to locate it. Providing a more secure identification has been one of those jobs put off for later. Thirty years later I am still putting it off, disnclined to walk through the wet garden and get a sprig to look at more closely.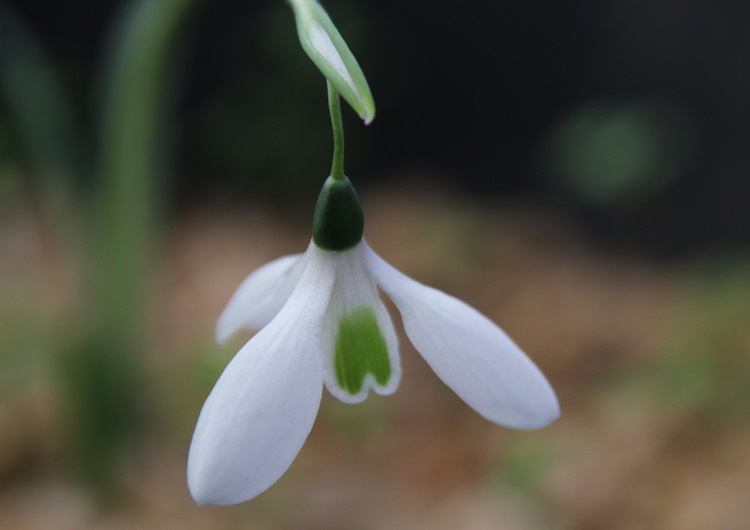 8th November 2020
Galanthus 'Autumn Belle' .
Snowdrops continue to provide hints of the spring to come. In the beds at the top of the garden G. 'Remember Remember' tried hard to flower for Guy Fawkes night. It didn't manage it, some small creature mangled the flower spike as it emerged and the remnants rotted where they fell. The plant looks healthy enough, more noses pushing through the ground than I had last year, but I see no sign that there will be any more flowers.
I have another plant of 'Remember Remember' growing with the autumn snowdrops in the greenhouse where it is warm and dry. The leaves have just started to show, I think it has decided it is too warm and dry for flowers. It went into the greenhouse because I thought the plant outside had died and I had a vague idea that I might try to hybridise it with the other autumn snowdrops.
That probably reflects the parentage of 'Autumn Belle'. Several years ago plants labelled Galanthus 'Autumn Beauty' appeared in the plant centre at Wisley. The plants offered were clearly variable. It has been suggested that they are seedlings from a cross between G. reginae-olgae and an autumn flowering form of G. elwesii. I assume that 'Autumn Belle' is a selection from that swarm but relible information is sparse. Someone knows the answers and it certainly isn't me.
'Remember Remember' hasn't flowered in the greenhouse, so I don't have to think about trying the cross for myself this year.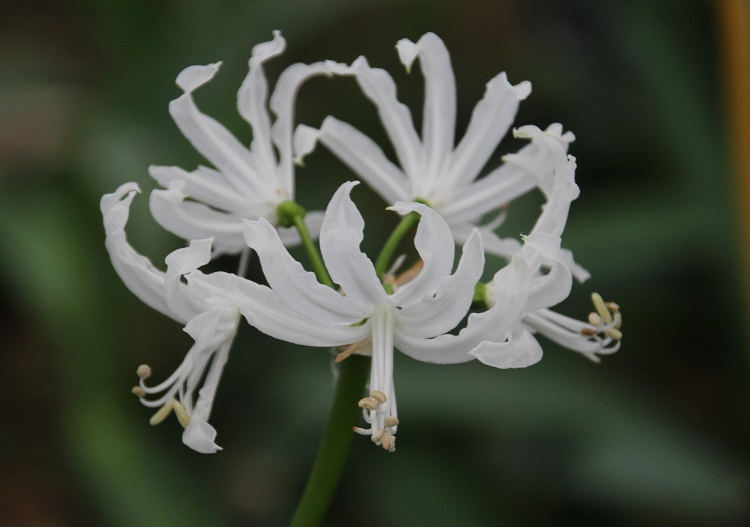 8th November 2020
Nerine undulata Flexuosa Group 'Alba' .
Repeating crosses is the theme of the greenhouse this year. Nerine Flexuosa 'Alba' flowered well for me for several years but in 2015 it stopped. I have no idea why, it is one of those strange mysteries of Nerine growing. A diligent gardener might have knocked it out of the pot to see if there was something going wrong, I settled for looking at it with a puzzled expression. Fortunately in its last year I used it as a parent in a number of crosses. This year they have started to flower, and the parent has also returned to form. Once again I have used it in a number of crosses just in case there is another five year gap before I see flowers.
As a matter of curiosity in 2015 I self pollinated it, confident that the offspring wuld have large white flowers. Clearly something went wrong, perhaps it is self incompatible. I got plenty of seed, but all the babies are pale pink. I suspect that an adjacent N. undulata and an amiable bee beat me to the pollination.
Once again I have plenty of seed forming on the plants, now comes the long wait to see if any of it turns out as expected. I like to think that my pollination technique improves year by year, N. Flexuosa 'Alba' may yet expose my delusions.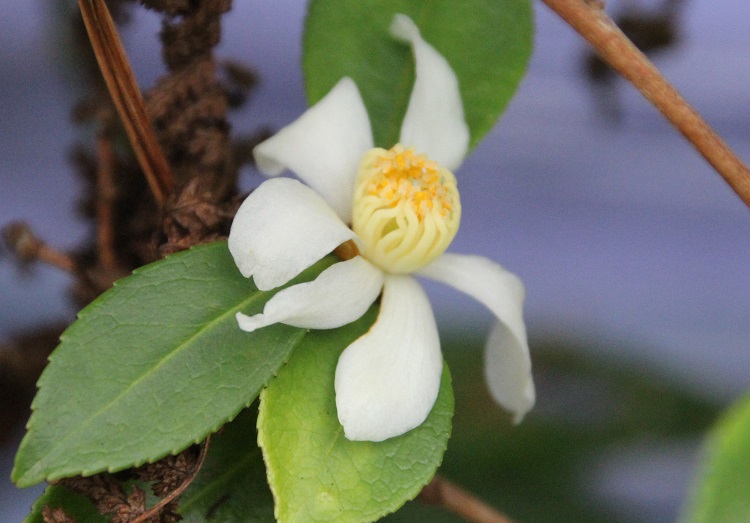 8th November 2020
Camellia brevistyla .
I was reading in the Journal of the Alpine Garden Society about some seed that took three years to germinate. I really wouldn't have the patience. I can cope with seed that stratifies over winter and comes up in the spring but that is my limit. After three years the pot would be full of brambles, a sycamore or two and a little mouse would have thrown out the compost and built a nest.
I like seed that germinates rapidly, before I get bored. I was given a handful of seed from Camellia brevistyla, put it in a pot of moist compost in the fridge and moved it to the greenhouse in the spring. Up it came, almost too enthusiastically. They have been flowering for a couple of years and the first of them have been planted in the garden. It was pleasing to see that they are all as expected so far, no sign of any hybrid influence. However, now I am sure that I have plants of the species, I wouldn't mind if one or two were a bit pinkish or perhaps slightly double. Is it too much to want it all?
There were a lot of firework parties in the village last night. It seems curious to celebrate Guy Fawkes failure to blow up the houses of parliament with loud explosions around camp fires but people are strange. I suspect that Guy Fawkes is just an excuse for a party. Next time I walk around the garden I will find some wet remnants of exhausted rockets that have fallen back to earth. There is something peculiarly dismal about them, uncharacteristically sodden on the wet ground.
Clearing them away is a lazy alternative to sweeping up fallen leaves, putting away the dank carpet of autumn and preparing for the sparkling clarity of spring.