JEARRARD'S HERBAL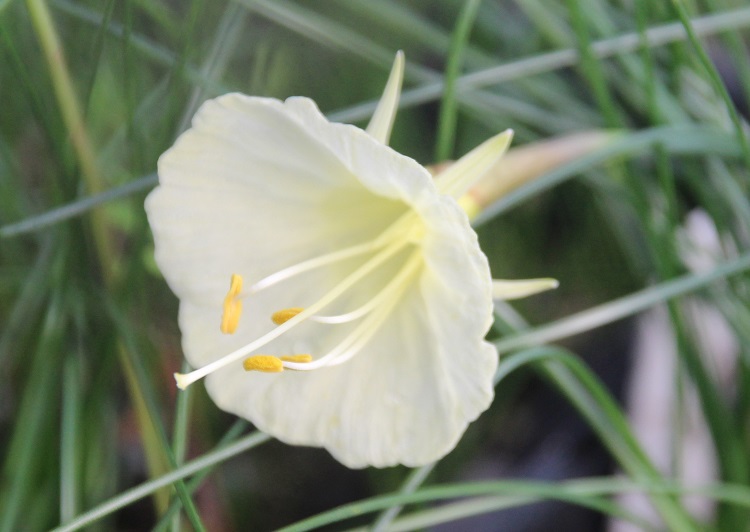 27th December 2020
Narcissus romieuxii 'Joy Bishop' .
Huffing and puffing dominated the garden during the week. Strong winds a couple of days ago tore the dead wood out of the trees and left it scattered. Last night storm Bella followed in its wake but finding no dead branches left to rattle, huffed off again. I went to bed early and protected myself from the huffing and puffing with a sonic shield of snoring. When I got up the sun was shining and the garden was still. A quick check for fallen trees and ravaged greenhouses found nothing untoward, however the mud is peculiarly flat. There are places where my footsteps have churned the soil through the wet autumn and now they are flat again. Flat and swollen with water, they are certainly not for walking on. The wind was clearly accompanied by heavy rainfall. I am happy to read the message in the mud rather than being woken by it.
With the winter solstice safely out of the way, spring is burgeoning into the returning light and warmth (I may have overstated that slightly). Narcissus romieuxii is in full flower with dozens of blooms decorating my small collection of cultivars. I am not entirely convinced that any of them are still true to name, they seem to seed in the pots quite freely, however I have cream ones and yellow ones. Some have more flared coronas than others and with that caveat this may still be the same 'Joy Bishop' that I purchased in 2007. "Pale yellow with a deely scalloped edge" still describes it more or less. One of many named selections from Jim Archibalds collection JCA.805.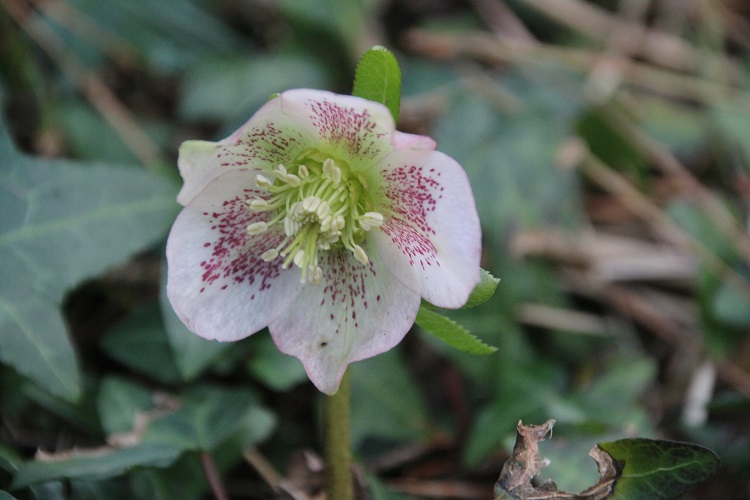 27th December 2020
Helleborus x hybridus .
I'm not sure how much of spring in the garden is perception and how much is seasonal change. Certainly the Camellia are showing a change. I walked around the garden two days ago looking for buds that were showing colour. Just a touch on the tip of 'Contessa Lavinia Maggi', a suggestion of pink on 'Desire'. This morning the Countess is in flower (though she suffered from wind in the night) and 'Glenn's Orbit' has produced a bloom out of nowhere. The Camellia have clearly changed in the last two days.
I'm not so sure about the Hellebores. I have an early flowering double white and some early seedlings. They had buds in the week, but they don't seem to have changed in the last few days. I looked for 'Early Purple' but there was no sign of new shoots. My earliest seedling is usually a fawn-pink flowered one that grows in the shelter of a cut log. It is almost invisible against the woodland floor at this time of year, I looked hard to locate it and found nothing. In the process I almost knelt on this spotted white one. It isn't magnificent and it grows tucked in behind another log where there is no chance of the low sun illuminating it. No chance that it might suddenly sparkle in wonder. However it is the first fully open flower that I have seen this year and it hints at the wonders to come - once again on the proviso that I didn't kill them all last year through neglect and mowing. It may not be an accident that the successful ones are sheltered by logs.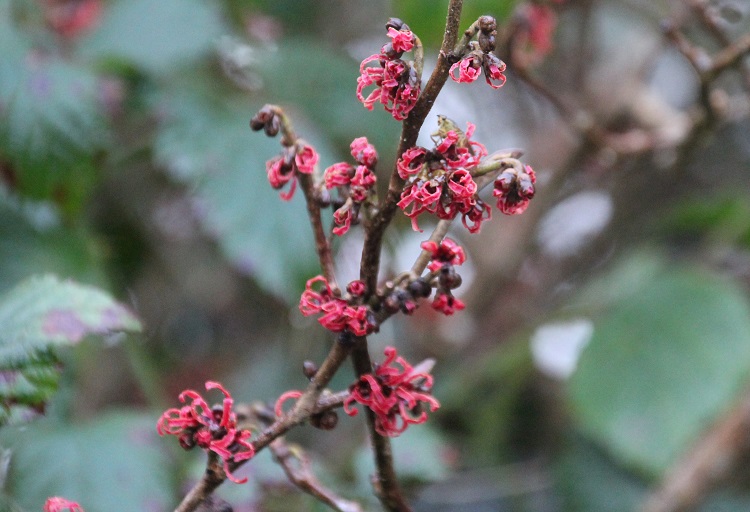 27th December 2020
Hamamelis x intermedia 'Ruby Glow' .
One of the joys of a garden is walking around aimlessly looking for the things that have changed. It occupies my idle moments for most of the year. Casually leafing through memory to provide the fodder for expectation can occupy many pleasant hours in the garden that would otherwise be wasted in weeding. Wandering about to see if expectation has been realised can be reframed as "exercise" if you feel the need for a sit-down and a cup of tea afterwards, as I frequently do. So I wander through the mud in the garden of reality following a map laid down by the garden of expectation and enjoy a tiny moment of triumph if map and reality coincide.
I expect the Hamamelis to flower in January. I expect the buds to burst 48 hours after the first really cold night. As I walked along the north side of the windbreak I felt happy that we hadn't had a cold night and the Hamamelis hadn't responded. It was a different matter on the south side. H. x intermedia 'Ruby Glow' is in full flower. It might have had a bud or two open when I last looked, but I didn't notice them. Perhaps I slept through a night that was colder than I realised. The weather forecast has offered no warnings and there has been no sign of frost on the ground (not that I've been up early enough to know). However Impatiens tinctoria finally gave up the struggle of yellowing growth and collapsed into brown decay on Friday. Perhaps it has been colder than I thought.
'Ruby Glow' has always been the first of my Hamamelis to open but beside it there are fat buds on 'Arnold Promise', usually one of the last. Plenty of reason to brave the mud next week.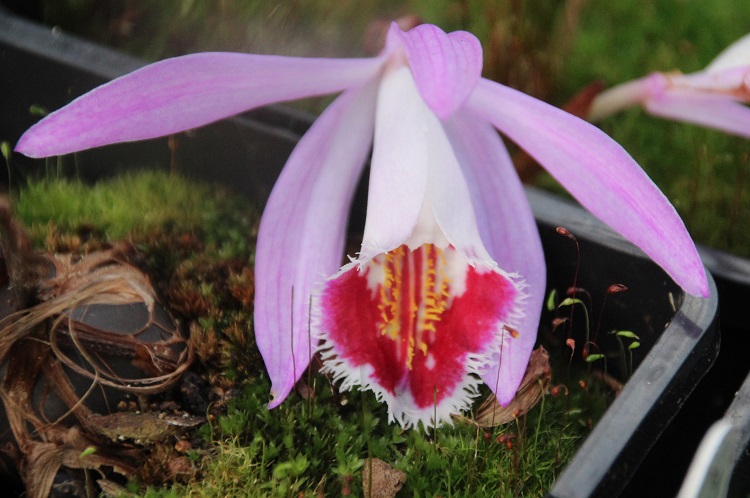 27th December 2020
Pleione Wharfedale 'Pine Warbler' .
Down in the greenhouse the end of the year has been dominated by orchids in one of those strange changes in direction that seem to occur. It started in summer with some of the Bletilla. After several years of struggling they have been happier this year and late flowering ones like B. ochracea and its hybrids continued to produce flowers into late autumn. As they went over my Dendrobium fixation kicked into life again with months of insane, obsessive study of the new canes growing. Seeing fat new Dendrobium canes develop from the base of dormant plants is a subtle and still overwhelming thrill (it's a madness thing, don't worry if you don't get it). The first burgundy buds on Paeonia mlokosewitschii were shining in the border this week and caused a similar surge of joy. Dendrobium watching led to last minute Dendrobium buying, Dendrobium repotting and before long the cold weather will hit and I will have nights of Dendrobium anxiety to snore through.
Orchids have dominated the end of the year and they may be the first thing to grab my attention as the new year starts. Pleione praecox and P. maculata start the genus off by flowering in autumn. They are both warm growing and I have killed them both repeatedly in obstinate denial of that simple truth. On my calmer days I am happy to accept that, let's not even consider the less calm days when "one more try" seems rational. I have switched my attention to the assorted winter flowering hybrids. P. Barcena and P. Wharfedale 'Pine Warbler' have been growing for a couple of years in the greenhouse, I need a few more years experience before I am confident that it is warm enough in there to keep them alive. I showed 'Pine Warbler' a couple of weeks ago, still cowering from the ravages of a nocturnal mollusc. This week I have a decent quality flower standing up above the compost, it seemed like a good reason for another picture.
If we have a cold year it might answer the question of hardiness at least. Alternatively "one more try" might not seem quite so insane.