JEARRARD'S HERBAL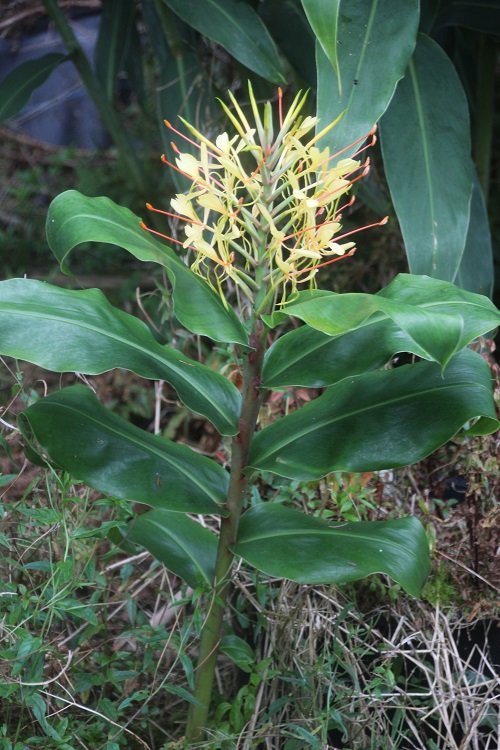 10th October 2021
Hedychium 'St Martins' .
A week in which autumn has visited the garden without emphasis or capital letters. A lot of bright sunshine has been promised, a small amount arrived. It seemed to arrive mostly when I was in the car driving from one place to another, low shafts of sparkling light that might have illuminated some autumn colour in the trees but which actually highlighted the smears from the wipers on the windscreen. The garden has dripped with dankness. A couple of days without rain convinced me that I might try to mow the grass but neither the mower nor the grass were entirely enthusiastic about it.
The growth of summer is coming to a peak, Dahlia merckii is full of flowers and the seasonal molluscs are still warm enough to wreak havoc in the hydrating atmosphere. The Liquidambar has started to colour, the fresh green canopy of last week has a toasted look on the edges that catch the sun. In the days to come it will develop scarlet tints but for now it looks half-baked.
Hedychium 'St Martins' produced a first flower several weeks ago but the last few stems are now in spectacular bloom. It is a form of H. gardnerianum found growing on St Martins in the Scilly Isles that mirrors the weeks weather, nice but not exceptional.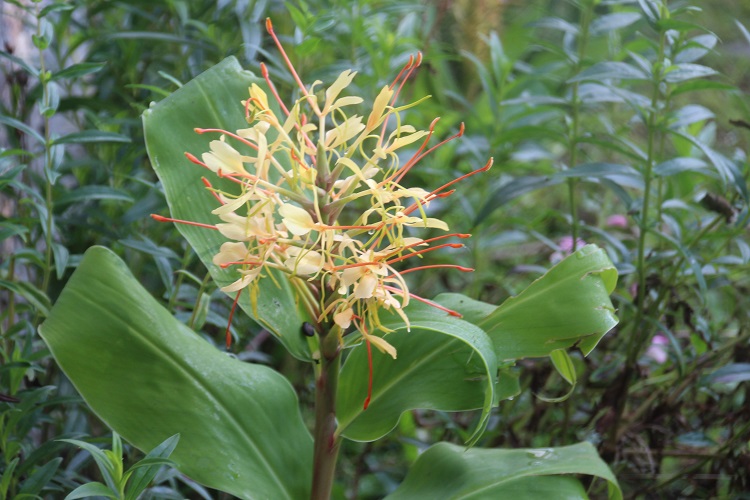 10th October 2021
Hedychium gardnerianum 'Annette' .
Hedychium gardnerianum has an RHS Award of Garden Merit, the yellow heads of bloom are carried reliably at the end of summer. I'm not sure how hardy it is in the rest of the country but in Cornwall at least it grows well. The cheerful endorsement of the RHS as a good garden plant suggests that it well worth trying even if it has to be protected in winter. Dig the rhizome up and leave it in a shed, they are astonishingly tolerant of desiccation. The RHS's enthusiasm may perhaps be tempered by the illustration they show, which is of H. 'Devon Cream' but it doesn't matter, that is also a jolly good thing!
Identification issues surround Hedychium. I was sent H. 'Annette' by a friend in Germany. I assumed that it was a continental selection but it turns out to be a plant from Kingsbridge in Devon named after the owner of the garden where it was found. It was introduced by Hill House Nursery and named because it had larger, brighter yellow flowers than typical H. gardnerianum.
I got it in 2017 and it has slowly increased in size in the greenhouse. The appearance of a flowering stem this year took me by surprise, the plant is still small and I don't think the flower head is full size yet but it seems like a good thing. I have two plants now so the one in flower has been planted in the garden in eager anticipation of future magnificence.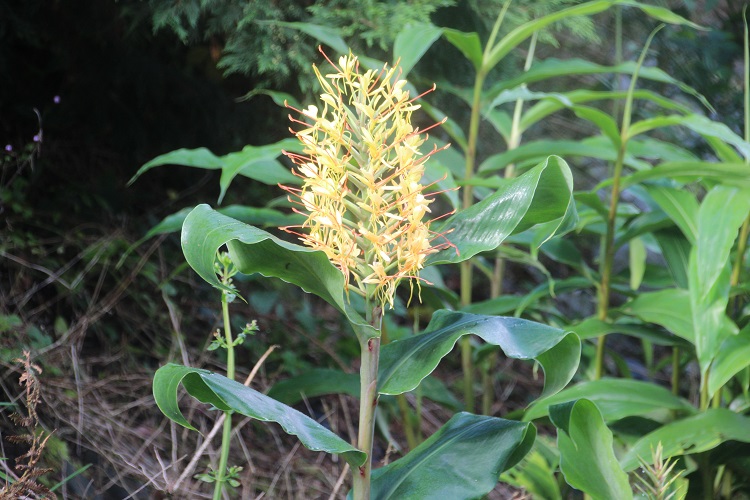 10th October 2021
Hedychium gardnerianum var. pallidum .
Eager anticipation could almost be the motto of the Hedychium grower. In my climate, even in the greenhouse, the season is not really long enough for many of the more complex hybrids to flower. A few of the species are reliable in the open garden and the eager anticipation starts in early summer with the first shoots and ends in a brief flurry of sensational flowers squeezed into the garden just as winter draws on.
H. g. 'Pallidum' takes the idea of eager anticipation one step further, promising pale yellow flowers. Unfortunately it takes the eye of faith to record it and it appears that my camera is not a believer. Tony Schilling notes in 'The Plantsman' (Vol.4 Part.3, 1982 ) that "In the variety pallidum (Regel) Bak. the flowers are a pale yellow and the lobe is bifid" which neatly sidesteps the issue that almost all H. gardnerianum forms have pale yellow flowers and bifid labellum lobes.
Naming aside, mine is a good plant. It has been a little slower to produce a clump than other forms. I have had it since 2006, so a single flowering stem might be considered a moderate achievement, however the plant has been stressed, trapped in a small pot for a decade and only recently released to the garden. It is showing optimistic signs of expansion. The (lets be reckless and call them) pale yellow flowers are held on stems of really good, dark green robust leaves. It is tempting to suggest that the illusion of pale flowers might have been fostered by the unusually dark foliage.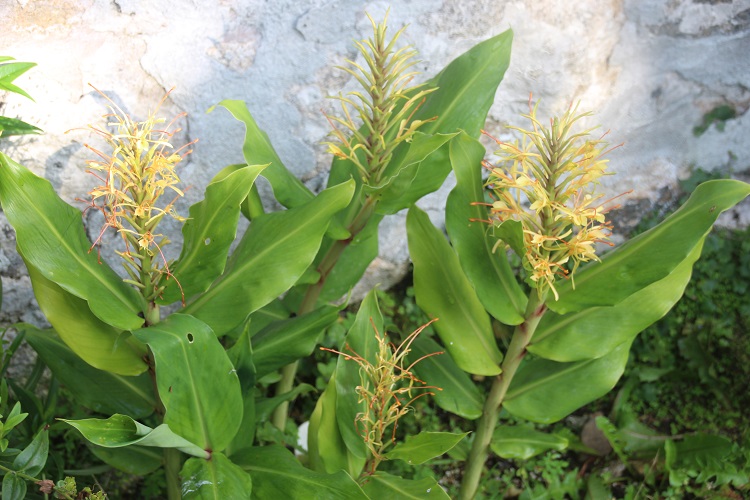 10th October 2021
Hedychium gardnerianum 'Kenneggy' .
Hedychium gardnerianum is a good plant that cannot fail to make an impression when it flowers. I first grew it from a dry rhizome purchased from a bulb catalogue. It wasn't until 1982 that I saw a plant in flower, half a dozen spikes springing from a large tub in a commercial greenhouse and scenting the building. Although it comes from a broad sweep of the Himalayas that takes in Nepal, Sikkim and Assam there doesn't seem to be much natural variation. Leaves seem to vary from mid green and slightly flaccid to deep green, waxy and rigidly robust. Pseudostems are green, pink tinged or boldly pink, with or without glaucous bloom. The flowers are yellow. Despite the freedom with which it has subsequently marched across Madeira (decorative) and the Azores (pestilential) very little significant variation has been selected.
The introduction of H. g. 'Kenneggy' was a surprise. Selected from a batch of seedlings by Stephen Mules at Lower Kenneggy Nursery, it is an unexpectedly dwarf form. In the greenhouse it flowered in a pot at about 30cm tall, in the garden it has reached 45cm and flowered on every stem. I think that it is a wonderful thing, but I am notoriously Hedychium-giddy. Time will tell if the rest of the world agrees with me.
Part of me hopes not. I find the idea of the world agreeing with me slightly unsettling.