JEARRARD'S HERBAL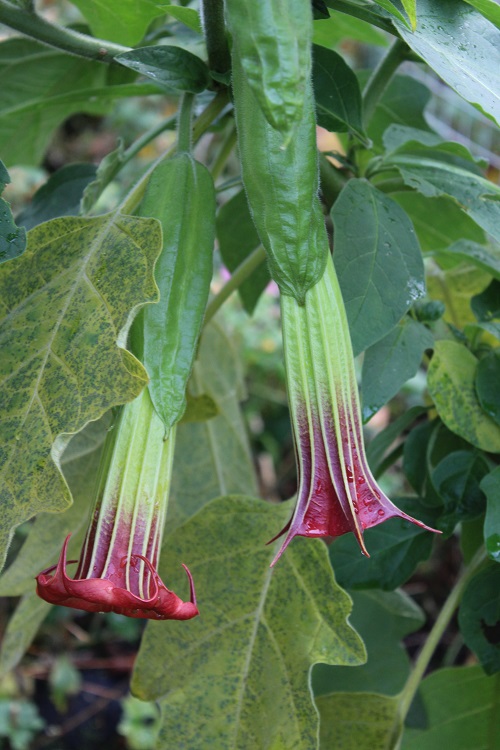 14th November 2021
Brugmansia sanguinea .
I went to bed last night thinking that the garden might be getting away with it. There is always the chance that November and December will come and go without the garden being troubled by a frost. It isn't expected but it can happen. I wandered up into the garden this morning and it felt as though we weren't going to get away with it. The garden was warm and heavy with water, humidity in the air and water dripping from the leaves. It felt like it couldn't last. A cold wind, some clear nights and there will be ice over the water lily. It has shed all its leaves in preparation, the water is crystal clear. The sludge of summer has settled like a winter blanket over the dormant rhizomes.
The big excitement of the week has been Brugmansia sanguinea I have had a couple of plants in pots for several years and I haven't planted them out because it seems unlikely that it will survive here even in a moderate year. I had a frenzy of planting during the spring and one of the Brugmansia went out in the company of a lot of other things that probably won't survive. It's worth a try and if it doesn't work then I'm quite fond of Bergenia.
The Brugmansia has grown well through the summer, a flush of late flowers came as a delightful surprise. Perhaps I should check that I still have one in a pot in case this one doesn't make it. I could lift this one and bed it out next spring. I could go quietly mad and lift everything slightly tender to protect it.
In the event I sat down with a cup of coffee, took some photographs for the record and accepted that they might be all I have by next spring.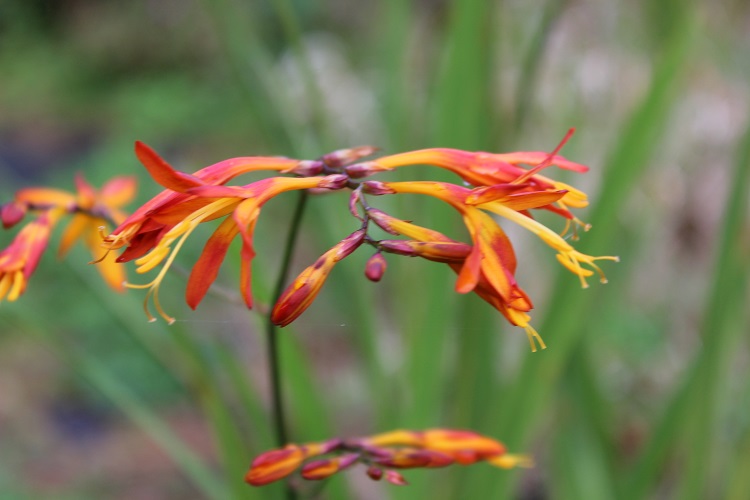 14th November 2021
Crocosmia x crocosmioides 'Vulcan' .
The memory of summer is still nagging away in the back of my mind. The cold wind that will clear away the humidity will also clear away the last vestiges of reckless growth. I walked past a border that was planted on spring, filled with little treasures. It has been swallowed by Red Campion. I could spend a day on my hands and knees clearing it again, it might allow things to establish and compete. One or two things have prospered. My purple leaved Loropetalum was pleased to be released from a pot. A large Hypolepis fern is growing well and a couple of Crocosmia tower above the weeds. It reminded me not to plant small things in the garden unless I had a clear plan that would maintain them. I clearly suffered from the dizzy enthusiasm of spring.
Crocosmia x crocosmioides 'Vulcan' didn't make it into the ground but still resides in a large tub. It will be ready next year to replace some of the stupid mistakes of last spring. It has produced a couple of unexpected flower spikes and is offering a burst of colour to match its late summer display. I have been trying to work out why I get so much pleasure from these strange and ugly Crocosmia. The best answer that I have come up with is that they are strange and ugly in a world that values beautiful conformism.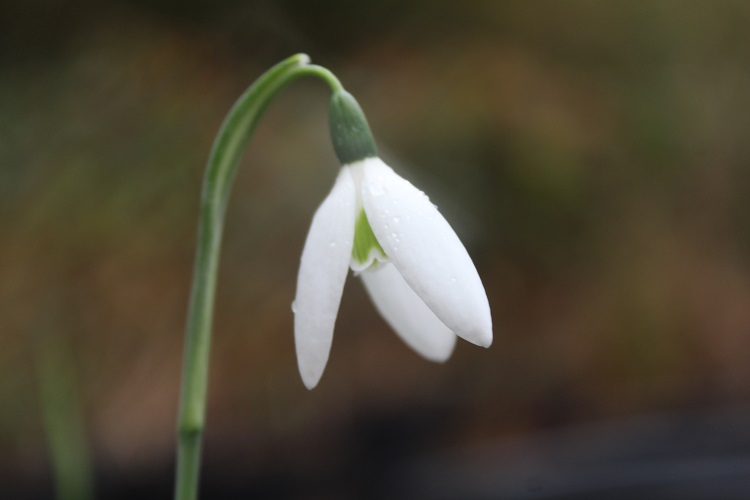 14th November 2021
Galanthus 'Santa Claus' .
Summer has raced by and is lying slumped through the garden on its last gasp. It is everywhere from the last fresh flowers on the Hydrangea to the slug savaged remnants of Dahlia. One good frost will blacken it all and overnight the garden will clear and sparkle in the low sunshine. I'm looking forward to it even if I'm not really looking forward to it. I need to check that there is still some usable fleece in the greenhouse to cover things if needed. I promised myself last year that I would cover the Clivia and the Dendrobium to assist in their protection. The time has come to think about these things.
I didn't see any fireworks this year. There was an occasional pop and fizzle from the village but I didn't go to the window to watch. Instead I went up into the garden to see if I had any snowdrops. Galanthus 'Remember Remember' should have been up, but there was nothing. Instead I had a bud on 'Santa Claus'. It is a new cultivar for me, I bought it as a dry bulb in August and I think that is the reason it is flowering so early. I wasn't expecting it until the middle of December. It opened properly this morning and is the first 'outdoors' or 'spring' snowdrop of the season. The garden will be frosted, the last leaves will fall and in the clear, huffy-puffy weather that follows the snowdrops will take to the stage again. Probably. When I couldn't find 'Remember Remember' I worried for a moment that they might all be dead. There is no reason to expect it but these are the frightening floral demons that creep around the garden in the short-day shadows.
As I took this picture I nearly sat on the new bud of 'Remember Remember'. Slugs permitting it will be with us shortly. 'Three Ships' has also shown a shoot. Begone foul floral demons of despair, the snowdrops are coming.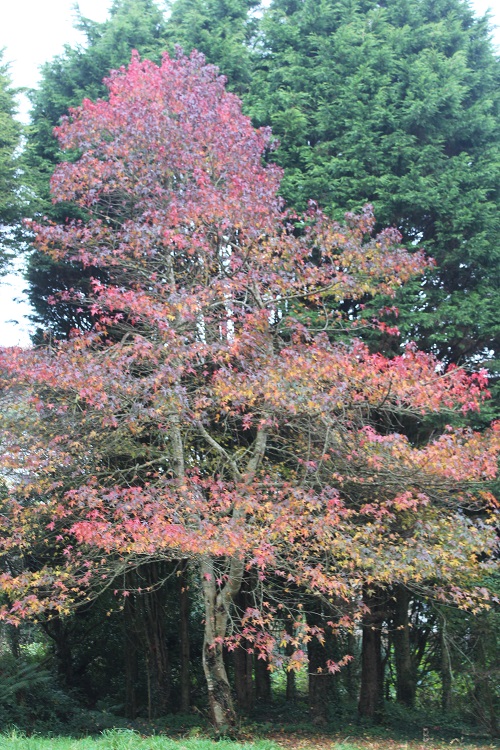 14th November 2021
Liquidambar styraciflua 'Worplesdon' .
I'm sure that there must have been some sunshine during the week but I haven't seen it. The garden is full of mature Leyland Cypress that have been tickling moisture out of the low cloud with their tips. I have been felling them slowly to let in more light. Fortunately time and energy force me to take it slowly so that I can gauge the effect as I go. I want more light in the garden but I don't want much more wind. It's a subtle balance and I don't mind taking my time. I did have a reckless thought a few years ago - just fell them all and worry about the consequences later. I put the thought aside and it was the right thing to do.
Walking up through the garden I got glimpses of scarlet and orange. They looked like sunshine but weren't. Liquidambar 'Worplesdon' has reached its brightest moment. Any day now the last leaves will be sent flying. There is a small grove of Leylands behind it that provide protection and a suitable backdrop. They are safe from the saw. Without them I would have a clear view of the white painted bungalows on the other side of the valley. They aren't attractive enough to want them dangling through the branches of the Liquidambar like Christmas baubles.
As the leaves fall the views through the garden to the wider countryside will open up again - they are one of the delights of living on a hillside. At the same time myopic attention will switch to the snowdrops. There will be a satisfying seasonal contrast of close and distant views to match the approach of spring.