JEARRARD'S HERBAL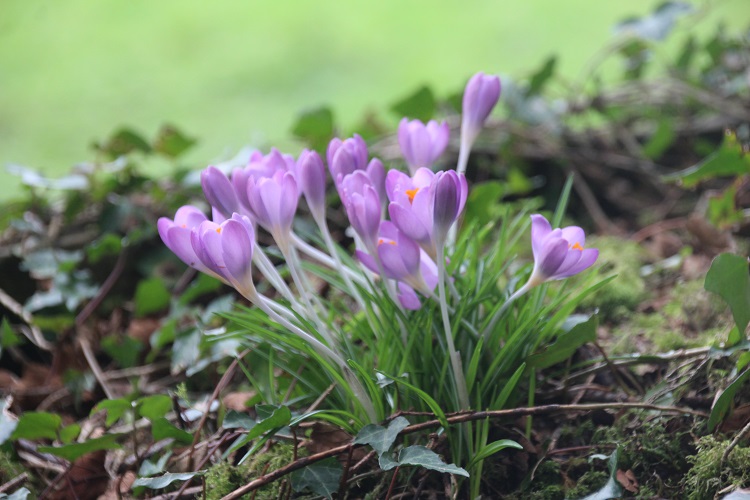 20th February 2022
Crocus tommasinianus .
The news of the week in the garden has been storm Eunice which rattled through on Friday morning in the first "red warning" for wind that I can recall. I went to bed on Thursday night determined to sleep through as much of it as I could. In the event I woke up fairly early - curiosity had got the better of me! Looking through the back door I could see some of the trees rocking around a bit but things were better than I had feared. By the afternoon the wind speed was reducing and it was possible to walk around without risk from falling branches. A couple of small trees have been knocked to the ground but they have fallen where it doesn't matter. One of the Pinus radiata in the windbreak has shed a branch but it didn't land on the Agave house so everything worked out well.
In the immediate aftermath of the storm all of the flowers on Crocus 'Ruby Giant' were laid flat but many stood up again on the next day.
I have a wistful yearning for sheets of Crocus tommasinianus in the garden. I have tried several times to establish them but all I seem to get is pot-bellied mice. I had almost given up but last year I planted some 'Ruby Giant' in the new herbaceous border and many of them seem to have survived. I addition it has been a good year for the few Crocus tommasinianus survivors from earlier plantings. This little clump grows on top of the hedge and has been there for at least thirty years. I was surprised by these flowers, I had long forgotten they were there. I feel emboldened to plant some more.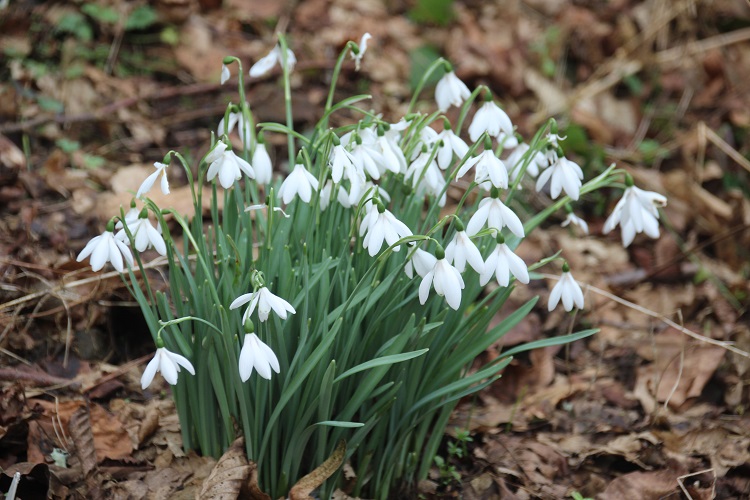 20th February 2022
Galanthus 'Poculiformis' .
Spring has been a delight among the snowdrops. Those that have done well have done very well and those that haven't - well, we don't talk about those. I am not going to any snowdrop events this year and I am enjoying the chance to wander around the garden enjoying the ones I already have. It is always difficult to know when the snowdrops have reached their peak. I have a number of late flowering cultivars that are still emerging but the early flowering kinds are finished. Somewhere between the start and the end of the season there is a crescendo of wonder but I tend to realise it has happened after the event. A week later it is clear that the best times have passed.
This year it was easier to tell when the peak passed. Things were looking really good on Thursday and on Friday storm Eunice tore off a lot of the flowers, particularly in the snowdrop bed where the plants are quite exposed.
Galanthus 'Poculiformis' had a lucky escape. Last year I moved it into the shelter of the camellias and the clump has prospered with more space. It has a distinctive look in the garden, the inner segments are long and white so it appears to have six outer tepals instead of the usual three. Although it has only been in this spot for a year I think the clump needs splitting. It is a favourite of mine and there is space for quite a large patch of them.



20th February 2022
Narcissus asturiensis 'Van Tubergen Clone' .
Narcissus asturiensis is one of the most delightful of the tiny daffodils. Decades ago I bought a bulb of the Van Tubergen clone from Simon Bond and it grew over the course of several years into a magnificent tub of delight. I was happy beyond words and then suddenly one year nothing came up. I still don't really know what happened, I'm tempted to blame narcissus fly but it could as easily have been neglect.
Astonishingly I was able to go back to Simon and get another, not many small nurseries survive the decades. After another ten years the second bulb has bulked up and is making a good show. I am keeping my previous experience in mind. This year the tub will be emptied out and some of the bulbs spread around the garden so that I have a back-up. In the process I can refresh the compost, add some feed and generally encourage the tiny golden marvels.
I have a couple of other clones of N.asturiensis, they are both lovely, the species is a wonderful thing. But this is the one that enchants!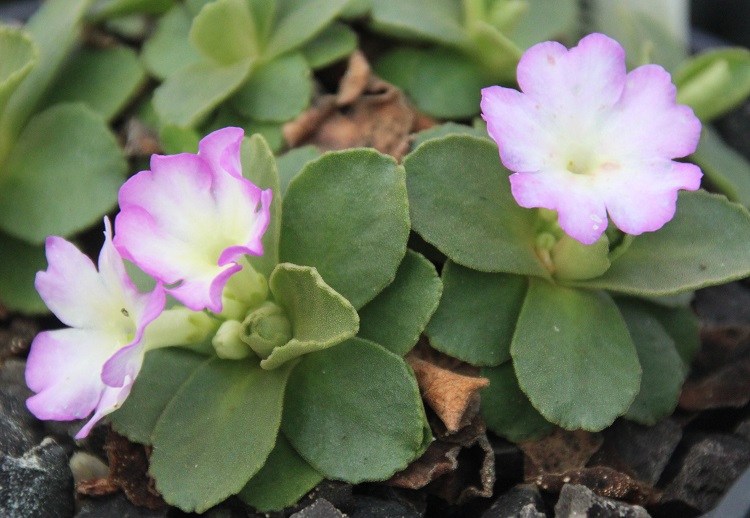 20th February 2022
Primula 'Wharfedale Supreme' .
I have a small collection of rock garden primulas. How shall I put this, my experience with primulas is not one of unadulterated joy. They have struggled through drought and sunburn, plagues of vine-weevil, rots and occasional temper-tantrums on my part. I say struggled through, what I mean is that they have repeatedly died and I have repeatedly replaced them.
Eventually after forming a significant compost heap of "dead-primulas-I-wish-I-could-have-grown" I have found a regime that seems to suit the alpine ones at least. I doubt I will ever enjoy the spectacle of plants entirely obscured by flowers, that takes a cold winter to synchronise the effect. In my mild climate the flowers appear here and there for months before sputtering to an end. I don't mind, a couple of flowers represents a triumph to me.
'Wharfedale Supreme' is said to be a hybrid between P. allionii and P. auricula. The Primula auricula are coming into bud and it's a hybrid I would like to repeat for myself.
It's a bold aspiration, I haven't yet managed to grow P.allionii from seed but nothing ventured nothing gained. Everyone tells me it's easy, I beg to differ.