JEARRARD'S HERBAL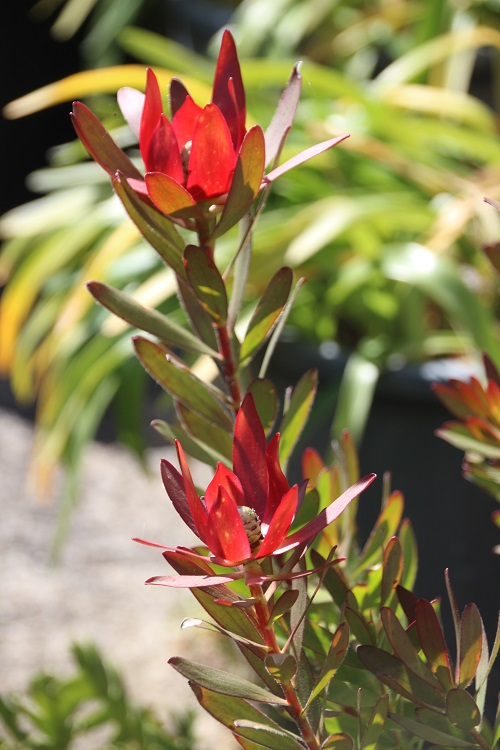 3rd April 2022
Leucadendron 'Safari Sunset' .
The threat of a cold blast of air from the north has dominated the week. It brought with it the possibility of some light rain to ease the desiccation of the garden. The soil is still moist but new growth and leaves are breaking on most of the shrubs and the chilling wind could cause damage.
The arrival of spring has coloured most of the garden though there is surprisingly little bird song to be heard. A wren was hurling abuse at me from a conifer on Tuesday but I haven't heard from it since. Surrounded by the colour of spring, I came around a corner and was astonished by the low light shining through Leucadendron 'Safari Sunset'. It was most important in the dark days of December when there was so little colour to be found but it has hung on for long enough to capture the light in another moment of magnificence.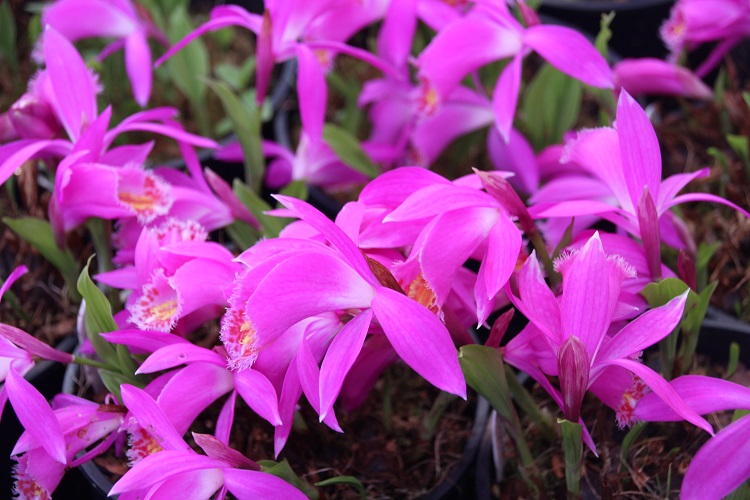 3rd April 2022
Pleione Tongariro 'Jackdaw' .
The soft colours of early spring are giving way to some more robust tones. Most of my Pleione grow on a long bench in the greenhouse and when they are in flower the spectacle can be remarkable. I don't think this is going to be the best year ever but it is certainly going to be good. I will have to repot them all before next year and that probably means the flowers will be more spaced out and perhaps have less impact.
This group of Pleione Tongariro 'Jackdaw' has been in the same pot for three years now and has become congested. In the short term it means that the floral display is fantastic. In the longer term it will reduce the vigour of the plant and the size of the pseudobulbs. This is an old cultivar raised by Ian Butterfield and registered in 1981. Sometimes these older selections lose vigour and accumulate virus infection, but 'Jackdaw' seems to be going strong. Although it is now quite common it gets more impressive with every year.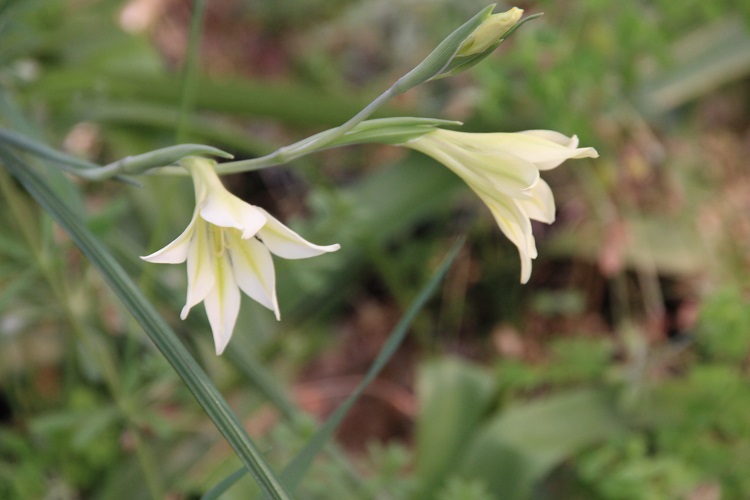 3rd April 2022
Gladiolus tristis .
The Nerine in the greenhouse are at the peak of their growth, if peak is the word. The broad leaves have fallen flat over the compost, they are photosynthesising at their highest rate and building up the bulbs for the coming autumn season. I meant to feed them this week but there hasn't been time. The leaves are essential but they are also rather dull. I have been trying a few other bulbs in the pots to liven things up. Acis autumnalis was my first choice. It has a small bulb that tucks in easily. Judging from the sheaves of leaves around the greenhouse I think it has established. Unfortunately it flowers as the Nerine are sending up spikes so it isn't especially telling. Narcissus romieuxii seemed like a good idea but none of the bulbs have appeared again this year. I think it is too dry for them.
Freesia sparmannii and F. laxa are establishing themselves without much help from me. I worry about their weediness but the effect is satisfactory.
The big success has been Gladiolus tristis. I didn't plant it deliberately, I think it came in with recycled compost, but it produces large flowers full of verve when the Nerine have fallen flat.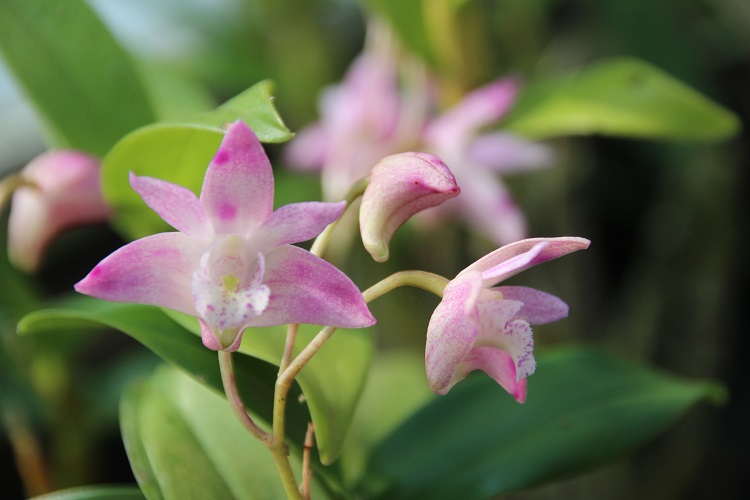 3rd April 2022
Dendrobium Hastings .
The dark days of winter were illuminated with a spark of optimism among the orchids. The Dendrobium flower spikes started to appear in November and have been developing slowly through the cold weather. As the temperatures have increased they have accelerated. I have a number of thoroughbred cultivars of Dendrobium kingianum as well as some lovable mongrels and they are almost all in spike now with a promise of colour and scent in the next week or so.
The first of the group to flower has been D. Hastings, a hybrid between D. kingianum and D. fleckeri. I had hoped for some yellow colour, perhaps a larger flower but it wasn't to be. If I didn't know better I would have taken this for a pale flowered form of D. kingianum. Fortunately it is early and although it is a bit unexceptional it is lovely with it.
I don't grow D.fleckeri, an omission that I must rectify rather than blame its offspring for not being like it.