JEARRARD'S HERBAL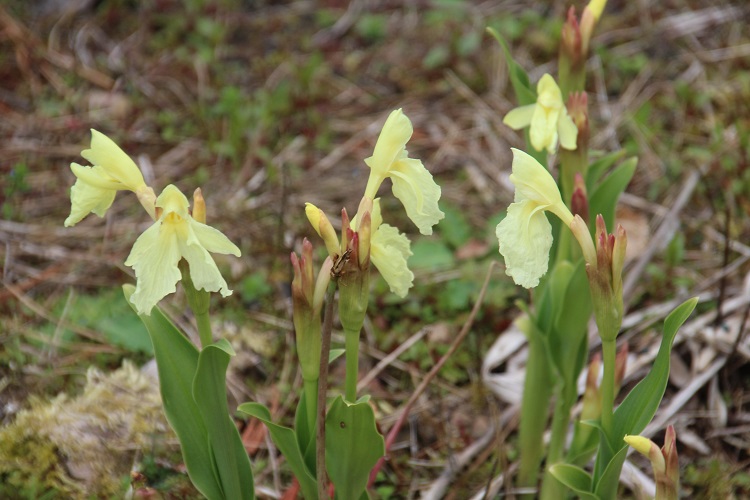 15th May 2022
Roscoea cautleyoides 'Early Yellow' .
The heat of summer has been building in the garden. Late afternoon is a more pleasant time for looking around than midday. The evergreen azaleas are producing a strident display but in the harsh light of the day the colour already looks tired. Late afternoon is best, the sun has sunk low enough to shine under the tree canopy and the bright colours seem refreshed.
The soil has also been refreshed. A couple of hours of rain on Wednesday was followed by a stiff shower on Thursday. It hasn't been enough to fill water tanks yet but it has restored some lushness to the garden. Viburnum plicatum 'Lanarth' took the opportunity to open its flowers wide. Before the rains the flowers had been cowering along the branches in curled terror at the heat and exposure.
The new herbaceous border is looking surprisingly tidy. A single Roscoea has flowered and I assume that it is R. cautleyoides 'Early Yellow'. It is flowering at the same time as the labelled plants in pots and since timing is the only thing that distinguishes it, I think it is a reasonable assumption.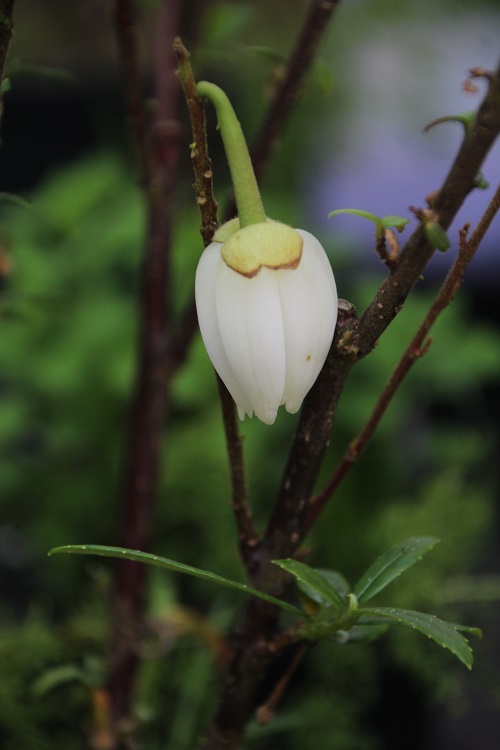 15th May 2022
Crinodendron hookerianum 'Alf Robbins' .
I have grown Crinodendron hookerianum for a long time and it has never failed to astonish, producing masses of crimson lanterns in May and odd flowers sporadically through the summer. There is a part of me that longed for some colour variation while part of me knew that the rich crimson flowers were a precious pleasure that could not be improved.
The arrival of the pink form, 'Ada Hoffman', was a cause for celebration and sorrow. Something had been gained and something lost. The first two plants I put into the garden perished and I was becoming jaded. My latest plant seems to have established, time will tell if it is a good thing or not.
Meanwhile seed from 'Ada Hoffman' produced a pure white flowered form called 'Alf Robbins'. I bought some young plants as soon as it became available. One that went straight into the garden has grown strongly so I have high hopes. In the meantime a plant in a pot in the greenhouse has produced a single flower. It isn't spectacular but it is enough to show that it will be spectacular as a large plant if it performs well outside. Crinodendron grow quite fast so I shouldn't have to wait for long.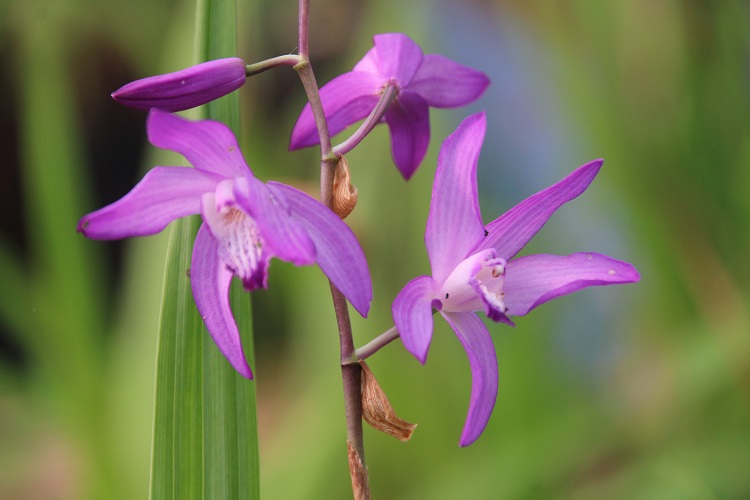 15th May 2022
Bletilla 'Laneside Bluey' .
Small nurseries teeter on the edge of oblivion at the best of times and it was sad to see that Laneside Hardy Orchids had closed their website. The administrative chaos that seems to have followed Brexit left them unable to import stock from Europe. It is a truism that you have to buy plants when you see them, there is no certainty that they will remain available.
Unusually I followed my own advice in this case. A couple of years ago Laneside selected a number of Bletilla from Anthura in Holland, who have been breeding a lot of hardy orchids recently. I bought plants of them all when I could and I am glad that I did, Laneside won't be supplying any more and it seems very unlikely that plants will come direct from Anthura.
I was particularly interested in Bletilla 'Laneside Bluey'. It is a darker colour than B. striata 'Soryu' and seems to be more vigorous. I was delighted to see it burst into flower this week but the mournful mauve is also deeply tinged with sadness. Congratulations to Jeff Hutchings for all he achieved popularising hardy orchids.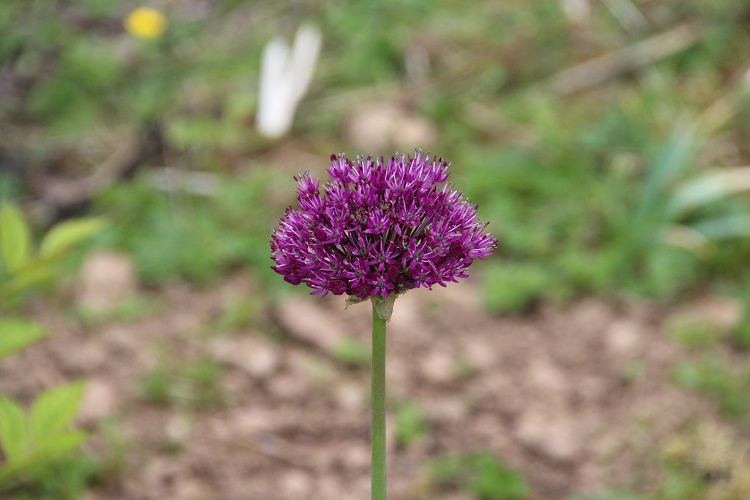 15th May 2022
Allium hollandicum 'Purple Sensation' .
Strange coincidences of time and opportunity play a far greater role in this garden than the rambling ineptness of the gardener. My greatest contribution to the outcome is often the recognition that things will do far better without my assistance. The new herbaceous border is a work in progress and quite by coincidence it is in the part of the garden where the wild Dactylorhiza grow. Is it too much to hope for some enthusiastic spreading into a carpet of colour?
I was hoping for a carpet of purple when I planted Allium 'Purple Sensation' last year. I wasn't sure that they would survive my wet soil or seed to form a carpet. I planted a hundred to see what happened and they appeared to be succeeding, right up to the moment the deer ate all the flower buds. It was a drawback I hadn't anticipated. This year things are slightly better, I have three flowers. Perhaps the deer have had enough of onions.