JEARRARD'S HERBAL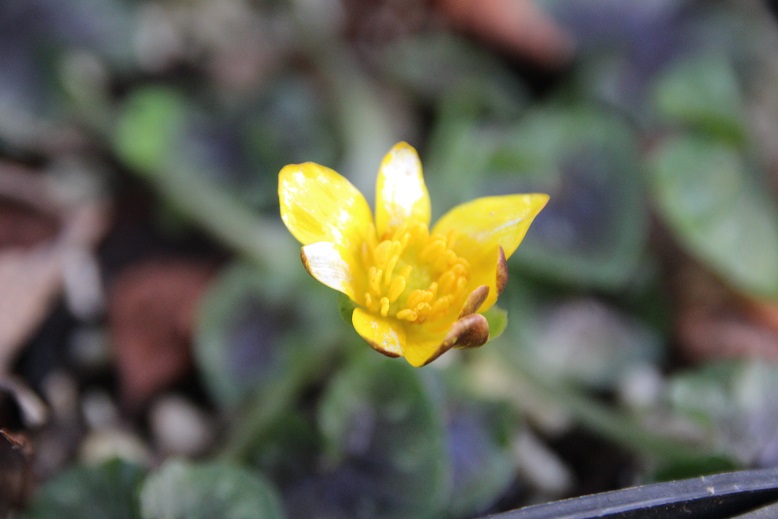 15th January 2017
Ficaria verna 'Suffusion' .
Christmas and the New Year are followed by a hiatus. If I were a large snake it would be the period following a meal when I curled up in a corner, digested and waited. I have done a handful of major jobs in the garden, but it felt like working in Narnia. A magical world with different rules, while time stands still. Last week I had a cold, I curled up in a corner and waited. When I got up again, the world had returned. Christmas had been brushed away and the garden was getting on with spring.
Ficaria verna has been producing leaves since October, solitary banners sticking from the ground to mark its intentions. Now they have formed solid rosettes shining with the promise of buds. The first has opened. It is a little half-hearted but it is welcome. 'Suffusion' was found by Martin Cragg-Barber at Sheldon Manor, the dark mark in the centre of the leaf fading to green at the edges.
Last year I rescued the Ficaria forms from their various places in the garden and have small pieces growing in pots to verify the names - they seed promiscuously about and the original plants can be swamped by their identi-kids. I'm happy that this is right, though it isn't the most striking of recent selections.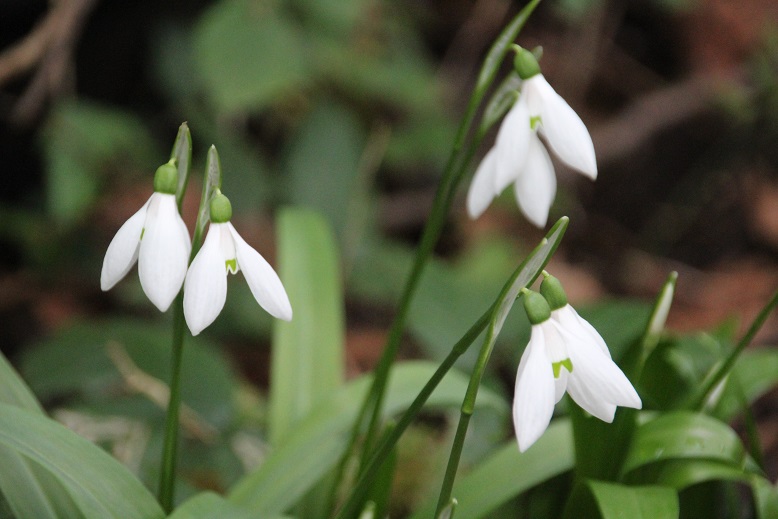 15th January 2017
Galanthus woronowii .
I think of snowdrops as standing in brave challenge to the bleak mid-winter. When the frost lies heavy on the ground and the garden is clear, empty and devastated, then there are snowdrops standing up in defiance. It can be very cheering, especially on the days that are so cold that the daffodils bow down. They lose something on the January days that are so warm that even the mud seems to be dancing around.
Galanthus woronowii was very common in garden centres just a few years ago. A native of Russia, Georgia and Turkey, vast numbers have been harvested from the wild, probably from Georgia and then sold in packs as spring bedding. I selected a few with green markings on the inner segments that I liked and it has been interesting to note that under the same conditions some have been soundly perennial and some have been more or less annual. G. elwesii shows similar variety, some plants forming strong clumps while others seed and die. There must be some ecological advantage though it is horticulturaly frustrating. Many of the most distinctive forms I selected have gone, but this one has become accidentally important, flowering a good few weeks before any of the others. I didn't know that when I picked it out.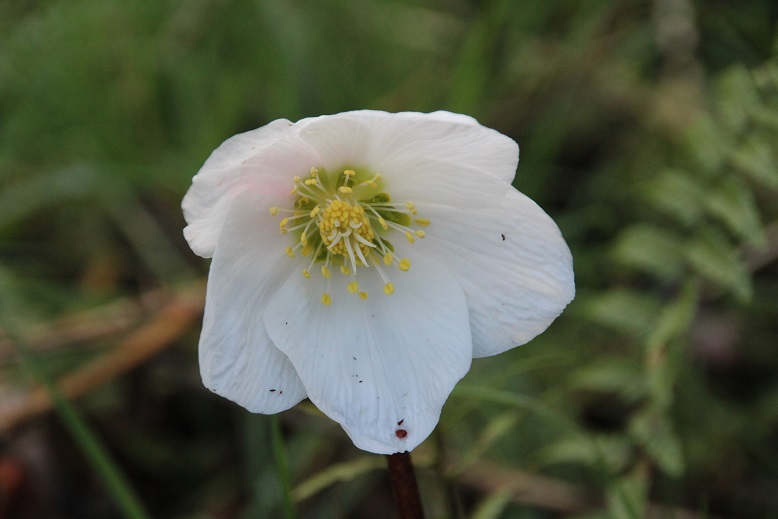 15th January 2017
Helleborus niger .
The Christmas Rose is as badly named as a January Buttercup ever could be. Breeders have struggled for decades to produce a strain that flowers reliably in time for Christmas, without notable success. They have a reputation for being troublesome in gardens but I think they may have just got the Galanthus habit. Some seedlings are perennial, many are short lived. Those people with established clumps just kept on planting until one survived. Commercially they are produced from seed which will tend to select the live-fast-and-die-young behaviour, so they may be harder to establish now than they once were. All I am really saying is that I have planted dozens over the years in every suitable looking nook and cranny, and I only have one that persists from year to year, seeming to grow stronger every season. Nothing to be seen at Christmas, it has sprung up laughingly in the New Year.
I should really collect seed from it but I won't. When it finally gives up I will return to plastering the available nooks and crannies with the legion of the doomed in the hope of stumbling across another perennial pleasure. If you have a particular penchant for helleboricide there are some wonderful selected clones available through micropropagation that are so lovely the very earth seems to swallow them as they are planted, never to be seen again.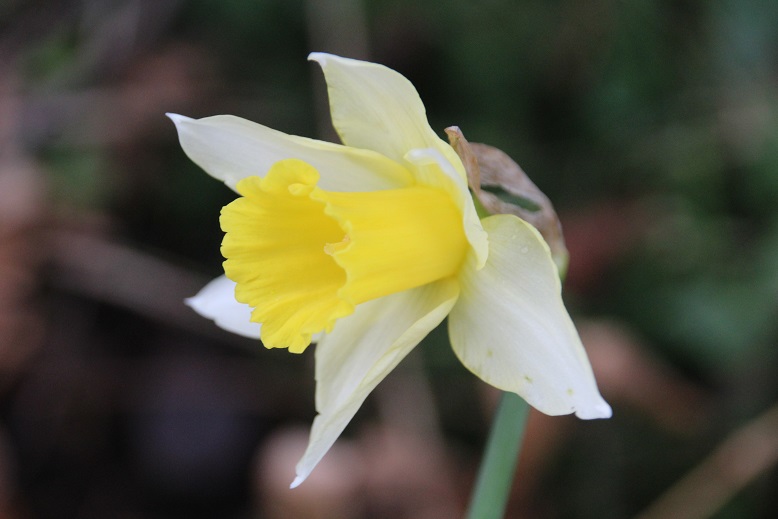 15th January 2017
Narcissus 'Spring Dawn' .
And so the garden moves from the stillness of Christmas indigestion to the dawn of spring, or at least to 'Spring Dawn'. Every year I look forward to the brief winter interval when the garden stands still. You can put a job aside and come back a week later and finish it. Nothing has changed. It is a stillness that I tend to notice just as it it ends, and 'Spring Dawn' warns me, it has ended. Things are moving.
There are some frantic thoughts. I have a hedge to cut back and if I don't get it done very soon, it will be growing faster than I can cut. Then it will be full of bird nests and the grass will need mowing, the greenhouse watering and it will be Christmas again and still not done.
'Spring Dawn' was raised locally for the cut flower market but it doesn't seem to have taken off. At the bottom of the village there is a field of big golden daffodils being picked now for sale. Occasional buds that were missed providing a splash of colour among the leaves. It seems that people want their first cut daffodils to be golden-yellow through and through. 'Spring Dawn' is finding some success among the pre-packed bulbs for gardeners. A cultivar that is just early enough to be generally acceptable, just subtle enough to be fashionable.
The same people that buy bunches of big yellow daffodils say they are too garish for the garden and will plant orange tulips instead. I find it perplexing. Time to hide in the Narnia-garden again.