JEARRARD'S HERBAL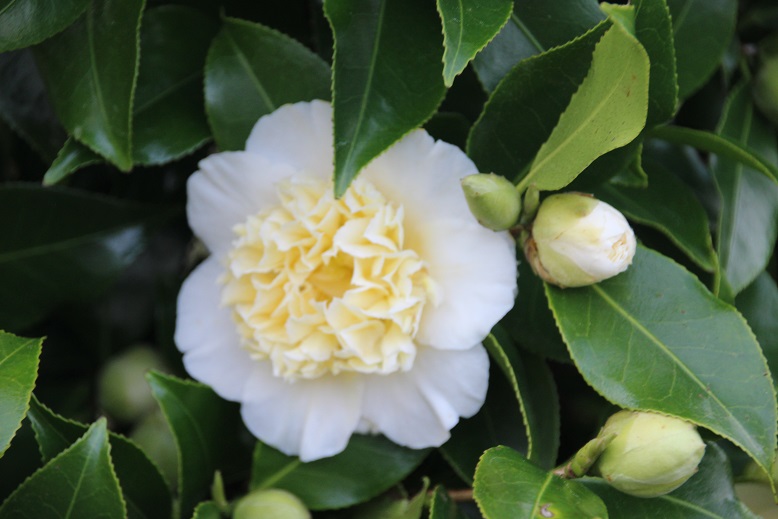 5th March 2017
Camellia 'Jury's Yellow' .
Every day seems to be Springier than the last. I look at the house and think the time has come to open all the doors and windows and clear out all the tat that accumulates through winter. Last week I bought four bags of coal just in case the first week of March turned cold. This week they remain unopened and I am going to be very well prepared for the first cold night of Autumn.
I have started to move things out of the house and back to the greenhouse. The orchids have gone and everything else will be going out as soon as there is time and energy to trudge along the sodden path. I keep looking at ways of harnessing the winter rain that runs continuously down the hill. I have been trimming a hedge and sinking about 15cm into the wet ground. What I need is a turf turbine.
Camellias are ugly in the morning and beautiful in the afternoon. Flowers that are open overnight are browned and battered by the morning. New ones are open by lunchtime. 'Jury's Yellow' was at its worst after a hail storm last week. The golden centre of the flowers had turned to brown mush. It isn't a 'real' yellow Camellia, the colour is an extension of the colour in the stamens that have expanded into staminodes. It looks just like yellow, but it doesn't count.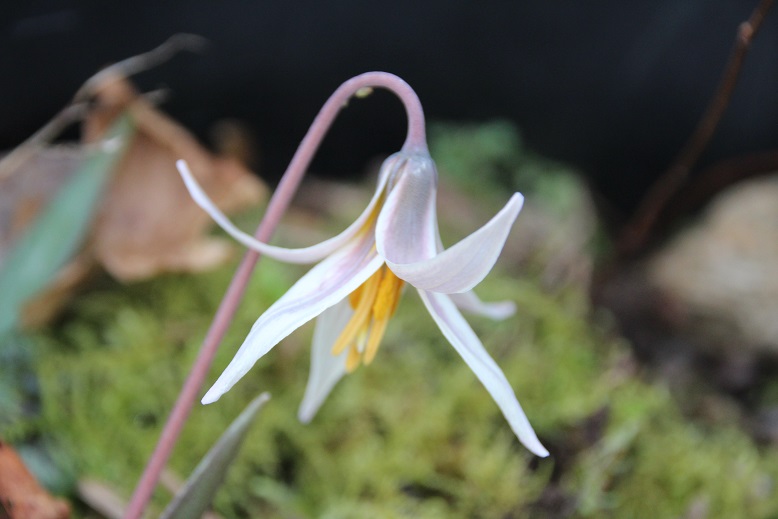 5th March 2017
Erythronium albidum .
Erythronium and wet knees go together. The autumn leaves have started to rot down into indeterminate brown slush etched with an occasional oaky outline. There are thick spongy mats of it around the Erythronium whose blooms sing like sirens, tempting you into damp genuflection.
I planted E. albidum several years ago. It flowered once and then disappeared without trace. I was so convinced it had died that I planted another but I was unduly pessimistic. After a couple of years without a sign, suddenly it is in flower again. It comes from the eastern coast of North America from Quebec in the north as far as Texas in the south. I suspect that plants in cultivation are from the northern reaches. They just have that sub-arctic look about them, pale and precocious. Perhaps its simply that it opened after the hail storm, expanding greyly from the melt-water.
It is said to like deep moist loamy soils which I can certainly do. What it makes of the gormless biped sinking into them is unknown.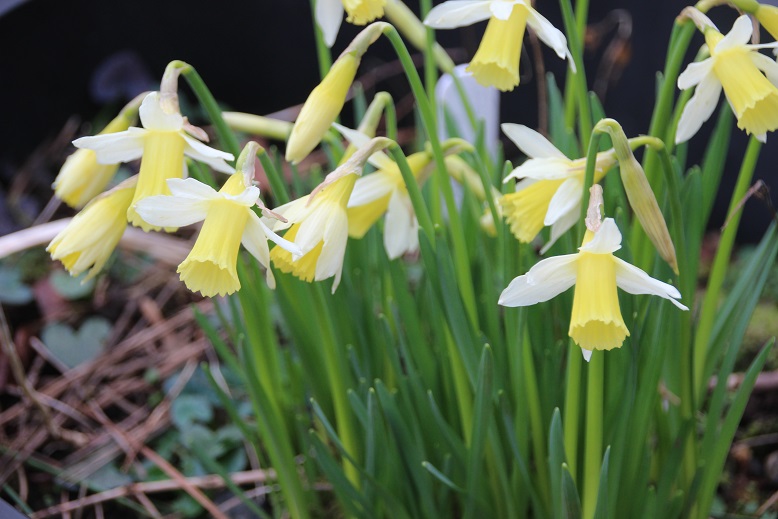 5th March 2017
Narcissus 'Elka' .
Sometimes the passing calendar takes a pause from its endless rolling procession and freeze-frames. Time stalls into a photograph, a picture that composes itself, faces forward, smiles and poses for eternity. This week has been daffodil week. I wasn't expecting it but I recognised it as soon as I went into the garden. This week the daffodils are all arranged, hair combed, wearing their best demeanour and dressed for the party. There are many still in bud, but they have missed it. This was the week to see and be seen.
I bought a single bulb of 'Elka' in 2013 from Evolution Plants at an AGS show. It has prospered rather better than the nursery, which closed in 2015. My single flower has become a dozen or more and the clump has retained the dwarf charm that attracted me in the first place. It has been taken up by the wholesale growers and is available in bulk very reasonably. Sometimes I think I want a few hundred spead along the side of the path but perhaps more would be less? I saw a field of 'Tete a Tete' once, the most beautiful little thing reduced to carpet bedding. I think the same might happen to 'Elka'. The white flower has an angular purity like a chip of Dolomite. Do you remember the days when it was deemed 'decorative' to scatter white chippings into the surface of asphalt driveways? Deary diamonds of suburban pride. If you are still doing it, shame on you. Like the haircuts of the 1980's they should be left in the past. I am worried that a drift of 'Elka' might suffer the same fate, scattered chips of charm trapped in a turfy prison.
As with so many of the best dwarf daffodils, it was raised by Alec Gray just a mile or two away from here.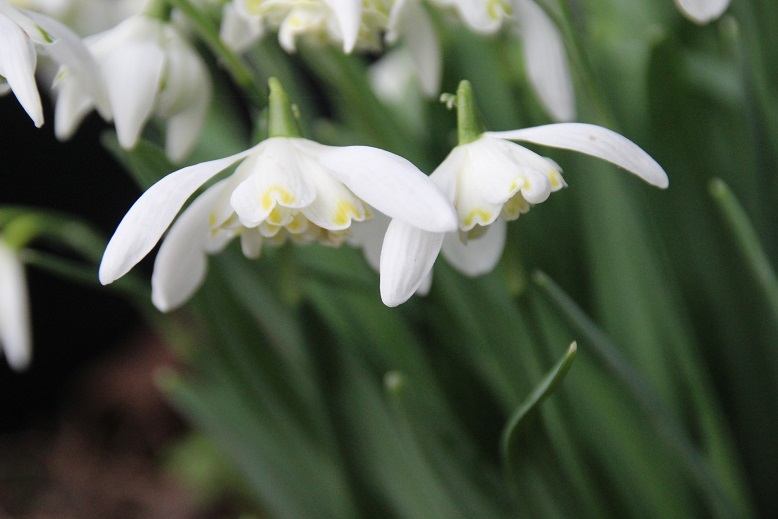 5th March 2017
Galanthus 'Lady Elphinstone' .
'Lady Elphinstone' highlighted the fact that the snowdrop season had passed. The display in the meadow has ended, flower heads flat on the ground following the storm. They won't be standing up again. The hail was quite local. Outside the back door I had a sheet of white when I got up and for an hour in the early morning the hill was closed to traffic - cars had been braking at the top and then sliding to the bottom. I didn't see it. By the time I got up it was already melting and the cars were treating it as a sport, squashing a steady stream of sludge from their tyres as they rushed by. Not a good morning to be a pedestrian.
I think 'Lady Elphinstone' is another of those double flowers that borrows the colour of the stamens to appear yellow. I don't think this is a yellow snowdrop at all, I think it is just pretending. After twenty years thought I have come to the conclusion that I have no idea why some flowers are green and some are yellow. In the meadow it is predominantly green and has been for a decade. I thought that it might become greener as the clumps matured, but when I split them up and moved them around they remained green. A couple of years ago I bought a single yellow flowered bulb in a pot in case my stock was simply a dud. I planted it in a tub, in case it was competion with the grass that affected it. The second year it was mostly yellow, the third mostly green. This year I have two yellow flowers and an expression of blank incomprehension.
And wet knees.