JEARRARD'S HERBAL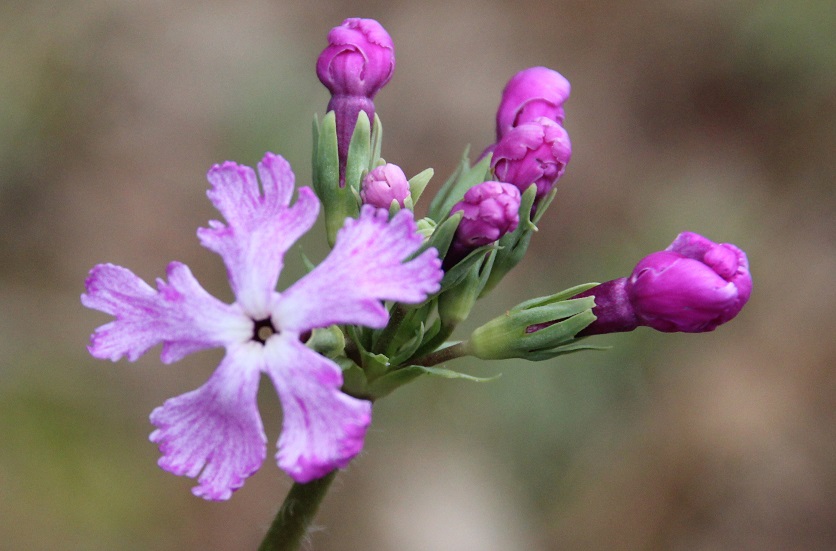 30th April 2017
Primula sieboldii 'Duane's Choice' .
I think expectation has a lot to do with luxury. The last time I travelled in a Rolls Royce I had a fixed grin on my face so that the owner wouldn't be disappointed. I couldn't image what all the fuss was about. The ride certainly wasn't pedestrian, but only in the obvious sense.
It has been a strange week and a celebration is the best way to deal with it. I was given a small jar of spiced crab-apple jelly, a tiny shiny drop of amber wonder, and I have been saving it for a gloomy day. I had it on my toast this morning and to make the celebration special, I cut the toast diagonally. That was luxury. Rare, indulgent and delightful.
Cold weather has been in the forecast for a week and with every new day the magnitude of the drama increased as the duration of the event reduced. By Thursday if had become clear that a week of broadcast drama had reduced to a chilly wednesday morning. I wore a long sleeved shirt.
In the garden, Primula sieboldii 'Duane's Choice' has been a surprise. I had quite forgotten it was there. A couple of years ago I was convinced that there was something useful to be gained from Primula sieboldii. It pops up in spring, flowers and has died away again before the end of July which makes it very tiresome in a pot or in a garden border. This one was planted among the snowdrops, which follow the same general growth pattern, and it has survived for several years. A remarkable achievement for a Primula that has been ignored.


30th April 2017
Dendrobium x delicatum .
The important part about a cold snap was that it signalled a change in the weather pattern. I don't think we have had a drop of rain in April, so last nights promise of seven hours of heavy rain was anxiously anticipated. I was up in the top of the garden yesterday and even the new growth on the brambles had wilted. I woke up at 5-o-clock this morning and listened to hear if it had started. Nothing to be heard.
By the time I got up it had started. A small puddle had collected by the back door. I put some bread in the toaster, crossed my fingers that it would pop-up and not try to burn the house down, and went to check the greenhouse. The water tanks have filled up, so drought has been temporarily averted and the house didn't burn down.
Dendrobium x delicatum has been prospering in the warmth. It is a natural hybrid between D. kingianum and D. speciosum var. hillii. The pale flower colour and the long thin pseudobulbs are inherited from the latter parent. Allowed to clump up and escape its gangling youthful phase, it becomes a large and floriferous plant. There is potential for brighter and larger flowers, but I have only ever seen this clone (or something indistinguishable). I did once see a mix of seedlings between D. kingianum and D. speciosum for sale in every colour of the rainbow (yellow through white to pink, singing a Dendrobium rainbow is fairly simple). I didn't buy them all and have kicked myself for my stupidity ever since.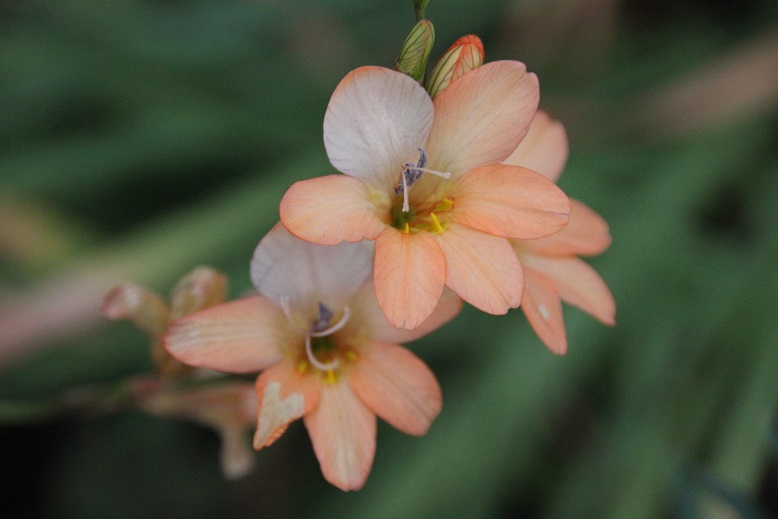 30th April 2017
Tritonia securigera .
On Thursday I tried to save some work I was doing on the website, and the hard-drive failed. It's one of those things that can happen. I have taken it to an expert to see what can be saved from the data and in the meantime I have been reconstructing the contents from back up copies. I think I have everything except the last three weeks archive and if I am lucky, they can be retrieved from the original disk. Hard drive failure is one of the risks of digitised data, and I keep duplicates of almost everything, but still I was left with a deflated feeling.
Down in the greenhouse, Tritonia securigera has flowered in matching emotional shades. I have five large tubs of Tritonia with assorted names, but I think I only have one plant. I would like to think that seedlings from a vigorous species had overwhelmed all the others, but it isn't coming up in any other pots so I think I have just have more names than plants. I am fed up with them. In the winter I was going to throw them all on the compost and be done with it. Now they are in flower I am going to plant them in the garden. I might plant them on top of some weedy Crocosmia and let them fight a battle of uninteresting orange flowers and suffocating leaves. I might just dump them in a corner and be grateful for the free space. Over they years I have grown them, I have tried to get enthusiastic but somehow they have always managed to disppoint. They have become the emblem of hard-drive failure and they have to go.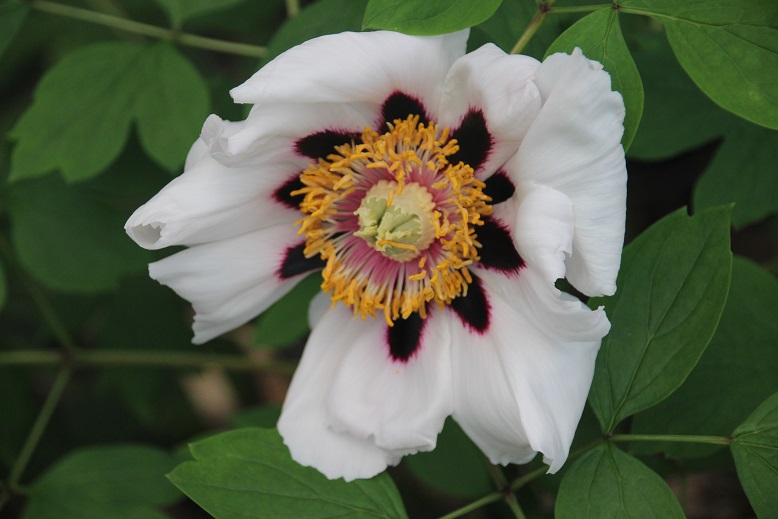 30th April 2017
Paeonia rockii .
The promise of rain cheered the end of the week. The Lesser Celandines were baked in their pots and new growth on the Hellebores has been slow. By the first week of April I had moved all the plants out from their winter quarters into the greenhouse. At least, I thought I had. My derelict conservatory is still the winter home for the Chlorophytum. I was wondering why the terrace seemed so open and spacious. With rain promised I went to move the dessicated pots out again and changed my mind. Time to grasp the nettle and knock the conservatory down. As the light faded last night I stripped the roof. I can't wait to finish, that side of the house will be so much nicer without it. The Chlorophytum have been soaked. It has been a strange week.
Paeonia rockii deserves a better location. It gets too dry in the Agave house. I have several seedlings, and I think I will try one at the back of the herbaceous border. The first one flowered last year, and I have two others now. This is the first to open and the bud was a delightful, luxurious glowing bubble as it developed. The open flower is as perfect as I had hoped, drooping with the weight of its own excess.
The next one to flower offers something of a surprise. It is clear that the developing petals are deep pink so the seedlings are going to be variable.
A week that has ended with the unexpected, and that is something to celebrate.