JEARRARD'S HERBAL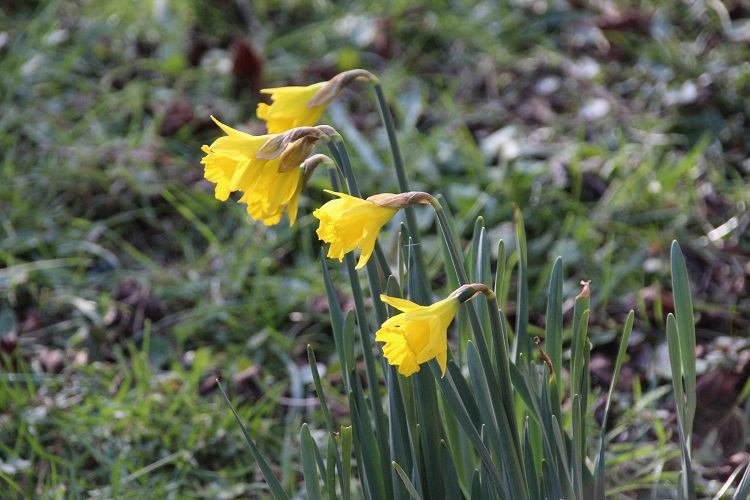 11th March 2018
Narcissus obvallaris .
The horror of the big freeze is receding into the past. It has been followed by a warm, occasionally wet week perfectly suited to the start of March. I know where the cold weather came from, but I don't really know where the cold weather came from. Yesterday at the RHS Spring Flower Competition (Rosemoor) people were talking about the risk of a return but I hope that is just the emotional equivalent of the aftershock of an earthquake. Aaaah it's so cold ... Oooh thank heavens it's over ... Eeek what happens if it returns.
I have walked around the garden once or twice with a stoic determination but I haven't lingered. There is plenty of disappointing brown mush to see and I don't think I'm ready to dwell on it yet. Banana's are certainly over-ripe and have collapsed into slimy pulp to ground level. It was strange to see them still standing at Rosemoor, which is generally thought of as a cold garden (by south west standards). I'm sure they will grow back through the black slime but it will take me a week or two before I'm ready to to believe it.
Narcissus obvallaris has been providing some golden cheer for the week. It isn't because it is especially good as golden daffodils go, or rare or early. I suppose it has quite good leaves but they aren't the source of the joy. I am happy to see it because I like it, always have, from the moment we set eyes on eachother. The garden equivalent of sharing a taxi home.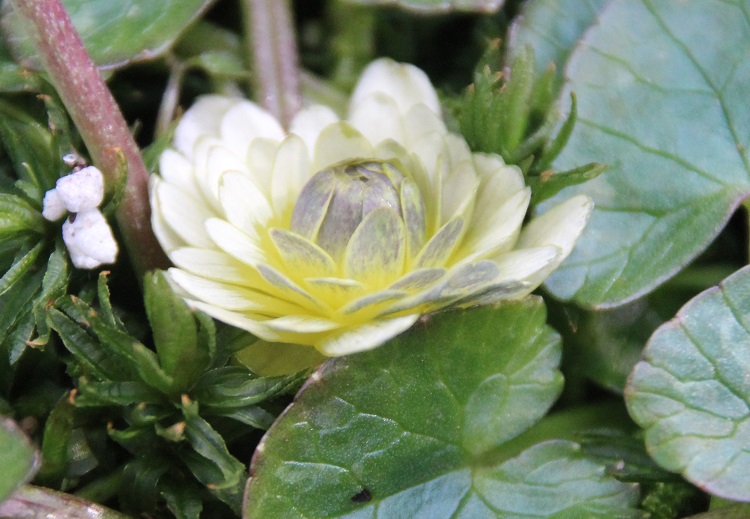 11th March 2018
Ficaria verna 'Ken Aslett' .
Ficaria verna is another example of seeking the security of old friends. 'Ken Aslett' is the representative for a group of double white flowered forms. I would rather this was 'Double Mud' who's precocious flowers have resulted in more sludge-stained trouser knees than almost anything in the garden. Unfortunately 'Double Mud' is skulking flowerlessly under the trees so Ken will have to act as stand-in. He grows in a pot on the bench and welcoming him with open arms is a much more grown-up affair.
'Ken Aslett' is a tidy double, the dark reverses to the tepals serve to enhance the shadows and define the precision of the water-lily shape. 'Double Mud' is altogether looser. The tepals are all much the same length and they wriggle about with a precise informality like a ballet dancer letting rip in a nightclub. 'Ken Aslett' is the Nutcracker while 'Double Mud' is the Rite of Spring.
Discovered in Bowles' Corner at Wisley, I assume it is the result of a moments wind assisted passion between a double yellow ('E. A. Bowles' would be an ideal candidate) and one of the white ones, perhaps with a generation or two's assistance to encourage the recessive.
Named by Chris Brickell to celebrate Ken Aslett's long service at Wisley.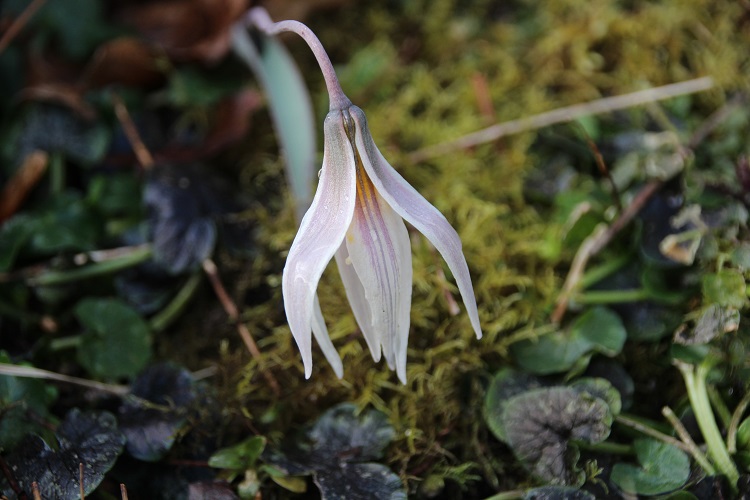 11th March 2018
Erythronium albidum .
Misery in the garden has a sense of Victorian meldrama about it. Walking around among the drooping brown evergreens I have felt like a hooded figure in a misty cemetary. In the distance the sound of wailing is in time and in harmony with the sombre cello of a backing track. Camellia buds are just opening again to lighten the ancient sepia picture of spring, frozen in more than just time. The garden is still but leaves are almost imperceptibly ruffled by little gusts of wind, the unfortunate result of a good lunch. Melodrama takes everything seriously except itself.
I had my eye tuned in to the white flashes of snowdrops or I might have missed Erythronium albidum. The white tepals are almost concealed by the grey reverse and the leaves are scarcely visible. It hasn't been particularly vigorous for me and I have had a problem with slugs eating the flowers, so it is a sudden delight. With a couple of inches of snow on the ground last week I would not have believed there was an Erythronium stirring. Around it the clumps of 'Pagoda' and 'Citronella' are bursting from the ground, the curious spirals of their shoots screwing up into the air to get a purchase on the sunlight.
It comes from eastern North America with a range from southern Canada down to Texas following the woods and hills, mostly staying out of the coastal plain. I am reliably informed that it can make a large patch in time (and possibly in habitat). I have only ever seen it, or grown it, as a sporadic singleton. It doesn't seem to develop the dense clumps of the western species and their hybrids and I haven't seen it set seed yet, though perhaps it needs a partner.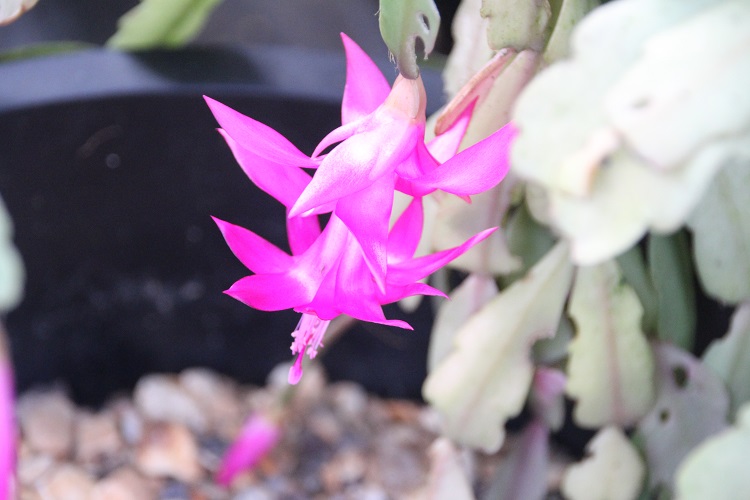 11th March 2018
Schlumbergera x buckleyi .
If appearances so far are to be trusted, the Agave took the cold spell very well. A quick, sudden freeze doesn't seem to have caught them out. They share the greenhouse with a number of Cycas revoluta which have also shrugged off the weather. Both groups are quite tolerant of cold, they just can't cope with radiation frosts and the greenhouse roof does a decent job of protecting them. In many ways they are the ideal 'bordeline' plants to grow. Protect them from a single, particular issue and they will thrive, unlike some of the tender stuff that has to be cossetted to deliver a mediocre result. Midst the prickly joy of the "don't hug me" Agave I had some bushy fluff. It was becoming a bit much, it didn't match the sparse aesthetic of the Agave, it was really just opportunism. If any of it recovers I will have to consider its position.
Ficus macropohylla columnaris is toast, or more nearly marmite, black, sticky and shiny. It may resprout from lower down but this is the first time it has been touched, and I'm sure the absolute temperatures have been lower. The same is true for a large Clivia, too big for a pot, it was dumped up in the greenhouse to take its chances and this year is has lost out. It may regrow from soil level, but everything above that has gone. I have a feeling I will need a bucket and a pair of rubber gloves to remove the mole-hill of slime that remains. One of the Epiphyllum has just burst apart like a marathon runner who crossed the line and took one giant gasping breath too many. Bang. Not a pretty sight.
Schlumbergera x buckleyi has chosen the moment to erupt in pink flowers, perfectly timed floral invective.