JEARRARD'S HERBAL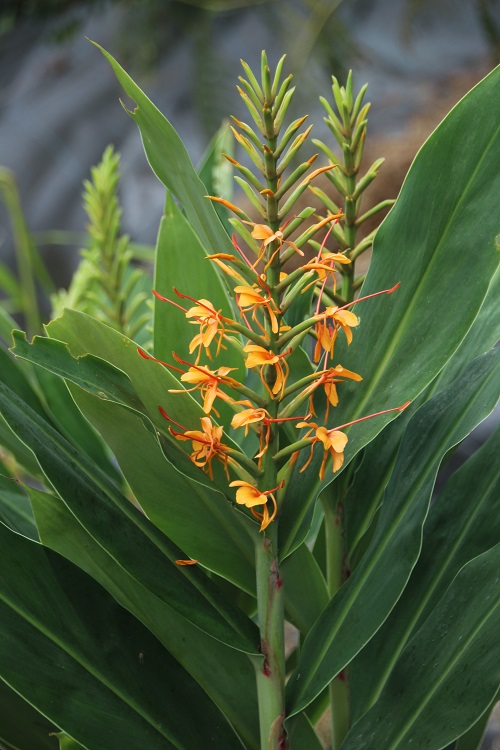 26th August 2018
Hedychium 'C. P. Raffill' .
I was watching the local news waiting for the weather forecast on Friday when the presenter described the coming bank holiday weekend as the last hurrah of summer. I'm not sure that I'm ready for that yet, so much is still thrusting and wiggling up to flower but I have heard the first clanging of autumn. The Cyclamen are up and this week they have been joined by a number of other first flowers. I have a Nerine sarniensis in flower. It's only a seedling, almost white in the way that a lottery ticket is almost a winner. I had cold feet at the end of the week. Partly because I could have gone away this weekend but couldn't face the traffic, mostly because it's time to start wearing socks again. Riding the mower down through the garden on Friday and the skies opened. I was soaked to the skin driving the last 20m and it was autumn rain. The showers earlier had been summery with hurrahs but this came clanging down. Perhaps the presenter was right.
The first Hedychium have opened. It's a genus of re-exploration for me. When the early plant hunters visited China they explored out to a place, and then turned around and re-explored back. They saw it all in the other direction and it was different. After years of growing them in greenhouses, I have been planting out Hedychium and they are different outside. I have been surprised any of them survived the cold weather in March, but I had underestimated their fortitude. H. 'C. P. Raffill' is flowering, and looking better than it ever did inside, the growth is compact, the flower spikes upright.
Planting out is a slow process, one pot at a time pushed up the hill in the wheelbarrow, but it will eventually be worth the effort and I will say how lovely they all are, instead of uttering the current string of expletives.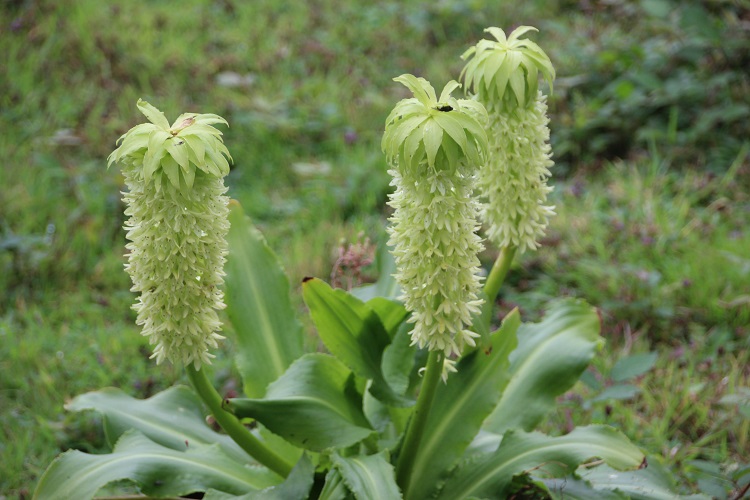 26th August 2018
Eucomis bicolor 'Alba' .
The Eucomis took a long time to get going. I wouldn't normally expect to see any signs of growth intil the end of March but cold weather held them back another month. By the time they were starting to grow the dry weather had hit. They have had feeble leaves and there has been no sign of flowers. Fortunately the hot weather broke, some moisture got to them and there are a few that have produced flower spikes. If there is time they are all going in the ground next year. I have a space earmarked for them, I have even started to clear the bindweed growing there. It isn't going to happen overnight, I think I will probably be planting Hedychium until Christmas, but it has to happen. I don't know how I am going to label them, but that's a problem for another day.
I raised a lot of E. bicolor 'Alba' from seed and selected the best of them for a large pot. It has been feeble. This one was put in the Agave house to see if it would tolerate the extreme summer drought up there. It survived but it wasn't happy. I moved the pot outside as part of the space-clearing process after winter. Something about the timing must have been right because it has romped away (it may have been standing in a drip from the gutter as well).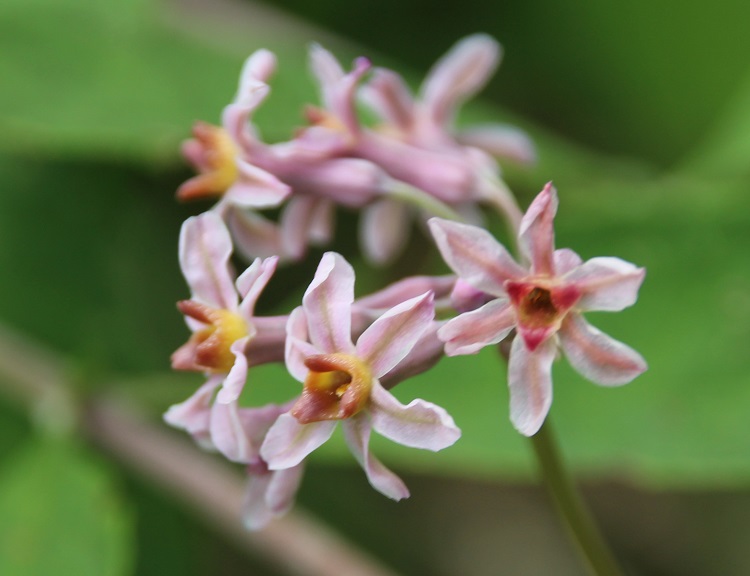 26th August 2018
Tulbaghia 'Hazel' .
Hot weather brings out the worst in people. Sometimes it exposes their anger and frustration, sometimes it exposes their waistline. In my case I have been stamping my feet and saying "I'm just not standing for it any more". Unfortunately I have a very short attention span. I spent a couple of days not standing for the mess in the greenhouse when I realised that I wasn't standing for the state of the Tulbaghia for a second longer. Not standing for something else was quite refreshing. Yesterday I wasn't standing for the state of the Hellebore border for a moment longer and mowed it to the ground. I took the vegetation down with the ride-on mower until I lost my nerve. Any shorter and I think I would have been rotavating in places. Then I didn't stand for the state of the meadow and chopped that down. It was very satisfactory, I spent the whole day sitting down not standing for things.
The Tulbaghia have been on my mind for years. I have great big pots of them in the greenhouse occupying space meant for Nerine. I solved the problem by putting up a bench specially for the Tulbaghia. Then I split them all, repotted them and now they use less space than they did before. Excellent outcome, I should have done it years ago.
None of the Tulbaghia in the greenhouse are flowering. Two years ago I put some duplicates outside in tubs. I wanted to know if they would survive, and if I could solve the Tulbaghia problem by dumping them all outside. I was convinced they were killed this winter but I was wrong. They have all survived, they are all flowering.
So Tulbaghia 'Hazel' serves as a reminder of the value of obstinacy in getting things done, the benefits of advance planning and the futility of all things.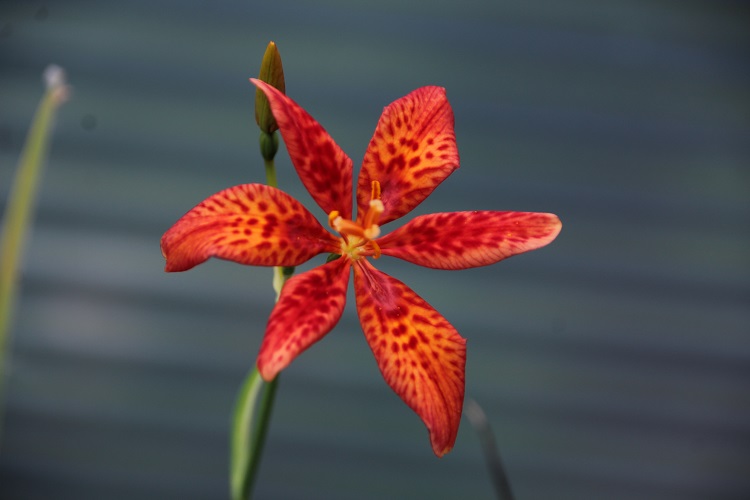 26th August 2018
Iris x norrisii .
Iris x norrisii has been another thorn in my side. It is an odd pot sitting in the greenhouse looking for a place of its own. I don't grow Iris, I don't grow Iris at all. It's not that I don't like them, just that I already do too much. I can take the multitude of Iris, indeed of the entire Iridaceae, and just not do them. Smile quietly to myself when I see them, look like a toothless Cheshire Cat for a moment, and walk on by.
But Iris seem to do me. It was 'Katherine Hodgkin' that started it off, a single bulb years ago that flowered heroically in a new border. I don't grow them, but I wasn't going to dig it out.
Fortunately most of the have to be "grown", leaving them lying around and hoping they'll be happy doesn't work. Except for Iris ensata, naturally. They sit around in a gravel tray of water and just get better and better, in the company of a few other water iris. And Iris sibirica, where did they all come from? I'm sure I didn't buy them did I?
Iris cristata and the dear little woodland iris from North America are easy to explain, that's just good old nostalgia cluttering up the benches. There is an easy solution to that (which I will never take). The Pacific Coast Iris? Well. I wouldn't need to know about them if Australian breeders weren't doing such astonishing things. That's the way I don't do Iris.
x Pardacanda norrisii isn't even an Iris. Fascinating hybrid between Pardanthopsis dichotoma and Belamcanda chinensis, two very strange irids. Along comes a taxonomist and sabotages my pristine iris-free state by renaming them I. dichotoma and I. domestica. The hybrid is so wonderful I can't get rid of it. Worse, I have seedlings of the parents growing on in the greenhouse, I want more.
So I am left with a plan that has never worked very well. I had a Cheshire Cat smile but it is rebuilding into the entire Cheshire Cat.