JEARRARD'S HERBAL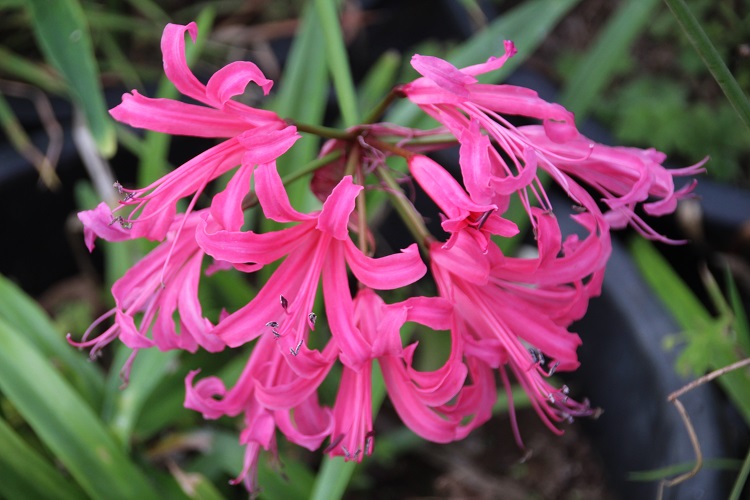 21st October 2018
x Amarine 'Wildside' .
Last week the skies were black with storm clouds and branches were flinging themselves from the trees to escape the stinging raindrops. This week the garden has been calm as though tired after a 48 hour tantrum. The sun has shone and the temperature in the greenhouse has stayed high. It has been a good thing, I have a few succulents that had to be repotted and there is a chance they will re-root before the cold weather hits. I wouldn't choose to do it at this time of year but there isn't always an option.
The temperature is also having an effect in the Nerine house, the early blooms are going over but there has been one useful side effect. It is making the slight difference in timing between cultivars crisper and more distinct. x Amarine 'Wildside' is a good example. I have had it for a decade and it is a lovely plant although it does have a virus. As a result I grow it in a greenhouse apart from the other Nerine. I can't bring myself to throw it out but I don't want it infecting any other plants. I grow it next to N. 'Zeal Giant', Terry Jones' spectacular contribution to the hardy hybrids. It also carries a virus and for years I have been unable to tell the two taxa apart. I was beginning to think they were the same thing under two names. This year I am sure there is a difference. 'Wildside' opened a week earlier and was fading by the time 'Zeal Giant' opened. It is also a shade paler and a fraction more delicate in appearance than the Zeal monster.
They are still very similar, they both carry a virus and I should throw them both out (but I won't). Last week I thought I had one, this week I know I have two.
I quite like this autumn sunshine thing, I don't mind if it carries on for a bit.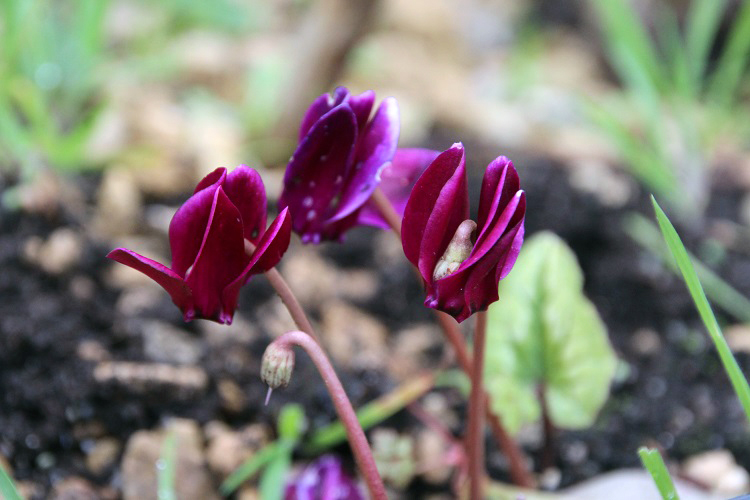 21st October 2018
Cyclamen hederifolium Red .
I never cease to horrify myself. Perhaps that is the price you pay for the pretence of civilisation. Is it civilised to care about Cyclamen or just a peculiarly self-indulgent mental illness. I don't know. Diagnoses on a postcard please.
I like to think that I treat Cyclamen with cold practicality. They are a useful and decorative addition to the garden. If I have an irrational love for the ridiculous flowers of the florists strains it is no more than a childhood whim made to seem meaningful by nostalgia. The constant pressure towards good taste that drives all plant breeding resulted in hybrids between the old florists strains of C.persicum and the wild species and almost accidentally produced a new flower crop of autumn cyclamen for bedding. There is some self-conscious humour in it, like an accidental pun in a serious conversation.
There is a horror in watching Cyclamen hederifolium following down the path taken by C. persicum a century ago. It is a slow motion traffic accident. The first noteworthy change was an extension to the colour range. Enter the red forms of C. hederifolium. More colours means more variety, more variety means more sales and more sales means more seedlings raised. The more seedlings you raise, the more sports appear, the more variety you have and so the process spins on. One of the breakthrough points in C.persicum breeding was the appearance of a peach pink seedling (they called it 'Puniceum' at the time). It significantly extended the colour range. I don't think C. hederifolium has produced one yet but I am sure we are at that point. Perhaps a breeder somewhere is already cultivating their retirement plan in secret. Exciting times.
Meanwhile the flowering season has been extended and I have just seen a plant with enormous flowers, part of a modern commercial seed strain. Step aside C. persicum there are some hardy giants coming to replace you.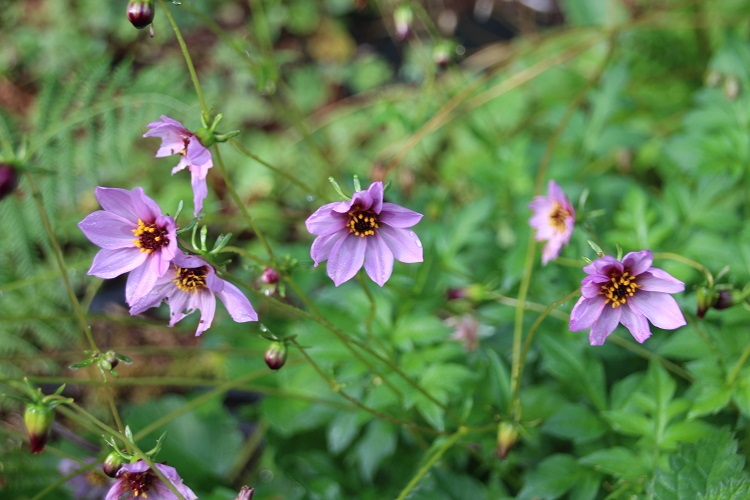 21st October 2018
Dahlia merckii .
There are calmer moments in the garden. It is difficult to think of Dahlia as calming but D. merckii gets on with the job without needing a fanfare. I grew my plants from seed originally because I couldn't find a source for plants. I would still have problems today if I wanted to replace them. I'm not sure why, it is a wonderful hardy herbaceous plant, easy to propagate and with a very long flowering season. Perhaps people hear the word Dahlia and can't get past the associations. It's a bit like Darth Vader perturbing the force or a Fuchsia stain in a respectable garden. People would rather pretend it wasn't there.
I have put it in because I admire it every week. I walk past and I always think "I will show a picture of you when everything else gives up". It is the after dinner chocolate of the herbaceous border, a gorgeous little trifle to crown the evening. Although it isn't, it has been working hard since June.
So I put off showing it, and then the frost comes and it's all over and I put it all off for another year. Except I won't. It is a wonderful little thing, a star performer and one of the very few things I was determined to keep when I cleared the rubbish from the herbaceous border this year. There are a couple of named forms but very little variability in the species (there is a white one but I can't grow it, I don't think it is very hardy, I'm not even convinced it is the same species). It doesn't hybridise with the other members of the genus, the outcome might be horrific. Notwithstanding, I have tried.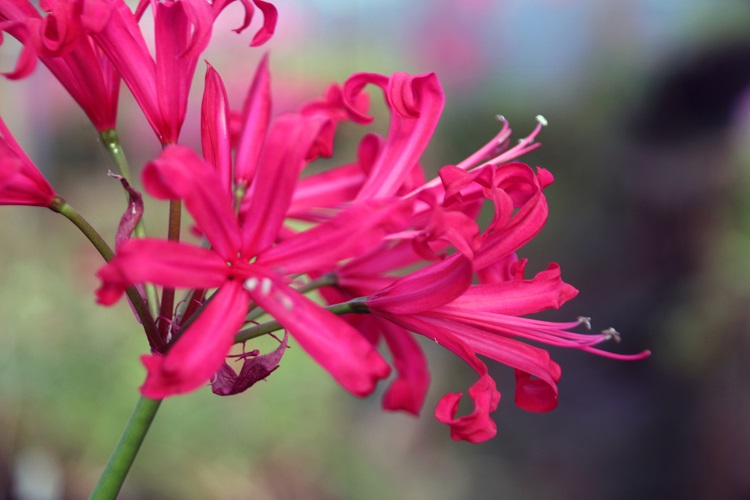 21st October 2018
Nerine 'Mr John' .
We all repeat ourselves endlessly. If we don't repeat ourselves we repeat other people. It is the strangest way imaginable to arrive at the facts. It would seem to be more rational to investigate things, and so uncover the truth but we don't work like that. Some people pretend to, but it is self-delusion. Instead we make a wild guess and then thrash around for ways of justifying it. We repeat ourselves to ourselves, to others, to the point of boredom, until finally in the middle of universal consensus somebody says "no", and explains why. We uncover the truth by repeating the fiction. I am a gardener, well versed in systematic insanity and even I think it is a strange way of proceeding.
What has this to do with 'Mr John'?
Last year I would have said that Nerine 'Mr John' was tender. That had been everybodies opinion. It is a fantastic new introduction, a great colour, the darkest of the hardy Nerine except that it isn't hardy. Universal agreement. We have all been saying it. However ... it isn't dead in the greenhouse. Not even a little bit manky around the edges. This year a few people have pointed out that it has survived in their gardens. It didn't flower for a few years after they planted the dry bulbs, but Nerine are like that. The important point is that it wasn't dead. It will flower again when it recovers from being dried off. Perhaps.
Maybe we were all wrong and the truth is emerging. Or not. There is a sensible learning point, not to jump to hasty conclusions. I will ignore it.
To thine own self be horrifyingly true.