JEARRARD'S HERBAL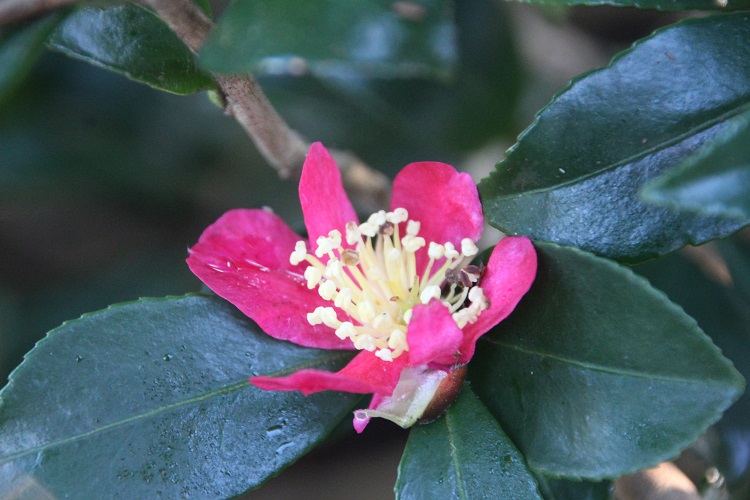 30th December 2018
Camellia 'Yuletide' .
The festive season marks widwinter with a break in whatever happens to be festering at the time. In the garden it is mostly the fallen leaves of autumn. I was wandering along a mossy path during the week wondering where they had all gone. A week of misty weather has left the paths silvered with dew but the piles of rotting foliage seem to have gone. As hard as I might try, I can't quite believe that it's all down to hungry reindeer. I can't see any footprints for one thing. The garden is squelching like a whoopee cushion, they wouldn't have passed unnoticed.
However an odd flower on Camellia 'Yuletide' nearly sneaked past me. It doesn't usually flower here (I could stop that sentence there) until February. 'Yuletide' is a particularly optimistic name based on the flower colour and potted plants imported from warmer climes. It needs plenty of sun to perform well so I don't expect a lot from mine, sheltering under a large Ash tree. Ash dieback may yet deliver a Christmas present.
The Camellia has the dull-but-shiny green of a Victorian shrubbery. Way down beneath its knocking knees I saw a scarlet flash from a Victorian ankle. A solitary flower, horticulturally tantalising, almost pornographic in its time. I imagine Victorian shrubberies saw a fair bit of unrecorded activity, they were certainly popular garden features. It's enough to make a Camellia blush.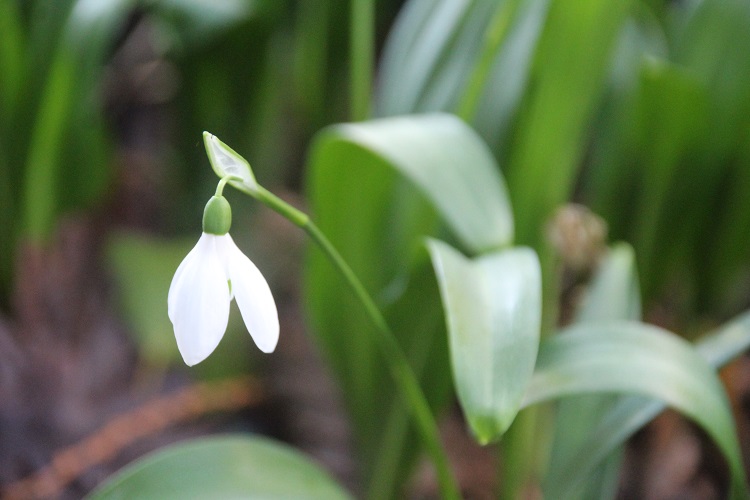 30th December 2018
Galanthus woronowii .
As the piles of leaves in the garden have vanished, I have replaced them from the greenhouse. The end of the year is marked by the annual trimming of the Sarracenia. It takes a few days and I don't look forward to it, but once I settle down I get a chance to go through the whole collection in one go. The first day is always rather slow, it reminds me not to lean over the benches, to bend from the knees, all the sensible things. I remember to empty the bucket of old leaves onto the heap when it is half full rather than struggle to get a heavy load along the narrow paths and through the door. It acts as a practical reality check and gets me past the sleepy self-indulgence of the winter break. Partly anyway. I have been waking up late, realising that there's only the Sarracenia leaves to do and going back to sleep. A snoring celebration of the end of the year.
Occasional trips around the garden help to preserve sanity and provide some useful exercise. Galanthus woronowii came as a surprise. I know it's there but I wasn't expecting it to be there yet. A while ago (I'm guessing a decade) there was a momentary interruption in the flood of Galanthus elwesii from Turkey. The introduction of quota's for wild collected bulbs from Turkey resulted in a shift towards Galanthus woronowii collected in Georgia. For a couple of years they surged onto the spring market. I selected a dozen or so clones from the supermarket shelves that seemed to be distinct. Some have been soundly perennial, others have faded away. This one has been reliably early, though I originally selected it for the pale green inner markings.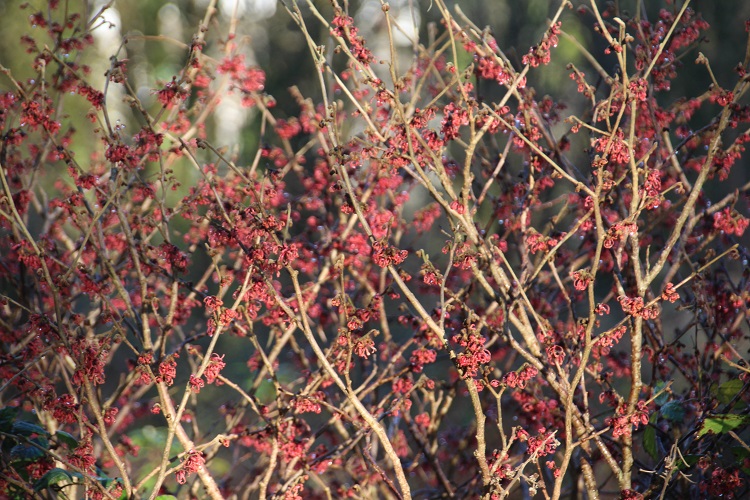 30th December 2018
Hamamelis x intermedia 'Ruby Glow' .
The misty weather has persisted all week, with the exception of Thurdsday when the sun came out. I worried during the day that it would be the first indication of colder weather to come. Looking at the weather forecast I saw that temperatures were falling by a degree a day for the coming week. There are a few plants to come into the house before we get the risk of prolonged frost. That will happen once the Sarracenia have been cleaned, I think the timing will work out.
Worries about the onset of cold nights didn't stop me enjoying the sun. The Hamamelis have started to flower. They are a couple of weeks earlier than I was expecting, that may be the peculiarity of the season or the maturity of the plants. My little saplings are growing into substantial shrubs, I will have to give some thought to thinning the group before long.
The red flowered forms are difficult to place. They need to be seen up close to appreciate the colour, from a distance the flowers blend into the general brown twigginess of the shrub. I need to prune out enough space to get in among them more easily. 'Ruby Glow' is my favourite so far. 'Diane' has broader petals, stronger colour and makes a more compact plant. It is better in every way, but I don't like it as much. I go looking for the flowers on 'Ruby Glow' with gleeful anticipation in the middle of December. I notice that 'Diane' is flowering as I walk past and make a mental note to come back and look at it later. The difference is slight, I don't think I could put a finger on the significant factor but one is delightful and the other is hmmm, lovely I suppose.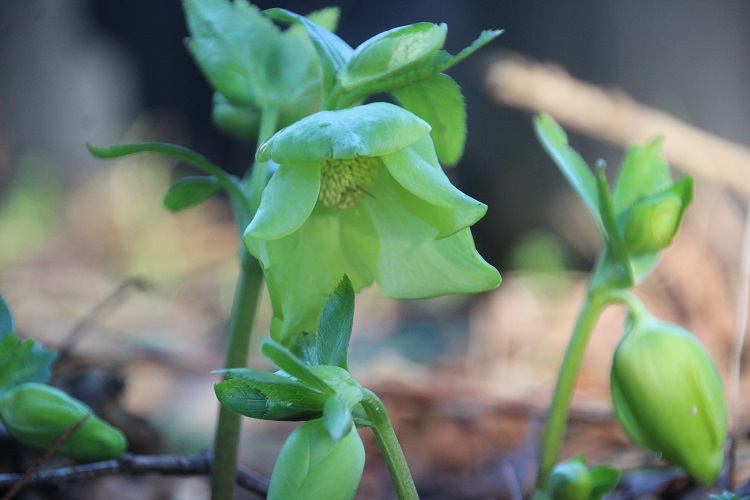 30th December 2018
Helleborus x hybridus green .
Hellebores are like purposeful striding through the garden, great lungfuls of condensing breath while the blackbirds sing. They don't shilly-shally, up they come and that's all there is to say about it. They are coming up. A fortnight ago I was excited to see the first bud, now there are dozens in flower. It is too early to trumpet success from all the battlements, but I didn't kill them in the autumn. The Hellebore bed had slipped far enough out of control to offend me and something had to be done. My usual annual trim happened in August. I removed all of the top growth, waited a fortnight for the perennial weeds to regrow and then applied a herbicide. I mowed the whole thing a month later and gave a second dose of herbicide at the end of October. I haven't killed all of the stinging nettles, which is unfortunate, but I haven't killed all of the hellebores either. It will take another month to see exactly how the balance stands.
I am hoping that if I have more success controlling the weeds, I will get more hellebore seedlings surviving and the border will fill out. I tried doing it by hand last year, spent a couple of hours on my hands and knees getting nowhere and opted for a simpler solution.
This green flowered plant has been with me for many years. Nowadays I could hope for a better shaped flower but this was the best available at the time. It retains the toughness off the group, I am a little worried that the modern seedlings are also being selected inadvertantly for fast production times and short lives. My 'mow and herbicide' regime is intended to select those seedlings best adapted to those conditions. I wish had started 30 years ago, I might know by now if it had worked!
Back to the Sarracenia. Happy New Year.