JEARRARD'S HERBAL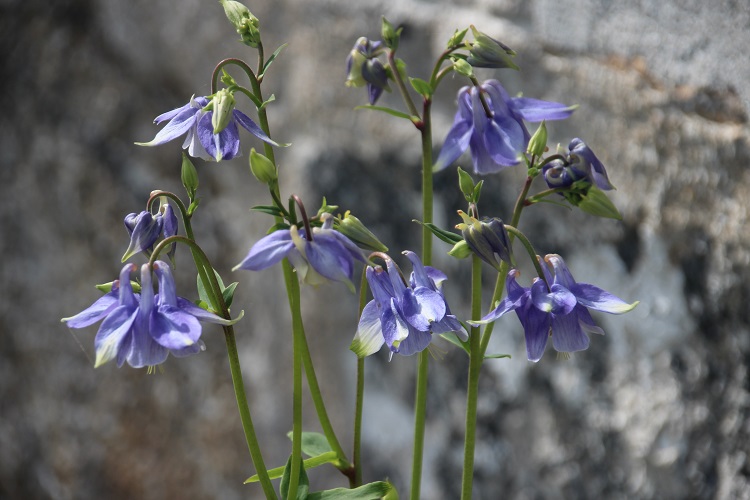 5th May 2019
Aquilegia vulgaris .
A little bit of rain during the week has tickled a smile out of the ground without really watering anything. I finally admitted defeat and filled one of the Sarracenia trays with water. For some reason the rainwater from the roof isn't being chanelled into it. I looked for a blockage in the system but I couldn't see anything. It will have to wait for a proper downpour to diagnose the disruption. It could just be that the tray is at the end of the supply line and we simply haven't had enough rainfall in the last couple of months to reach it. Whatever the problem, the solution is to shove a hose in it and fill it up from the tap.
The shortage of water confirms that we have has plenty of sunshine, for all the icy wind that has whistled between my knees in the early mornings. There is something special about the late spring sunshine, perhaps it is the low angle of the sun that illuminates flowers so well. I'm sure that this pale Aquilegia would be dulled by the overhead brilliance of July. It is an accidental seedling, there was a population of Aquilegia around the house when I moved here and though I have done nothing to encourage them, they still appear from time to time. They pay no heed to my intentions. This one has positioned itself with perfect taste in front of my grey granite wall. That same south-facing grey granite wall that I have reserved for the most precious and tender things I grow. Now I have an Aquilegia as well but I don't mind. It's laughing at my conceit and that's a good thing.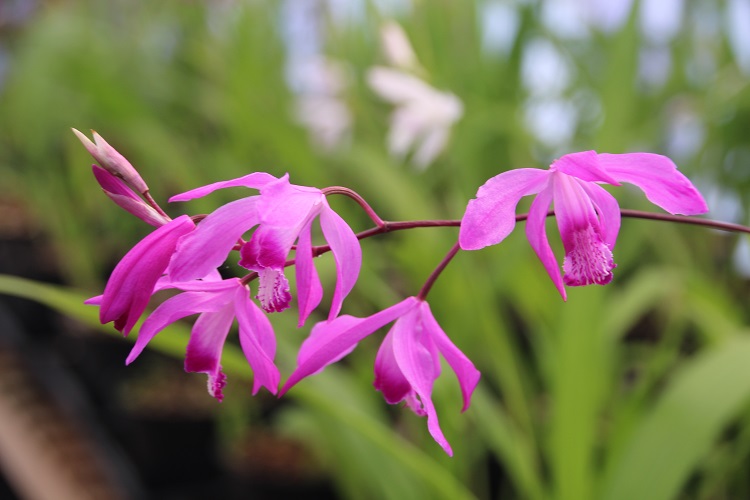 5th May 2019
Bletilla striata
The Pleione are ending, it's like watching an airship crash. There is a slow, crumbling and catastrophic inevitability about the process. Every morning I take off the flowers that have browned in the night, a few here, a few there. Slowly the great spectacle has become patchy, the geometric perfection of the flowers has twisted and distorted. Orchids are a problem.
I'm not sure why some families attract obsession and some do not. Orchids do, cacti do, snowdrops do, Anemone's do not. Among the orchids, Disa are currently capturing my attention. The first spikes are forming, they have appreciated the mild winter. I think they are still a few weeks from flowering but they have started to speed up in the last month.
In the short gap between the crumbling of the Pleione and the first Disa flowers, the Bletilla have started.
Quite by accident I looked through my history with Bletilla and the long and troubled story makes two things very clear. First, I have never known what I am doing and second, I have always been convinced that I did. It is a lesson to learn. Despite that I am going to tell you how successful I feel I have been since I started keeping them wetter even when dormant. They are increasing well and with burgeoning optimism I have added some new ones to the collection. I haven't killed anything since I made the cultural changes and 'Laneside Amos' has produced a strong new growth. I thought that it had passed beyond resuscitation, one more victim of the "I really do know what I am doing this time" mentality. It is enough that Bletilla striata is looking lovely this week, a meaningless precious moment escaping the massacre of self delusion.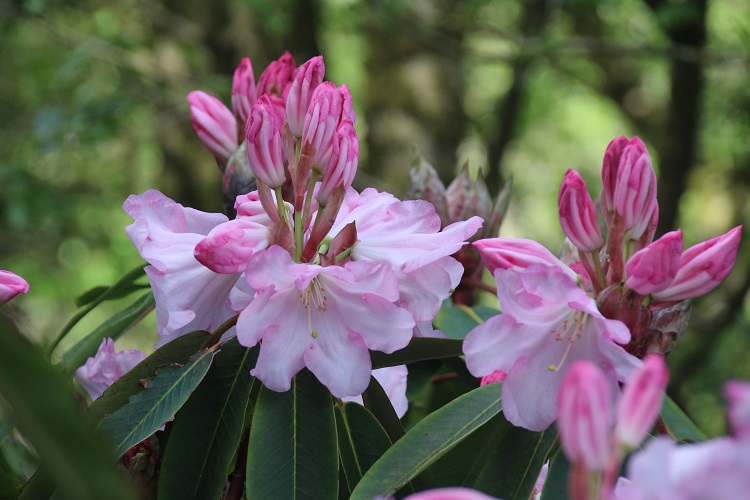 5th May 2019
Rhododendron 'Loderi King George'.
I have gardened for a long time, surely something of value has accumulated, some little sixpence of utility has slipped down the back of the horticultural sofa? I'm not convinced. The less I think about things, and the fewer decisions I make, the better the outcomes seem to be. "Let your mind go and your body will follow". It was written about roller-skating, but it's true of gardens as well. I struggled to locate the quote in a memory that has been ravaged by moths. It was Steve Martin's insightful "L.A. Story". I knew it was one of the modern classics.
Which leads directly to Rhododendron, though the path may have been obscured by moths. I don't like Rhododendron, they are too popular, too attractive. There are too many of them. It is a disaffection arising from determination. I don't like them, I'm not going to like them, absolutely not. On a dreamy May day in a sun spangled woodland I was wandering with a vacant smile on my face when a bubble of perfume landed on my head. It could as easily have been a falling branch, I was stunned. It was the scent from Rhododendron 'Loderi King George'. I don't like Rhododendron and this was the first exception I had to make. I have three in the garden now and I would have more. The first flowers fill me with a joy that exceeds my ability to express. Perhaps it really was a falling branch.
During the week I visited a garden filled to the brim with the rhythmic delight of walking. Non-specific loveliness in a sunny evening. A pink Rhododendron blob, that same familiar bubble of perfume, that same vacant smile.
I really don't like Rhododendron, but perhaps I should put thought aside because I really do.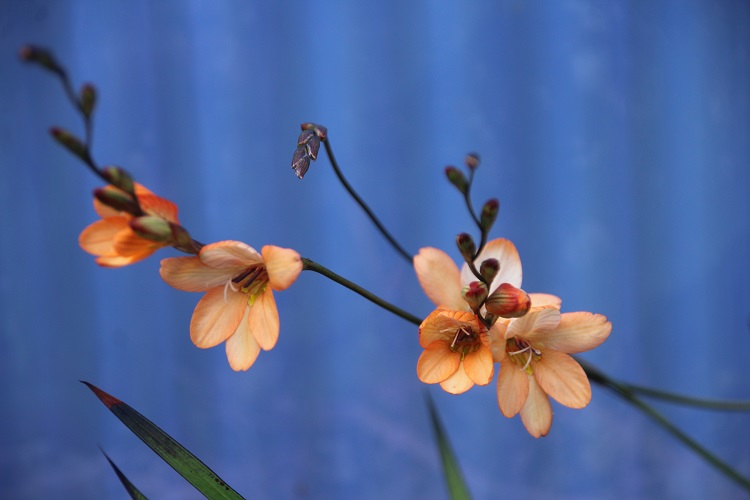 5th May 2019
Tritonia securigera .
I'm not entirely sure how it happens but I am occasionally misrepresented as being either patient or knowledgeable. I am neither. Almost everything that I thought I knew seems to have changed as I grind my teeth watching. Facts are like monoctyledons, always turning up in unexpected places. Take the Tritonia for example. It's a small genus with some interesting species. They are a little confused in cultivation but nothing that observation and familiarity can't resolve, or so it seemed. I have a few, I grew them side by side in pots for comparison. It was slowly driving me insane. As with Romulea before it, I reached the point of intolerance. The Romulea had seeded around so that all of the labels should have read "Romulea, mixed species". Their uniqueness was absorbed by the compost collective. Tritonia were treated less harshly. I moved all of the pots outside in the hope that winter would simplify the problem. It hasn't. I had a pot of the cream form of T. lineata (as far as I can tell, there is only a cream form). It was small but charming. This is T. securigera growing in the same pot now. Perhaps it was just lonely and felt like visiting. I'm not getting wiser, I'm getting angrier. I'm not going to compost them, I'm going to tip them onto the herbaceous border to take their chances.
So in brief, a delightful week in the garden despite my best efforts to understand anything.