JEARRARD'S HERBAL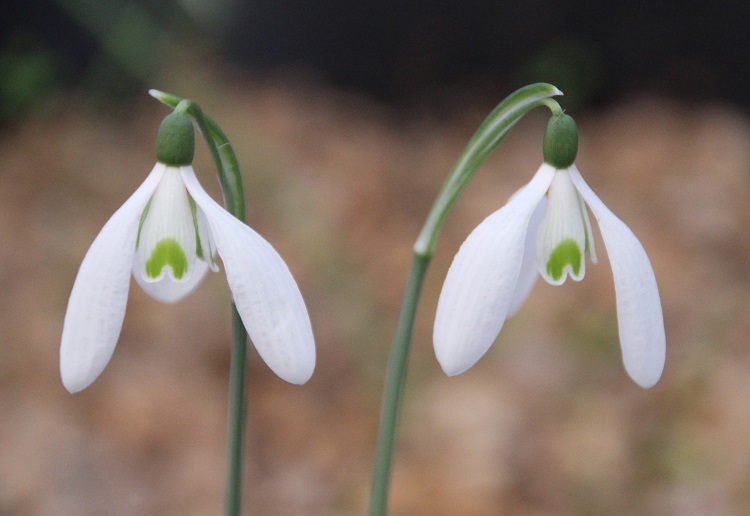 15th November 2020
Galanthus reginae-olgae 'Heracles' .
The seasonal dodging of showers has continued this week. On a couple of occasions I have looked out of the back door, planning great things, and then abandoned the idea. I don't get rained on as a matter of choice these days, and sloshing around on wet grass is just foolish. Last week the water flowed down the hill and the garden looked washed out This week the garden looks less drained. Water is building up on the paths, trapped in soggy piles of dead leaves still glowing with autumn colour. Cold weather would clear the air so I will enjoy the dankness while it lasts.
The autumn snowdrops are making a last stand in the greenhouse. 'Heracles' is perhaps at the taller end of the range of , possibly a little more arch in flowering. It belongs to the period of "semi-cultivars" that characterise an increase in popularity for a group of plants. The first to be named are distinguishable but not especially distinct. Slowly some distinct cultivars will emerge from the general uniformity and these slight variations will slip back into obscurity. In 100 years time galanthophiles will be saying "I wonder what 'Heracles' was really like, what a pity there are no decent records it sounds so lovely from the description". Well, it is lovely. Not really distinct, but certainly lovely. My message to straddle the century?
"Yah boo sucks!"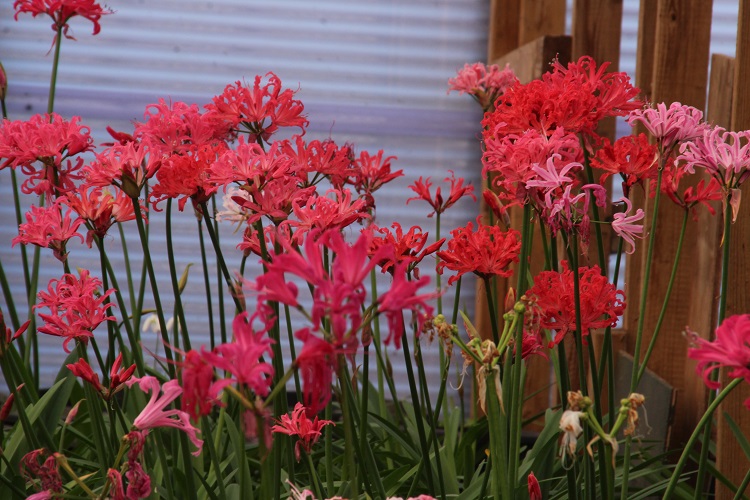 15th November 2020
Nerine x versicolor .
Fortunately the terrifying prospect of winter is being held at bay by the last Nerine. The tide of N. sarniensis has ebbed away, the last few flowers in danger of rotting on the stems before they wither. In their place there is a small flush of colour from the various N. x versicolor. They are a mixture of hybrids between N.sarniensis and N. undulata that flower late. They have a striking luminosity, though it may just be that they shine against the greyer skies of the season. The colour range is reduced but if you are fond of pinkish red then they can satiate every shade of yearning.
A couple of weeks ago I removed all of the x Amarine from the greenhouse. They will do better in the garden, they are already appreciating being rained on and when they went outside they took their mealybug with them. Space in the greenhouse allowed me to shuffle things around, bring this group of hybrids together and have a last bright flash of colour before the leafy "winter-growing" part of the arrangement takes over.
Nerine leaves are large, sometimes glaucous, usually floppy but rarely interesting.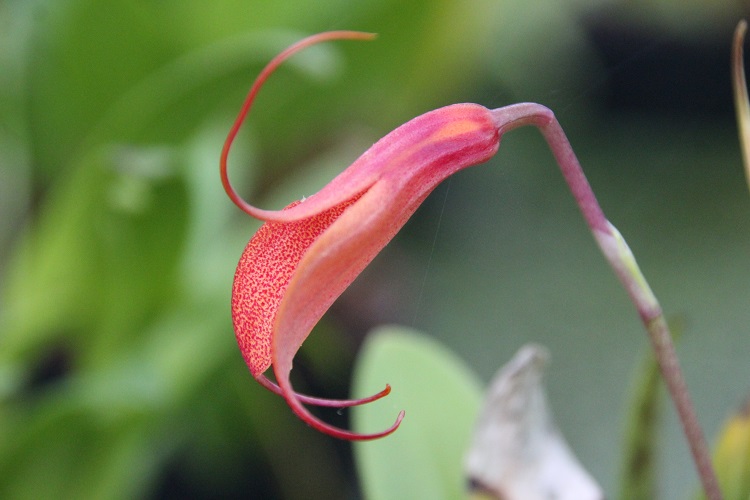 15th November 2020
Masdevallia 'Malvern' .
The winter adventure in the orchid house is just getting going. It doesn't involve a spectacular floral display, the interest lies in survival. In my teens I had a large greenhouse that was reliably heated to 10degC through the winter - a luxury that I never really thanked my parents for. I say large, it was 8ft x10ft. It felt like a topical wonderland. Naturally everything had to fit in there. I learned quite quickly how little space a large greenhouse actually contained. Like an inverted Tardis it became smaller on the inside as autumn progressed. I grew a small number of orchids within, common enough species but a pinnacle of the exotic for an enthusiastic teenager. I haven't returned to those species for decades and time has changed my perspective. Now I understand that many of the mountain growing species will be exposed to frost from time to time. Now that I live in a milder part of the country it is time for some orchid exploration.
This Masdevallia is a modern hybrid. I bought it without a name at the Malvern Orchid Show and gave it a name to identify it clearly. Many of the Masdevallia come from high altitudes in the Andes and need to be kept cool and wet in cultivation - two things that come rather easily here. So I have this plant as a trial, a cheap hybrid to see how it fares in an unheated greenhous through the winter.
It survived last year without trouble, but last year was very mild. This year it has come into flower as the chill of autumn can be felt. Events will unfold.
I have a number of other "exotic" orchids growing alongside. This may be the year that they are all destroyed by the cold. This is certainly the season for bracing myself against that possibility. This may be the last that is ever seen of Masdevallia 'Malvern'. It is as exciting as being a teenager again, though in a different way.
It may be worth adding as a footnote that none of those early orchids survived for long, in many ways this is a very familiar path.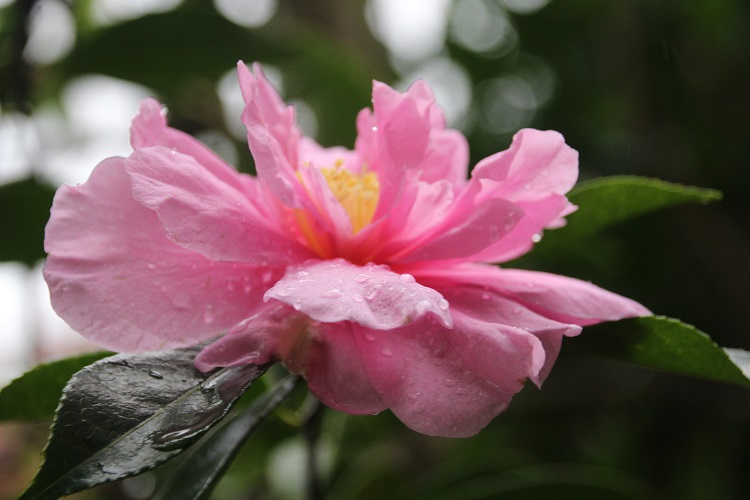 15th November 2020
Camellia 'Show Girl' .
The season is changing slowly. I went up into the garden hoping to see the earliest snowdrops in flower. There are a selection of autumn flowering G.elwesii in the snowdrop beds that could have been dangling the optimism of spring before me. Nothing much to see unfortunately. Some hard green noses poking though the earth but no buds. I need the snowdrops in the greenhouse to hang on for a couple more weeks so that the garden snowdrops can take over smoothly.
On the way back a spot of pink in the distance caught my eye. I have been watching for a Camellia to get over-excited and pop open a premature bud but so far there has been nothing. This was a spot of colour on 'Show Girl'. I thought it might be the first colour showing on a bud, but closer inspection uncovered two open flowers. It seemed very early but checking my notes showed that it is only four days earlier than the previous record. New flowers will open every week now, it will be in colour until the blackbirds start nesting in April, the dark winter nights are trounced and the orchids are either dead or alive.
I don't have daffodils yet, daffodils are for later, but suddenly that doesn't seem like an unreasonable hope.