JEARRARD'S HERBAL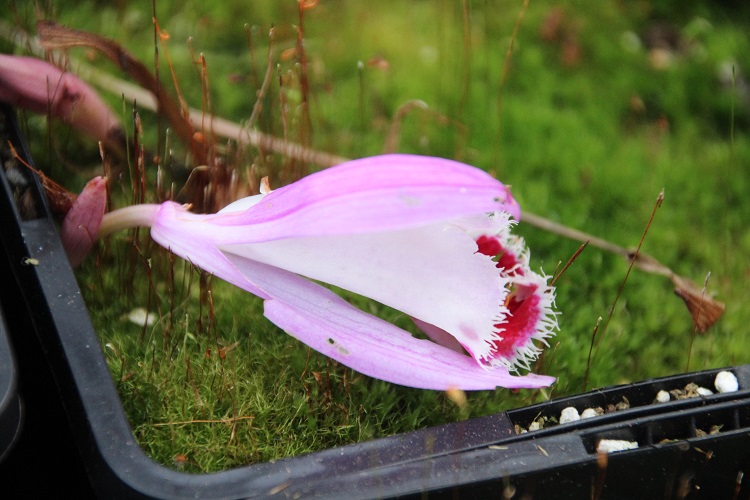 13th December 2020
Pleione Wharfedale 'Pine Warbler' .
Another wet week in the garden but the temperatures started to go up on Monday and they have continued to go up. The winter solstice is approaching and the rate of change has slowed. The garden is almost at a standstill. The garden feels empty with just a light scattering of early spring flowers. I walk around from time to time just to see that things are still there, still whispering about the return of a brighter season.
This is the best time for gardening. Jobs that are done now stay done for a long time. Unfortunately the ground is too wet for much work. I started a couple of jobs last week but gave up after minutes. The ground beneath me was turning to mud and the mud was crawling up my trousers, it was no fun. It's a little easier in the greenhouse. I have done some weeding to prepare myself for the great winter trim and tidy. Not very much, just enough to remind the hands (and the knees) what is involved.
The last leaves have died down among the Pleione and as they are removed the first buds are revealed. Pleione Wharfdale is a complex hybrid involving two hardy spring flowering species (P. pleionoides and P. humilis) and two rather tender autumn flowering ones (P. praecox and P. maculata). 'Pine Warbler' seems to have retained the autumn flowering habit while keeping some hardiness. I have only had it for a couple of years, so I may have to eat those words at some later time, but at present it seems like a very good thing. The slugs certainly think so, they started nibbling as the bud formed and by the time it "opened", three of the five outer tepals had been removed.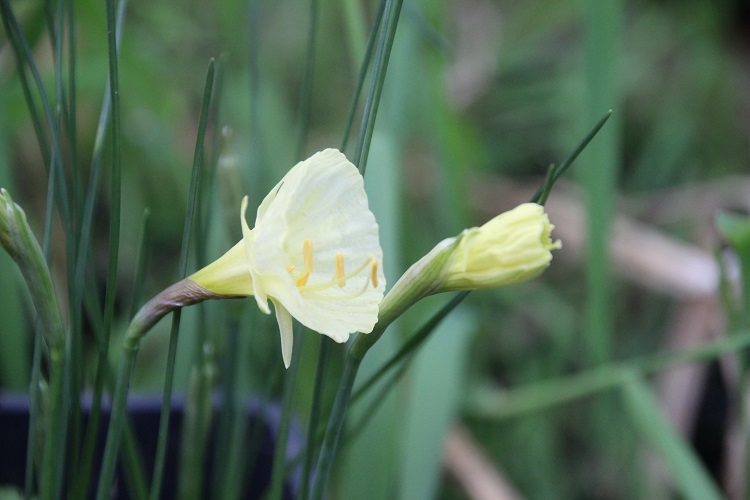 13th December 2020
Narcissus romieuxii 'Julia Jane' .
Narcissus romieuxii is also battling with moluscs. The first flower on 'Julia Jane' opened a week ago and vanished overnight. At this time of year there are large populations of slugs in the garden and warm weather makes them active and hungry. There are very few flowers open and each of them is a molusc magnet. Early Narcissus are a delight, flowering just before the sun gets the hint of spring and starts to climb a bit higher into the sky. Low light can be very photogenic but that doesn't help much when is hardly anything in bloom. On Friday I took some pictures of the light sparkling through the raindrops caught on Acer branches. I thought that the pattern might be cheering but I was wrong. It just looked cold and dismal. Low light can be lovely but I've had enough now, I am impatient for spring.
The Narcissus are moving in the garden. Not just the early ones, even the monsters of March have started to appear, their plump shoots breaking through the soil. I have stopped walking over the beds for fear of damaging the new shoots - another good reason for gardening with a light touch at present.
Narcissus 'Julia Jane' is missing the north African sunshine. It grows reasonably well outside in a moist spot but it doesn't flower. I keep it in the greenhouse and try to remember to water it frequently, I have never seen it in habitat but I am sure it must grow in wet places. It certainly objects to dessication in cultivation. Most of the greenhouse is being dried off for a brief dormancy but the handful of Narcissus in there are still wet. Perhaps this year I will finally add a few bulbs to one of the Nerine pots to find out if they will grow under the same winter conditions. They might add some interest now that the Nerine sarniensis forms have finished.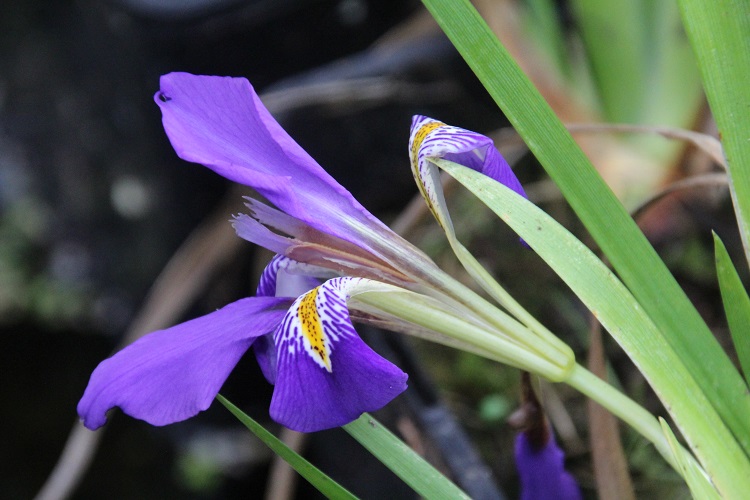 13th December 2020
Iris lazica 'Turkish Blue' .
Winter Iris waft an occasional cloud of bright colour into the garden. I have tried to establish I. unguicularis several times without success. It has a natural distribution from Algeria to south-west Asia but it seems that it sticks to dry sunny locations across the whole range. My damp, shady garden doesn't really suit it. I have a few remaining divisions growing in pots in the greenhouse. One will be tried at the base of the south wall of the house, another on the sunny side of the Agave house, but I am not expecting very much. Survival and an occasional flower might be possible.
Iris lazica is a better proposition. It occurs in northern Turkey and the Transcaucasus but although closely related to I. unguicularis it tolerates, possibly even demands, a great deal more water. I have a couple of named forms, 'Turkish Blue' seems to most floriferous so far. Flowering occasionally in the darkest days of the year, it will bloom with increasing enthusiasm as the light increases, hitting a peak around February. I have a vague plan to raise some seedlings or do some hybrids, something of the sort. I feel sure there is scope to improve the garden performance I just haven't got around to it yet. I had made a mental note that this flower had opened, pencilled in a pollination plan, tried to set some wheels in motion but I was too slow. A slug beat me to it overnight and has eaten half way through the floral tube. I managed to prop the flower up to get a picture but it won't last for long. It is one of those pollination plans that will have to wait for another opportunity.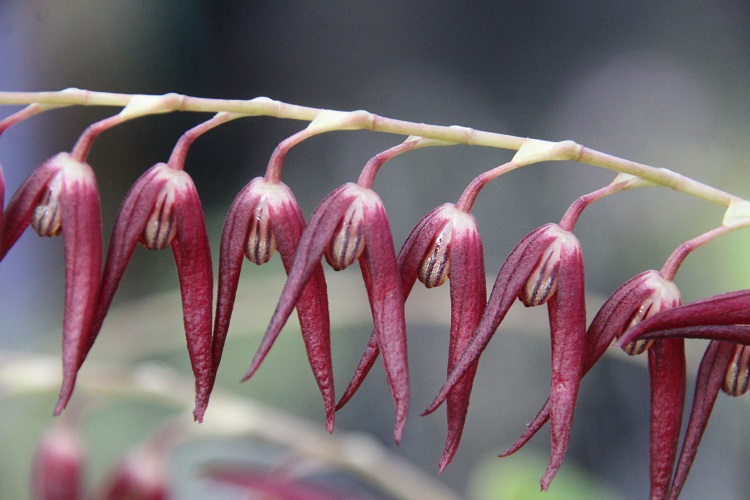 13th December 2020
Pleurothallis violacea .
Winter-gloom has settled on the garden like mist in a valley. It has been a good thing. I have had a week of orchid-lunacy that has needed damping down. Everybody loves orchids, they pervade the gardener's consciousness more pernicously than snowdrops. Some people love orchids obsessively, packing them into gardens and greenhouses. Others love them so much that they have to hate them at every possible opportunity, it's the same phenomenon.
I had a few of the more exotic orchids in a greenhouse as a teenager. They were precious to me and hard won. Orchids are easily available to the pocket-money-purchasor now; it wasn't always so. Fortunately for my sanity I killed them all. Not in a reckless, wilful way, just the slow process of attrition that goes with the loss of a heated greenhouse. I put the tropical excess aside and spent my precious coins of insanity on Pleione, Disa and Bletilla. Things that might reasonably prosper in the conditions that I had.
Unfortunately for me the internet makes abundantly clear to those who enquire that there are a wealth of high-altitude tropical species that might possibly survive in a cold greenhouse. Masdevallia from the Andes, Laelia from the mountains of Mexico and Dendrobium from the Himalayas, Japan and Australia. I have spent much of this year skinny-dipping in a tropical pool of orchid insanity. I thought that I had called a rational halt as the cold weather arrived but a last minute moment of weakness saw a parcel of Dendrobium arrive during the week. No more. Let is see what the winter does to them. It will be an interesting and possibly chastening experience. If I give you a dark, brooding look in spring, don't mention Dendrobium!
However there is hope. I have known for a long time that some of the high mountain Pleurothallis will survive the winter in a cold greenhouse. Pleurothallis violacea has underlined the point by flowering enthusiastically. It is true that only one of my three plants has flowered but on the other hand, I do have three plants and I only bought one- it has increased. When I checked my records, I bought it in April 2010 so it has grown in a unheated greenhouse for a decade, through some bad winters. There is at least one high altitude orchid that I can grow. It is a reassuring revelation.
There may not be a lot of orchids that originate from 2,400m up in the Central American mountains, but there are a few. I am exploring, I wonder how low you can descend before they lose their cold tolerance? This year I have been trying a few possible candidates. The lunacy has been very evident, dank-gloom has been a valuable moderator.
So it has been an up-beat week, cocooned in obsession. This isnt actually Pleurothallis violacea it is P. tuerckheimii. It has taken me ten years to recognise its value and ten years to notice the error.
Knowledge escapes very slowly from the constraints of preconception. Or possibly it just looks that way to the mad.