JEARRARD'S HERBAL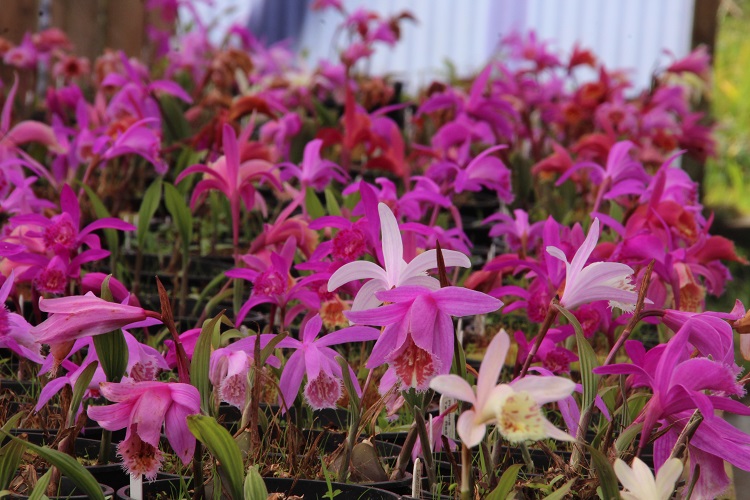 25th April 2021
Pleione
The spring weather has continued to shine all week and the fresh spring foliage has continued to thrash about in the strong wind. It hasn't been cold, but at times the garden has been quite harsh. Planting things out continues and for the last few days I have been moving "spikies" out of the Agave house. A number of things are now in the garden, some of which are likely to do well, others are just too large to stay where they are any longer. A couple of plants barely fitted through the door so this was my last chance to move them. Winter may well test their resilience to destruction and I am not expecting Agave salmiana ferox to be as attractive after a winter outside. It has potential to be as wide as the greenhouse and considerbly taller in maturity so it couldn't stay there any longer.
The Pleione are much more manageable and perhaps that is why I have a lot more of them. It has been a good year, plants grew well last summer and have flowered well this spring. The strident flowers appear in the greenhouse just as the subtlest tones of spring appear outside. I have tended to favour the latter on this page. After the cold of winter the first stirrings of the garden seem especially delightful but the Pleione have been unreasonably neglected as a result. I have been consolidating the collection this year and ruthlessly rejecting ny that show signs of Pleione Flower Breaking Virus, a tiresome and easily transmitted virus that spoils the colour of the flowers. Half a dozen cultivars have been thrown out entirely and many others have been severely depleted. The plan is to get rid of the virus once and for all and then take stock of the situation. The flowering season is now coming to an end and it would be nice to think that by next year the collection will be virus free even if it is somewhat reduced.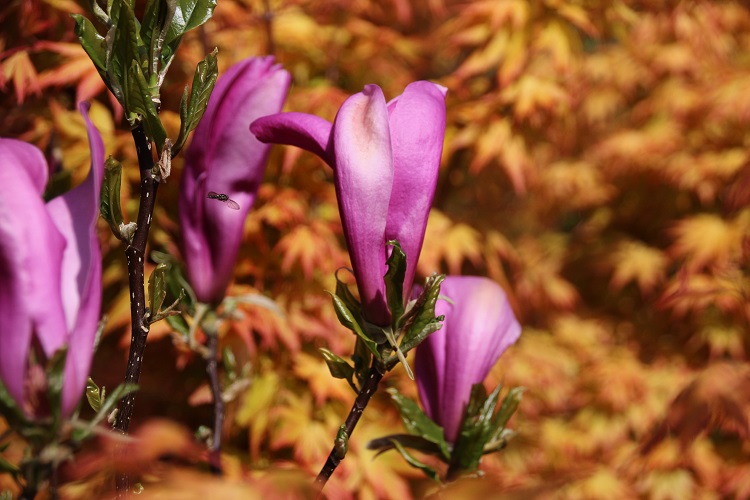 25th April 2021
Magnolia 'Susan' .
The garden is full of surprises. Last week I moved a couple of large Acer palmatum cultivars and was all set to continue. However the ground is dry, there is a dessicating wind blowing and the Acer have produced a dense flush of leaves. The time has come to stop moving them and wait for the autumn. It will also give me some time to think about what I am doing.
In the background of this picture is Acer palmatum 'Katsura', the bright orange foliage is one of the delights of the season. It has grown vigorously and has a larger root ball than I can easily lift. I know that because I tried. Late on Tuesday eveningI thought I would just have a go. The tree resisted with a certain stubbornness and I abandoned the attempt for the night. A good sleep and a more realistic perspective in the morning persuaded me that it would be better left until autumn.
Quite by accident I had planted Magnolia 'Susan' in front of it. When I say "by accident", I mean it. I had a Magnolia that needed to be planted (or die of neglect). There was a space, problem solved. It was a very happy accident, for the last few years I have been thrilled as the Magnolia flowers open. They have a strange colour and a lop-sided shape that would not be particularly appealing alone but with the orange-tan background of the Acer they capture my attention every time I walk past. It doesn't suit everybody, but I like it.
The Acer has to be moved, I think the Magnolia will have to go with it.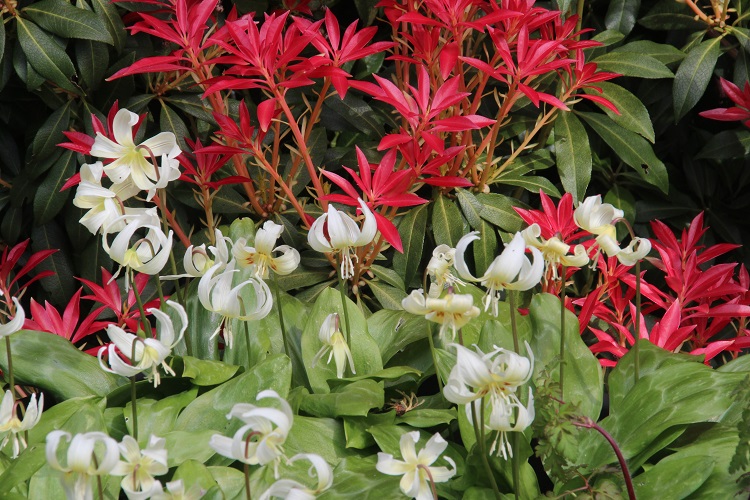 25th April 2021
Erythronium 'White Beauty' .
Other accidental combinations in the garden are easier at appreciate. Pieris make large shrubs, I am always surprised at how random they are in the garden. The problem is that I underestimated both their size and their rate of growth when they were first planted. All of the older plants have been moved at least twice as they outgrew the available space. They had to come out because they were too big, that is not the same thing as having somewhere to put them. All of them have been pushed around the garden in a wheelbarrow while I hunt for space to plant them. Some of them ended in their final positions because I was just too tired to push them any further. Their distribution is not a matter of forethought.
Erythronium 'White Beauty' has a distribution in the garden that suffers from too much thought. I bought 100 bulbs to scatter in the ground under the Camellia and it went very well up until the last moments of planting. What if the Erythronium doesn't prosper here? I could lose it entirely in a single failed planting! I took the last five bulbs and found a different part of the garden to try them in, a second chance for the cultivar if I had made a catastrophic mistake. Too much time planting had undermined my confidence.
In the end they were tucked in below Pieris 'Forest Flame'. It wasn't a plan, it was a space, but it has worked out very well. When they were planted I couldn't have predicted that they would both perform in the same week.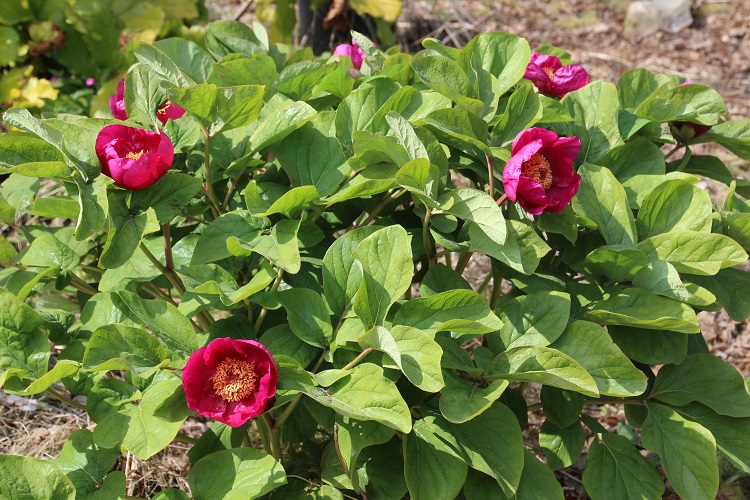 25th April 2021
Paeonia mascula ssp. mascula .
Most of the bulbs in the garden started growing when the soil was still wet from winter rainfall. The shrubs have rooted well enough to take moisture from deep in the ground. It is the herbaceous plants that have suffered most from the long dry spell we have had. The herbaceous border is almost static, the Hemerocallis are looking bright and leafy but a lot of other things are still keeping their heads down and pretending to be dormant. It is a sad situation but there are advantages. Weeds are very slow to germinate at present, the ground looks surprisingly clear. I found a red campion that had wilted in the sunshine. When the rain finally comes all horticultural-hell is going to break loose.
The peonies are very deep rooted, they have taken the dry weather in their stride. P. mascula ssp. mascula grows in a slight depression in the ground where the water remains longest and there is some light shade. It has suffered a bit this year, the growth is not as lush as last year and there are fewer flowers, but it has still managed a good show. A good picture took longer to achieve, the wind was rocking the whole thing from side to side. Calm weather would help.
April showers would be even more welcome, but there is no sign of them in the forecast.