JEARRARD'S HERBAL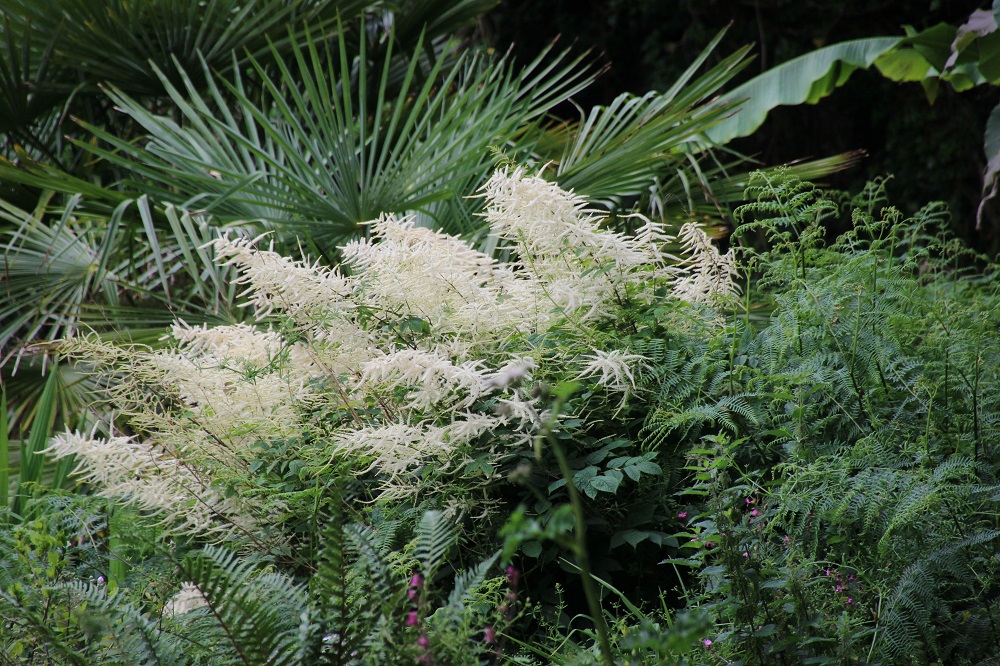 11th July 2021
Aruncus dioicus .
The rain has continued through the week. I don't think this is going to be one of those drought years with hosepipe bans and saved bathfuls of grey water. There have been days between the showers, the grass has been mown and I have put a roof on the shed, but it has felt like a wet week. It seems so damp outside that I have to remind myself to water the greenhouse. Water drips through the roof in places, but not in a useful way.
The herbaceous border is looking lush and green, Hemerocallis clumps are bursting with vigour but the first flowers have been playing hide-and-seek with me. I went out in the afternoon to get pictures of them and found nothing, the morning's flowers had already faded. I did find a few buds affected by Hemerocallis gall midge, the first I have seen in the garden. Its arrival was almost inevitable and although I have been around destroying infected buds it is a pest I will probably have to live with.
Aruncus dioicus has been performing better. The developing buds look good for a week before the flowers open into a striking white froth. It doesn't last for long, the white plumes start to brown after a week but it retains a statuesque dominance over the top of the border.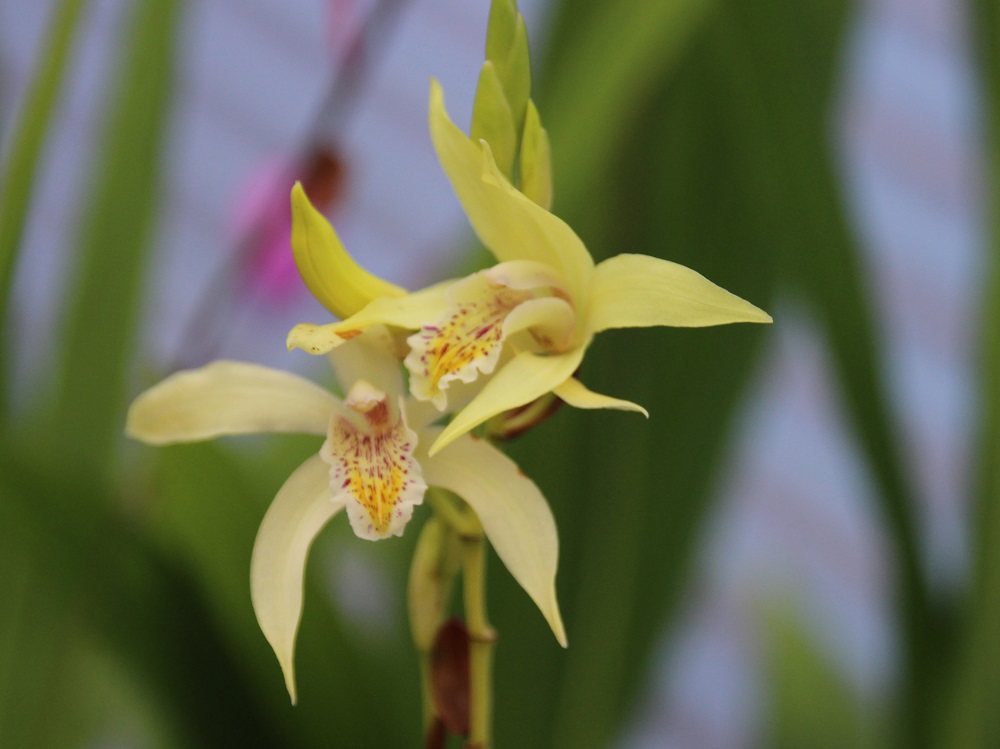 11th July 2021
Bletilla ochracea .
Time flies. I put a temporary patch in the greenhouse roof over winter, promising myself that I would return in the warmth of summer for a proper repair. Perhaps it will be the warmth of next summer, the patch seems to be holding quite well.
The Bletilla have followed a pattern of cultivation that has become familiar here. I grew a number, struggled to keep them alive and gave up. A decade later I returned to the genus, had another go and they didn't present any problems. I don't really understand it, something has changed but I'm not sure what. I would like to think that knowledge, understanding or possibly even wisdon had crept in subliminally in the intervening decade but I think I am clutching at straws.
However it has happened, Bletilla ochracea seems to be content. The yellow flowers attracted the attention of breeders but in the end I don't think it is the colour that will be significant. Bletilla ochracea will remain in flower throughout the summer and many of its hybrids inherit the long flowering season. The spectacle of Bletilla striata finished a month ago, an extended season should add considerably to the attractions of the genus.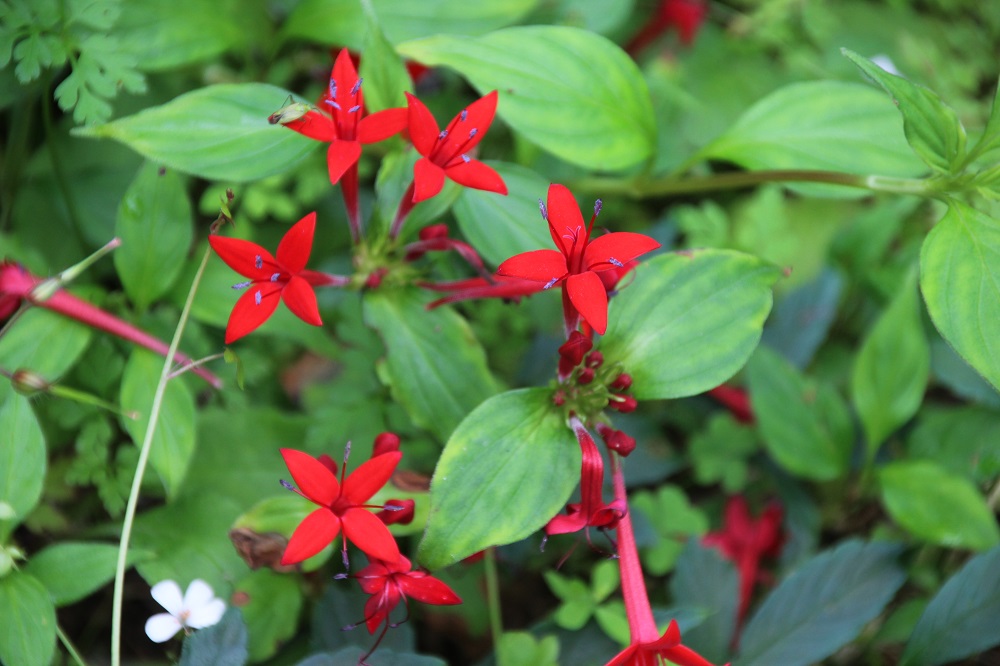 11th July 2021
Crusea coccinea .
At the top of the garden I have an Agave house. It was built to make space for all the prickly rosettes that were making life unpleasant when packed too tightly onto the greenhouse benches. I built a greenhouse, planted them all out and left them to develop into magnificent maturity. That is what they have been doing. I have about 100 plants up there, I have space for about half a dozen in maturity. The time is coming for a serious reconsideration.
When I built the Agave house I was certain that it would be sunny and dry, perfect condtions for succulents. I am not entirely sure why I decided to plant almost every other Mediterranean climate plant that I grow along with them. Shortage of space was probably the main driver. Over the years I have come to reconsider the actual conditions up there. The roof has been overshaded with trees and moisture running down the hill floods the floor through the winter. It isn't really ideal Agave territory, the collection needs to be thinned.
Crusea coccinea is a creeping perennial from Mexico. I had struggled with it in a pot, it grows too rapidly. I planted a sprig among the Agave and it has prospered, covering the ground in one corner and producing its bright red flowers through July and August. I haven't tried it outside yet but the Agave house is full of gaps, it might make it out on its own.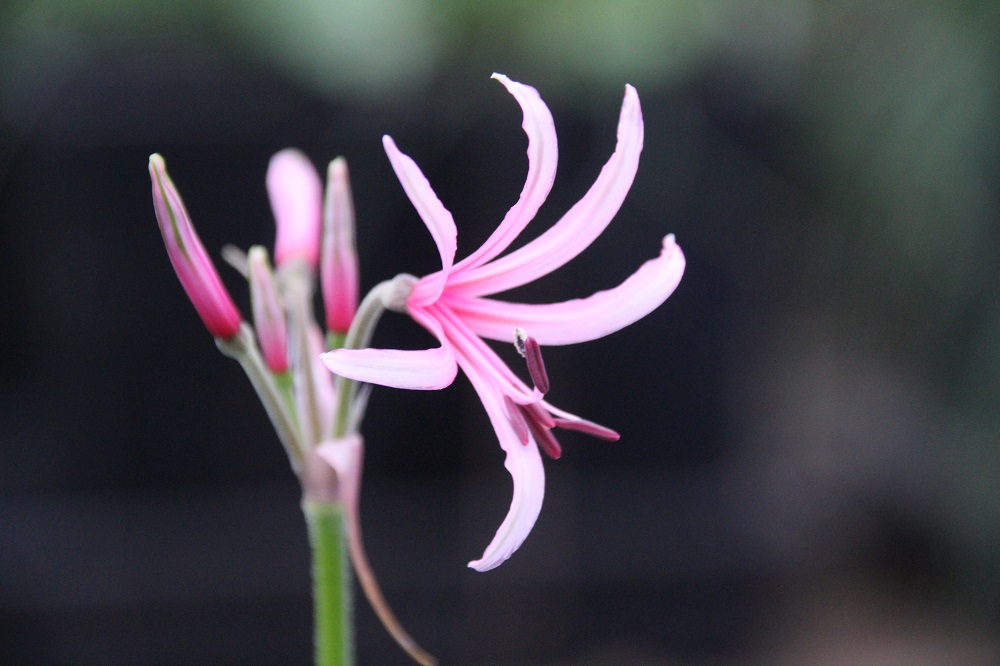 11th July 2021
Nerine angustifolia .
Thoughts of the end of summer may seem premature, in many ways summer has still to arrive, but the first Nerine flower lends a distinctly autumnal feel to the dormant pots. The Nerine bowdenii leaves have started to look tatty and the first green tips are visible in the bulbs of N. sarniensis. The summer my be sunless but it is passing rapidly.
N. angustifolia comes from the summer rainfall areas of South Africa and given enough water it is both evergreen and early flowering. I expect to see blooms in July but this flower spike was still a surprise. I had been wandering about among the Nerine doing a little sorting and weeding when I found it. The first flowers mark a change of pace among the plants. Gentle pottering among the dormant bulbs will be replaced by some serious weeding and organising of the collection to prepare for the season to come. I have a lot of seedlings that still need potting. In spring it seemed like there was plenty of time, now it feels like a crisis.
The garden always seems to be filled with jobs that I haven't got around to yet but the Disa were repotted and the Dionaea have been rescued from neglect. Progress is slow but it has been happening. When the Nerine flower in a few weeks it will be too late to get on with the weeding and it will have to wait for another time.
I did manage one important development in the Nerine house. I put a seat in there from which to contemplate the universe. The weeding won't seem so important in that context.