JEARRARD'S HERBAL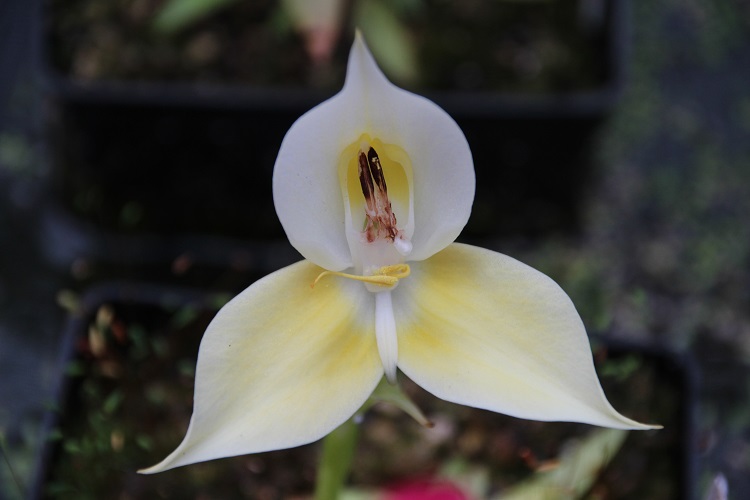 22nd August 2021
Disa uniflora Yellow Clone.1.
It has been a cold week in the garden, more mist than rain and more autumn than August. It feels as though I have been waiting all year for the return of summer and when it was delivered the parcel was empty. I'm not complaining, hot weather is exhausting.
I have also been waiting for this flower on Disa uniflora Yellow to open. It is a strange and fickle thing that only flowers in some years, the appearance of a bud in spring was a cause for celebration. I would like to use it as a parent to some new hybrids, I would like to raise a yellow flowered seedling that was a little more vigorous. Perhaps it is too greedy to hope for a seedling that flowered along with the bulk of the plants instead of waiting until the majority of flowers were on their last gasp. These have always seemed like useful breeding objectives but so far the plant has said "No".
Two years ago it flowered and I was able to perform some crosses. One of them appeared to produce seed but nothing germinated. Last year it didn't flower so an early bud looked very hopeful this year. It has finally opened, I have performed seven crosses, only time will tell.
In the meantime I have been reading about this yellow strain of D. uniflora. Mostly I have been reading that it doesn't produce seed very readily and that the pollen isn't viable. I have seven chances, I would be happy if just one of them produced viable seedlings. Eventually this first step in breeding yellow Disa will work but it would be nice if it was this time.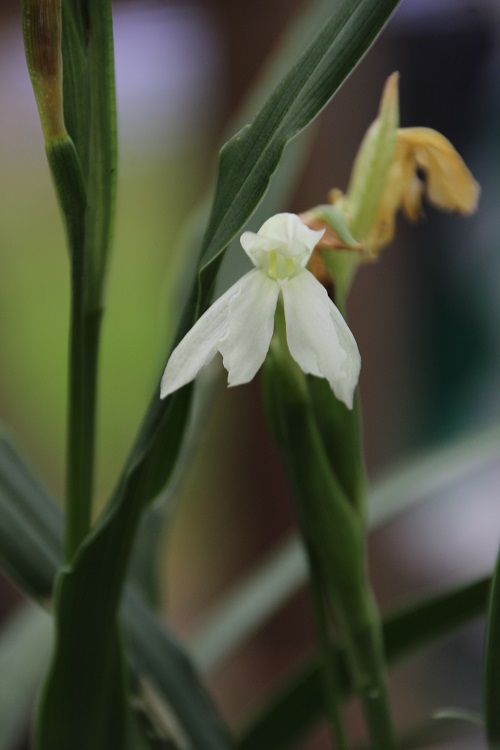 22nd August 2021
Roscoea cautleyoides Late Seedling .
There are Roscoea everywhere in the garden and filling one entire bench in the greenhouse. Many of the old R. cautleyoides forms have lost their labels of sunk under a swarm of their own seedlings. I rescued a few that I had confidence in and that seemed significant. R. c. 'Early Yellow' has always cheered me, particularly as the last snowdrops fade. This year it was late, not appearing until May. If it does it again then I know I have saved the wrong thing. I want to see it in March when the garden is hungry for the promise of summer.
I regretted misplacing R.c. 'Last Emperor'. It was distributed by long Acre Plants in Somerset but I don't think they have it now. It was unusual in flowering during August at the same time as R. purpurea. Unexpectedly a seedling came up in another pot and has reliably flowered late. I don't think it is a stray rhizome of 'Last Emperor' but it may be a seedling. I was pleased because it allowed me to cross it with a red form of R. purpurea. The hybrid seemed interesting.
Brian Mathew beat me to it, his R. 'Raspberry Ripple' is already being distributed but I think that there may be scope for more hybrids. Generally interspecific Roscoea hybrids seem to be sterile and I think that is probably a good thing.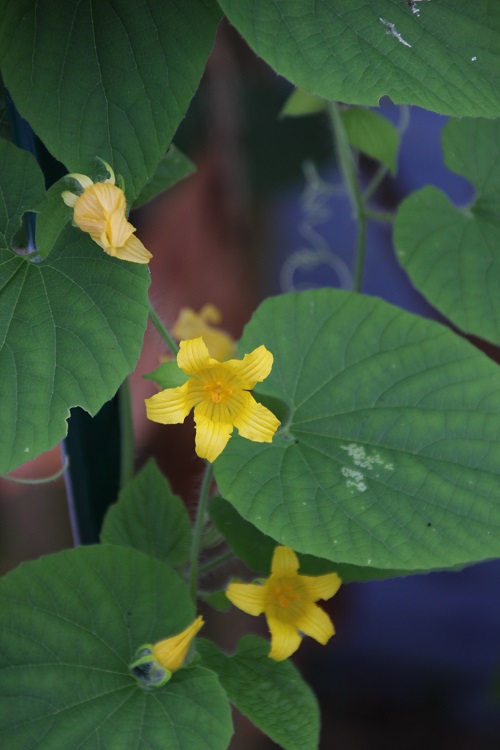 22nd August 2021
Thladiantha dubia .
One of the ongoing tasks in the garden is sorting through an unruly and eclectic collection of plants in pots and finding suitable places in the garden for them to grow. Thadiantha dubia arrived because it seemed like a fun thing. It isn't much of a reason but it is enough. It is a cucumber relative that occurs naturally in Russia, China and Korea. If that isn't enough of a reason to grow it, then it has yellow flowers in summer growing from the long vining stems.
There is a lovely picture online of it growing from a tuber the size of a hippopotamus, how could any gardener resist. There is just the one picture and I think the plant was a freak. Certainly the tuber is generally subterranean, still the idea is appealing. The plant likes a warm summer so I didn't know what to do with it. Last year I grew it in a pot that would barely contain a hippopotamus's tail. I was able to grow it, I even got some flowers, but it was rather tame. This spring I planted it in a bed in the Hedychium house and despite the shade in there it seems to have prospered. I don't know what it is doing beneath the ground but if it is growing a large tuber I am going to have to rename it the Hippopotamus House. I am looking forward to it.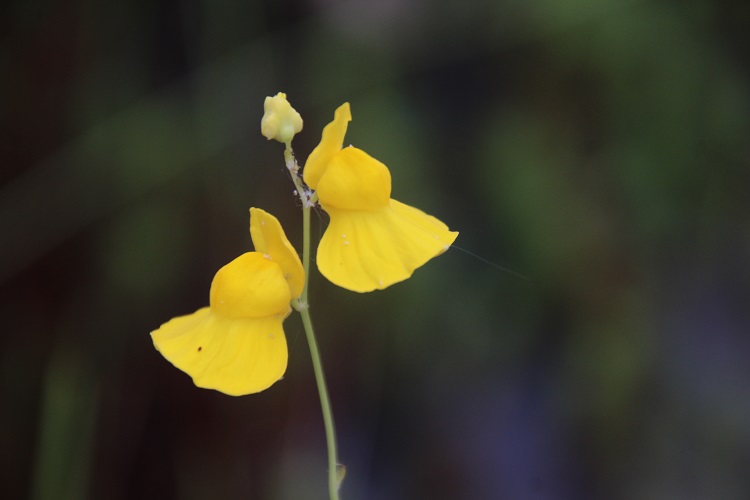 22nd August 2021
Utricularia praelonga .
Some plants struggle to find a suitable place to grow in the garden, others fit in immediately and then romp away. The genus Utricularia contains a diversity of species. I have tried a great number of them, a few have succeeded. U. reniformis from Brazil is unexpectedly hardy. It doesn't flower very often but it is spectacular when it does. At the other extreme I seem to have a form of the demure (insignificant) U. bisquamata that romps freely through any of the pots containing Sphagnum moss without causing offence. I live with it and smile benignly if I notice flowers. It would be impossible to remove.
Utricularia praelonga escaped from its pot a decade ago and now romps along in one of the water trays. The foliage is a little dull but the flowers make a decent show in summer. Most importantly, it found a suitable place for itself and has exploited the opportunity. I forget it is there and suddenly in summer as the Sarracenia start to look their best, the Utricularia fills the space between them with yellow flowers.
I could try to force it back into a pot but I don't see the point, it looks after itself very nicely.