JEARRARD'S HERBAL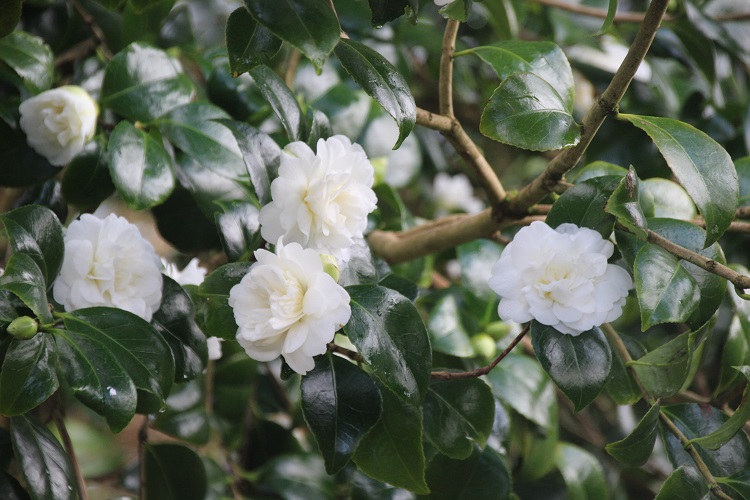 6th February 2022
Camellia 'Nobilissima' .
Another warm week has passed in a remarkably warm spell. I am assuming that the cold weather will arrive eventually but for now the garden is advancing rapidly. An objective view of the season might say that there were always snowdrops at the start of February, that the daffodils were always blooming and that the camellias would usually be in flower by now. The garden is in full flower and it has felt like a very warm spring. There may be no causal connection.
We have had heavy cloud cover for most of the week. It has kept temperatures up at night and emphasised the brightness of white flowers. In the occasional burst of sunlight they have almost glowed. I took a camera up into the garden on Thursday to get pictures of snowdrops in the sunshine and struggled to keep them from being overexposed. It is a bit tiresome to have to check every picture but a great relief from the weeks when there was hardly enough light for the camera to focus.
Camellia 'Nobilissima' is a favourite of mine. It usually manages to produce an early flower or two when the winter seems most gloomy so it is easy to forgive the tattered brown flowers after a frost. This year it has escaped undamaged, I don't think I have seem such a good display from it and scarcely a browned flower to be seen.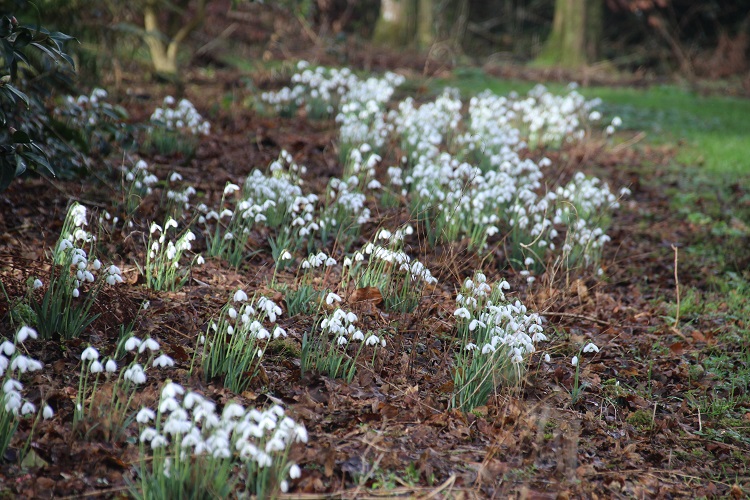 6th February 2022
Galanthus 'Brenda Troyle' .
The snowdrops have been shining this week. It is almost impossible to decide when they have reached a peak in the beds. The cultivars spread their display over a long period and I think they look best a week before they hit maximum flowering. It is easier to judge with 'Brenda Troyle', they all opened this week and they will look at their best for a fortnight before they go over. The border beneath the camellias seems to suit them well and they grow vigorously. Last year I started lifting and splitting the clumps to spread them out a bit more. This border was planted ten years ago, it is about time to rejuvenate the plants and diffuse the effect a bit more.
The same process is going on in the snowdrop collection. The more vigorous cultivars are being divided and planted in larger groups around the garden. I am trying to make sure that the most distinctive ones go out first so that I can identify them when the labels are lost. I will be left with a lot of very similar snowdrops to confuse, something that I could find quite frustrating. However I have decided that if they can't easily be distinguished then it doesn't really matter. I can plant them all in a long bed and enjoy the effect.
I will call it my Perplex-a-Galanthophile Border.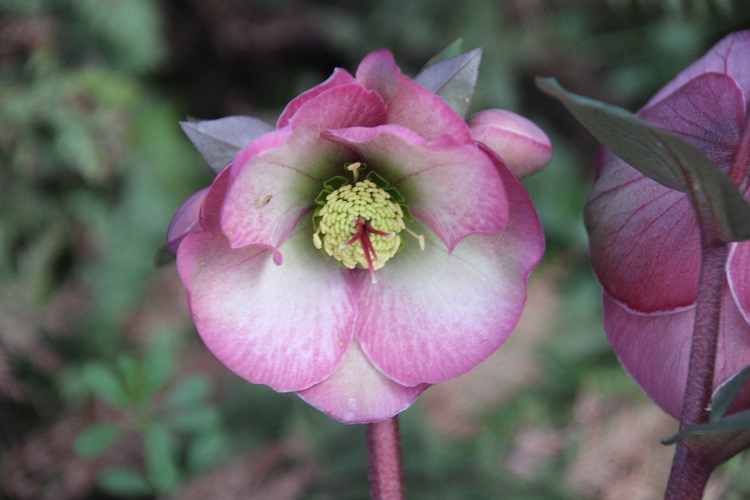 6th February 2022
Helleborus 'Penny's Pink' .
Usually during the autumn I get time to prepare the hellebore border so that it is clean and tidy when the plants start to flower. This year I didn't have an opportunity so at the last moment I sprayed off as much of the annual weed as I could and hoped for the best. It has worked better that I was expecting, many of the plants have opened flowers during the week and the ground is still fairly clear. Over the next month it will fill with Red Campion seedlings, rapidly followed by Goose-grass and by May it will be entirely overgrown. I haven't yet found a tool that can keep it under control but the hellebores don't seem to mind, emerging from the shelter of the overgrowth as it dies away in autumn.
Last year I planted H. 'Anna's Red' up there, hoping that it would prosper. It has yet to re-appear. That has left a question mark over the next step for H. 'Penny's Pink', the sister seedling. At present it is doing very well planted in the Hedychium House but I was hoping to get it into the garden.
There is some H. lividus in its ancestry which gives it spectacularly marbled leaves but might also make it a bit too fragile for the hurly-burly of the helle-border.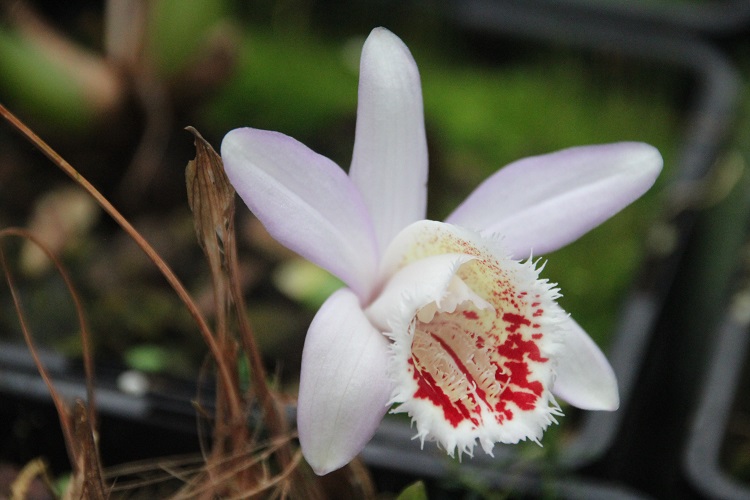 6th February 2022
Pleione (Glacier Peak x humilis) .
Winter is the quiet time in the garden. That is one of the reasons I don't believe in it. It's a sort of bogey-man season created to frighten gardeners. It lurks in dark places ready to leap out on the unwary. That is why I like Camellia 'Nobilissima', the bright flowers puncture the gloom while autumn is still swooning dramatically to a close. There can't be a winter because there isn't a quiet time. The Sarracenia need re-potting, the Disa need re-potting - everything needs re-potting. Most importantly, the Pleione need re-potting. They have a short dormant season and they don't respond well to disturbance once the roots are growing. It has to be done in January and it wasn't. There just wasn't enough winter (which I don't believe in anyway).
With January rushing to a conclusion I spent Monday weeding the Pleione. They would prefer fresh compost but they will have to make do with some additional feeding this year. They will at least be tolerably tidy as the buds emerge. By Wednesday the first flower was open so I was cutting the time close. It's my own fault. I bought this P. (Glacier Peak x humilis) seedling because it was early flowering and it has delivered on its promise.
Among the Pleione at least, winter has ended. I don't believe in winter anyway, and there are no bogey-men under the bed.