JEARRARD'S HERBAL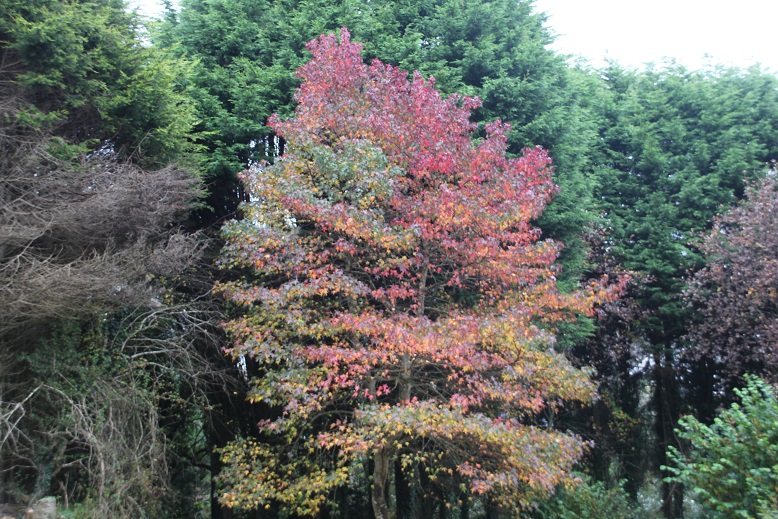 6th November 2016
Liquidambar styraciflua 'Worplesdon' .
My last dog loved fireworks. We would stand on the hill on Guy Fawkes Night and watch the distant rockets exploding over the valley. She would wriggle and bark and run back and forwards, always wanting to chase them but accepting the futility of the attempt. She would look at me with enthusiastic eyes, as though it was me holding her back rather than the inability to fly. As though at any moment I would say "Go on then" and she would be off into the sky.
In a while I will walk round the garden, and no doubt find the burnt-out shells of a few rockets lying around on the ground like failed missions to Mars. That is the sort of autumn colour we get. Burnt out and crashed.
There are a few plants that try their hardest. Some of the Acer palmatum cultivars lose their leaves with not-brown dignity. We don't get the glowing scarlet and orange that eastern gardens take for granted but they are not brown. Liquidambar 'Worplesdon' is reliable and I should plant some more cultivars. Euonymus alatus 'Compactus' bursts in a ball of scarlet flame for a few weeks, and every year I kick myself for not planting one. I run back and forwards enthusiastically, always meaning to, not understanding what holds me back.
Go on then.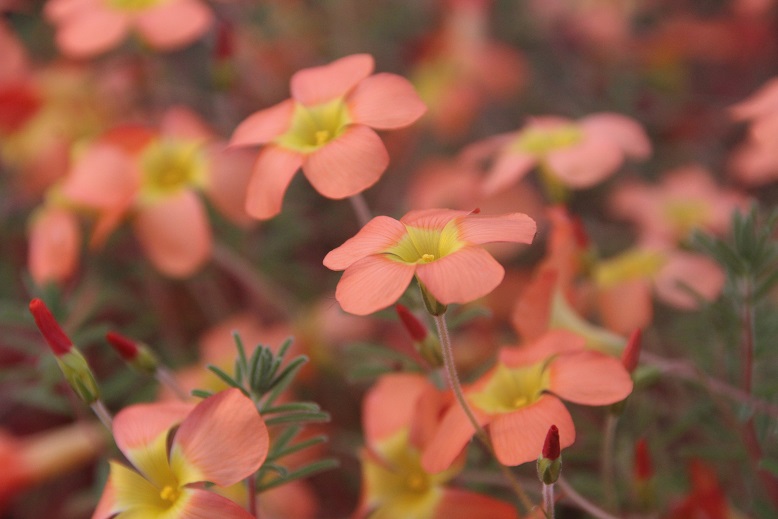 6th November 2016
Oxalis massoniana .
It sometimes seems that the universe is divided equally in all respects into pairs of complimentary opposites. Up and down, left and right. It must be an artifact of perception, whatever other information emerges about the universe in time, I am confident that it isn't two dimensional. Perhaps it is just that the brain is divided into two lobes by a great chasm and the concepts on each side laugh at each other disparagingly across the medial longitudinal fissure.
Autumn flowers for example. Some are soft and frail, emerging like woven gossamer from the dew of a November morning. Others trumpet the colours of a sunny afternoon, like "Kicking Bishop Brennan Up the Arse" (to quote 'Father Ted' ).
Oxalis massoniana comes into the latter category. The large orange flowers appear suddenly from lax stems of underwhelming leaves as soon as the autumn sun shines on a cold morning. It is the sort of colour that dares you to pass by with soothing admiration whispered on clouds of condensing breath. Try that again, it says, and I will slap you on your longitudinal fissure.
It is rare in the wild, known only from a population in Van Rhyns Pass in South Africa. It was named after Francis Masson, who was collecting plants on the Cape for Sir Joseph Banks at Kew and is known to have visited the area in 1774. If he introduced plants, they didn't survive. Modern plants all derive from a collection cultivated in New Zealand.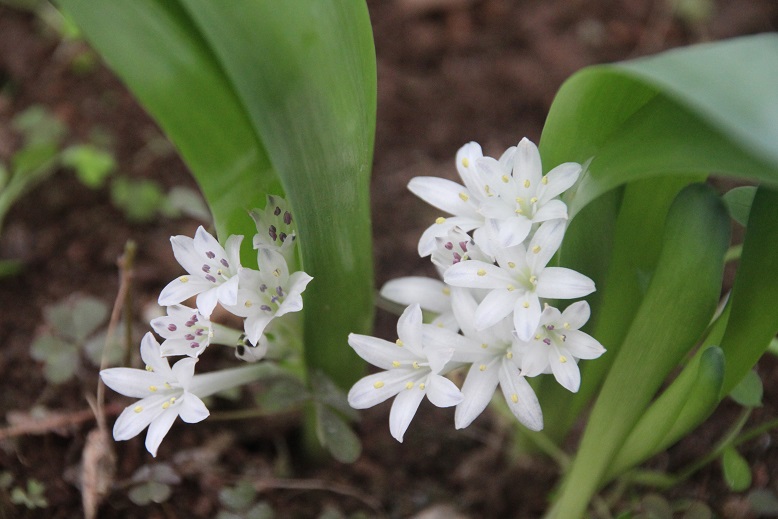 6th November 2016
Lachenalia ensifolia .
The genus Lachenalia straddles the divide. There are plenty of bright flowers in spikes to come through autumn and early spring but Lachenalia ensifolia falls more into the condensed autumn mist category. The flowers start the Lachenalia season and prompt me to ferret around among the leaves of the other species to see if there are spikes forming. Of course there are. Lachenalia have the dichotomy thing in hand. Either they flower like clockwork or they drop dead in the first season, no shilly-shallying. You may have gathered by now, this is really a Lachenalia, the genus Polyxena was entirely gobbled up by it in Grahan Duncan's recent monograph (Kew, 2012). It's almost as though my first dogs had been called Polly and Xena (they weren't). I just don't want to let go of the memory yet.
So I will call it Polyxena for a bit longer. I will be entirely wrong, you will laugh at me and everybody will be happy.
The plant has had a complicated history. Originally collected by Carl Thunberg (who travelled with Francis Masson for a while) in the Eastern Cape, he called it Mauhlia, and it was later transferred into Agapanthus then Massonia and Polyxena before John Manning moved it into Lachenalia in 2004. I have a feeling it would be better in a bright alpine house growing in a stylish clay pot. The bulb house is a bit shaded and seems to encourage the soft flowers to dissolve into mush rapidly.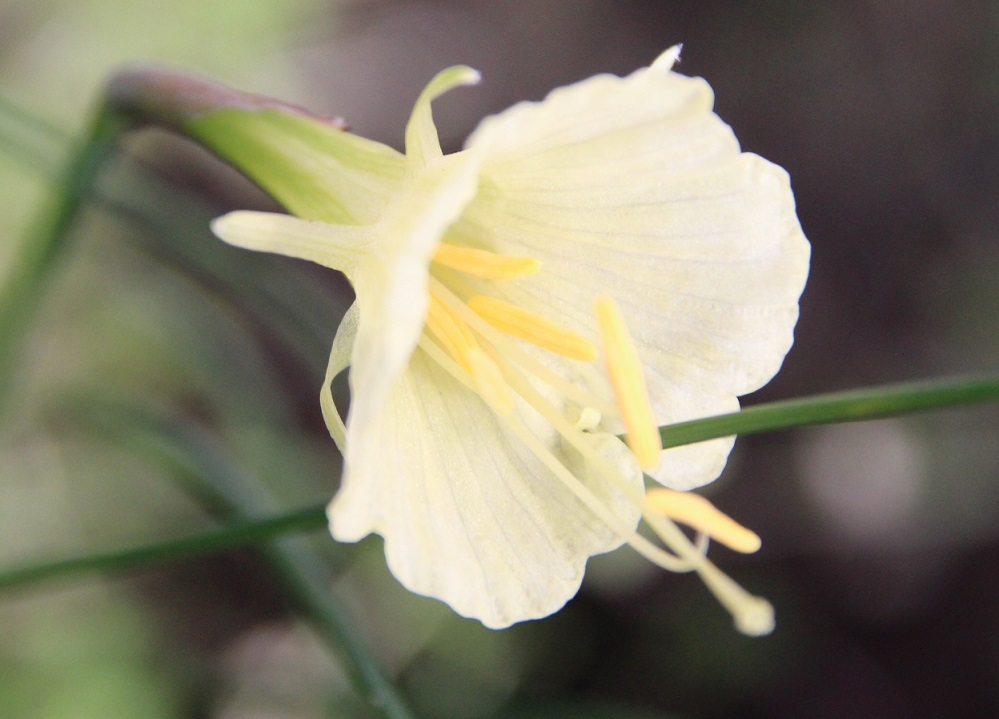 6th November 2016
Narcissus romieuxii 'Sunray' .
Underneath my Liquidambar I grow a meadow of Narcissus 'Rijnveld's Early Sensation'. Sometime in the next few weeks the first leaves will poke up above the soil and then the flowers will emerge with impossible haste, like dropping your car keys in the street and seeing them fall straight down a storm drain. It is all so fast there is nothing to do but watch as things change fundamentally. 'Rijnveld's Early Sensation' will be one of the first suggestions of spring, but it won't be the first Narcissus.
N. romieuxii answered the perennial summer question ("Have I killed them all this year?") a few weeks ago by sending up a mass of tiny leaf threads in the pots. I have a number of selections but I would be hard pressed to tell them apart. That would require an expert, who would no doubt have the confidence to face the seemingly empty dessicated pots in July and not doubt for a moment that the plants were alive. That would be relaxing, but it wouldn't have the same thrill.
I'm not sure who raised 'Sunray', there is a large cupped daffodil raised by P. D. Williams in the 1930's but this is not the same thing. I got this one from Edrom Nursery in 2007 but Ron McBeath was advertising it five years before that. The best description that I can find says "Yellow" and I might have guessed that from the name.
I shouldn't be surprised if it derived from Jim Archibalds's legendary collection JCA805 from the Atlas Mountains in Morocco, all the other good N. romieuxii forms seem to be. That might explain why I can't tell them apart.