JEARRARD'S HERBAL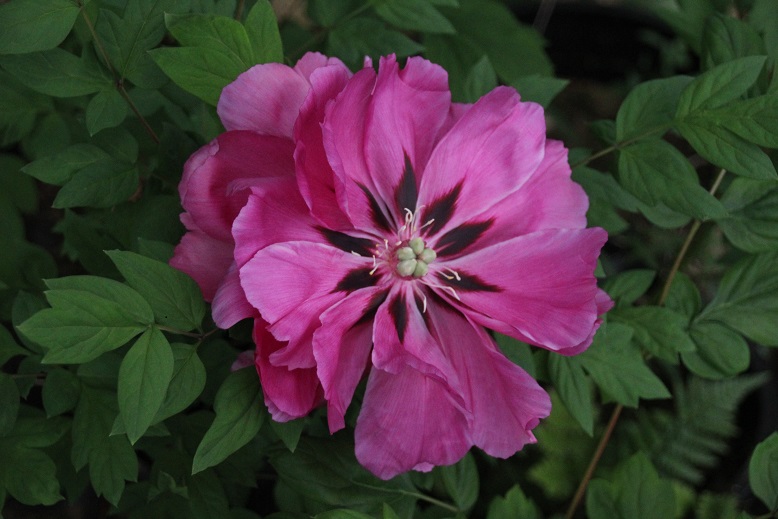 14th May 2017
Paeonia rockii .
Everybody I talk to is still delighting in the rain. Another couple of rainy spells have worked wonders in the garden, the prospects of drought and desertification are receding. I am particularly pleased by the timing. The tree ferns I have just planted are less likely to die of drought. I give it a week before people start to talk about the endless rain, how it seems to have been going on since last September. People have short lives compared to tree ferns, it is no wonder they also have short memories.
On a single occasion in my life I have been driven out of a cake shop by the superabundance of delights. I couldn't face the idea of having to make any sort of choice. I was driven out of the garden yesterday in a similar fashion, and took refuge in a plant fair. Out of the frying pan and into the fire. I couldn't escape the peonies and came away with a stunning scarlet hybrid, 'Mackinac Grand' . My elitist "species only" policy crumbled on sight. To be fair, it was only meant as a way of resticting my potential for excess, and if I look back I am starting from the wrong foundation.
Peonies have started to edge into the garden in a serious way (I am one peony richer and £25 poorer on the weekend). It started with these P. rockii seedlings, a clearance offer at the end of the mail order season. I ended up buying 20 bare root sticks. That says it all. I should have realised at the time really. Hindsight is great for everything except the weather, it seems.
My greatest fear at the time was that they would show significant diversity, and I would end up kicking myself for not buying 100. So far two have been magnificent whites and was hoping they would all be close to the species. Then this giant pink flower appears, so my seedlings have probably come from a Chinese breeder. Now I'm going to be watching with bated breath as every new bud appears. Nightmare. I might be forced to flee to another plant fair!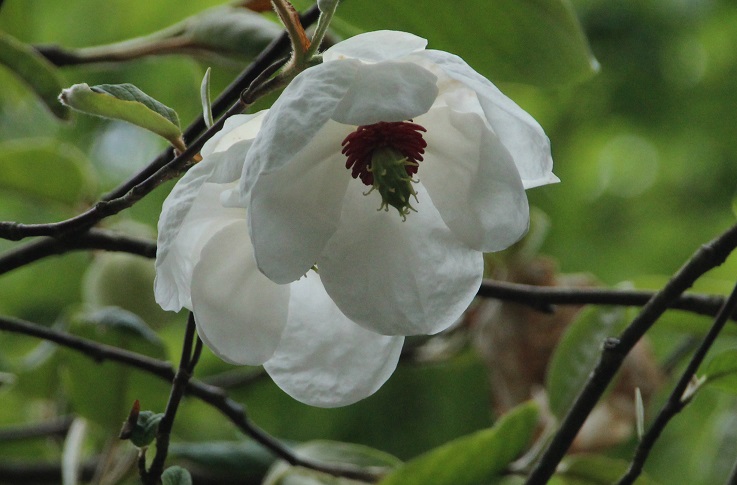 14th May 2017
Magnolia wilsonii .
I was teetering on the edge of overwhelmed in the garden so I took refuge among the snowdrops. They have mostly disappeared now, a few yellowed leaves but nothing interesting. The daffodils among them are just dying leaves, it was very restful. Even the Epimedium were being dull, the last flowers and speckled new leaves enfolded in a summer blanket of green inconsequence. It's the sort of moment to sigh dreamily and look up at the perfect blue sky.
Magnolia wilsonii, how could I have forgotton. The tree is so tall now that the flowers are carried up out of my sight-line. I looked up and the perfume fell down at the same moment. I sat down rather promptly. It's a good thing that the Magnolia flowers so late or the snowdrop beneath me would have had a bum year.
The obsession with species peonies extends to their shiny round seeds. I had a tubful of P. cambessedesii seedlings because I just can't resist sowing them. Now I have a greenhouse full of small plants in pots because I couldn't think what else to do with them. Magnolia wilsonii is the same. The scarlet seeds drop from the tree like a plague of lily beetles at the end of summer and they are too beautiful to ignore. I sow far too many of them. I have a tiny forest of saplings in the greenhouse as a result. I don't want a forest of M. wilsonii over the whole garden, seducing me with its subtle beauty and perfume. I want a forest of M. campbellii screaming a pink cacophany in February as the grip of winter weakens. Thanks to a friend with a fruiting tree, I will eventually have one. The wilsonii seedlings will be found other homes.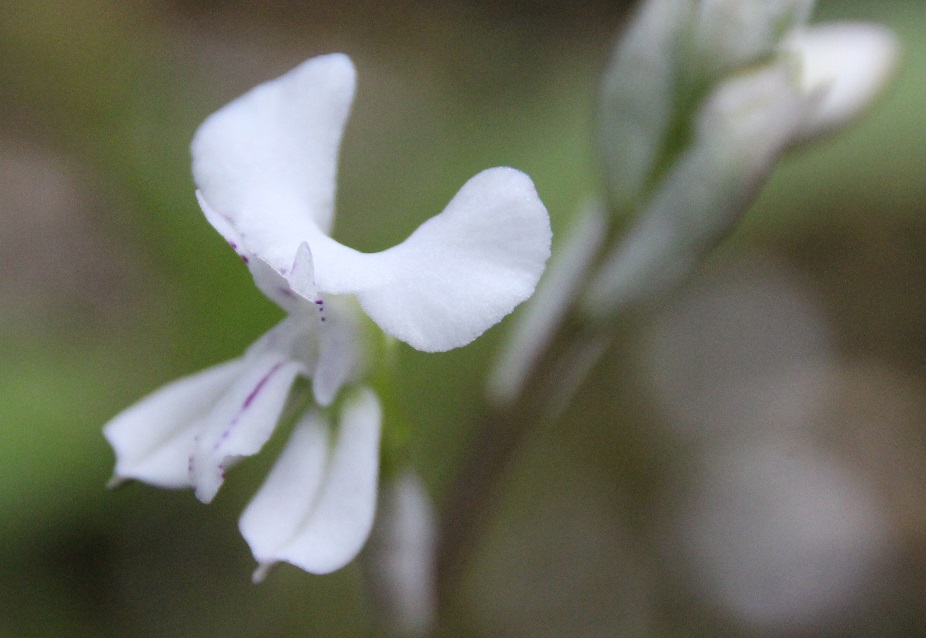 14th May
Disa sagittalis .
The garden has been too much this week. Suddenly everywhere is somewhere. It isn't just that there is something wonderful around every corner, I don't have to look that hard. It would have been impossible to select pictures for this week but I have been saved by the peonies. An obsession I can't escape. There was a third to show, but I think it will wait until next week.
I have hidden from the garden among the Disa in the greenhouse. They are green and leafy at the moment, the flower spikes are forming, and they really need repotting. It has been a restful rainy refuge through a busy week, cheering the plants up and listening to the water tanks filling. All done in time to start on the seedlings. I don't know whether to prick them out when they are tiny, or wait until they have grown. Either way they seem to get impossibly tangled together. A seed tray I did two years ago is now a lawn of a thousand shoots, quite beyond my ability to divide the individual plants. In the end I just chopped it into "portions" and potted them. Who knows what the outcome will be or how I will sort them out when they flower.
Safe in the quiet and prolific vegetation of the Disa, I overlooked D. sagittalis, a single white flower alerting me to the arrival of the Disa season.
I don't grow it very well. I think I am keeping it too wet but it is difficult to know. It has survived my conditions for several years and I am reluctant to risk a change in case I kill it but I am doing something wrong. The latest field guide to the 'Orchids of South Africa' (Steve Johnson and Benny Bytebier, 2015) suggests "stony soil, on rocks or in rock crevices..." which implies a dryish location, but then add "... often along streams". I am perplexed. In the years I have grown it, I have got a single division. I might risk the 'stony soil' option for the baby and see what happens.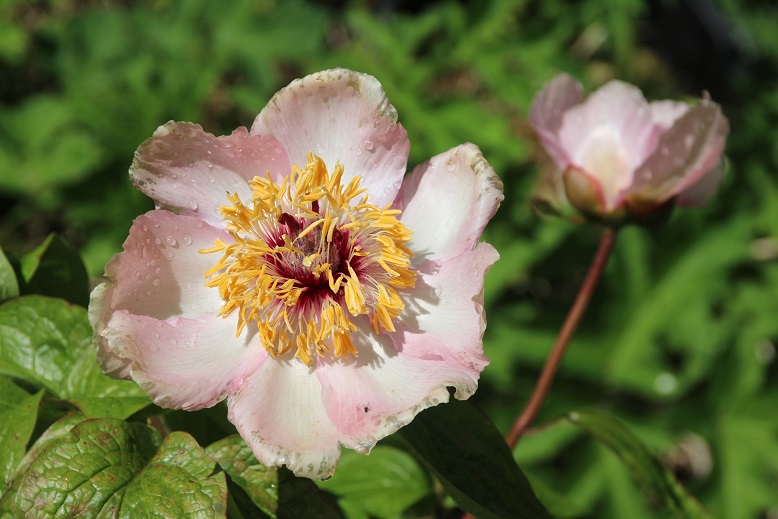 14th May 2017
Paeonia wittmanniana .
I have a few lactiflora peonies in the garden. I put them in the herbaceous border years ago to see what happened. 'Sarah Berhardt' is certainly one of them. I would adore the large fluffy pink flowers, but she never produces them. Too moist, probably too cool in summer. I have seen her in the eastern counties flowering reliably but even there she has great long stems and falls flat on the ground. The ease with which she falls on her back belies her good breeding, but in this case it was for cut flower. Put her in a bed and her long legs let her down.
Paeonia wittmanniana from the Caucasus does the job with more poise. The strong stems easily support the flowers. I bought my plant in 2012 as an unflowered seedling and I have been pleasantly surprised by the pale pink flowers - white would be more usual. The buds were obvious at the end of February and there has been an age of anxious waiting as they expand. Nothing else in flower in the vicinity so I will be delighted to self pollinate it and grow some more seedlings. I will be equally delighted if they turn out to be hybrids. Evidently, I will be delighted whatever happens. Isn't that usually a characteristic of the simple-minded?
In a rare moment of conceptual clarity last night, while returning from the plant fair I visited the cake shop. Refuge from the floral storm.